This 8 Desserts in 1 Pan recipe is insane!!
Thanks so much to my favorite cookie company, Sweet Loren's, for sponsoring today's post! xoxo
You're going to love sampling these 8 desserts, made conveniently in 1 pan! Over the past two weeks, I've been working day and night to develop this recipe. This 8 Desserts In 1 Pan recipe is inspired by Tasty's recent Facebook video that went viral. I hardly ever recreate food trends because I don't usually feel passionate and excited about them. But this trend was different…
I was in Israel when I first saw Tasty's video, and I loved it! So, I reposted it on my Facebook page and it was on my mind for weeks. I couldn't get over how creative and delicious this dessert looked. When I returned home, I knew that this was the one! I needed to recreate the coolest trend (in my opinion), and put my own twist on it! After a ridiculous amount of recipe testing, I developed small batches of batter/crumble/crust for each of the desserts and it worked perfectly.
To make this dessert even more exciting, I added my all-time-favorite Sweet Loren's Gluten-Free Chocolate Chunk Cookies to 3 of the 8 sections. If you don't follow me on Instagram (which you totally should be), I talk about these chocolate chip cookies all the time. They are practically my life! I noticed that the foods I eat most often are strawberries, chickpeas, rice, and Sweet Loren's Cookies. I'm not kidding!! Plus, you can grab a coupon on their website and get $1 off!! Take them up on it. Let me know if they change your life too! Even my mom and sister who aren't gluten free LOVE these cookies!
If you make these cookies or this dessert recipe, post a picture on Instagram and use the hashtag #YouDeserveThis so I can see your delicious treats! You totally deserve a warm freshly baked batch of cookies that are made with natural ingredients but taste out-of-this-world!
You're going to love the cookie dough sections!
I began with one section of this dessert using the Sweet Loren's chocolate chunk cookie dough on its own. These cookies are great alone and I wanted to highlight them in my dessert.
Next, comes the most creamy, delicious non-dairy cookie-dough cheesecake. This is my personal favorite dessert in the pan. The cheesecake filling is extremely quick and easy to make, requiring barely any effort, and the results are outstanding. I highly recommend you try it!
Lastly, I used the dough to create the simplest, yet s'more-licious (aka S'mores + Delicious) Chocolate Chip Cookie Dough S'mores Bars. These S'mores are layered with gluten-free graham crackers, a generous layer of chocolate chunk cookie dough, and topped with a nice helping of mini marshmallows and some chocolate chips. They're delish!
Obviously, the cookie dough is fabulous in this dessert, but you can totally grab a package of cookie dough, place it on a cookie sheet, bake for 15-17 minutes, and eat a few cookies on their own too!!
I'm guilty of eating them almost every day of the week 😉
Next, let's talk fruit.
In this dessert, you get the best of both worlds- raspberry bars and apple pie! Yes! You're making apple pie in addition to all those other nostalgic desserts we've already discussed. I use the same oat crust and crumble recipe for both the apple pie and raspberry bars. Using the same crust and crumble makes these desserts extremely simple and convenient to make.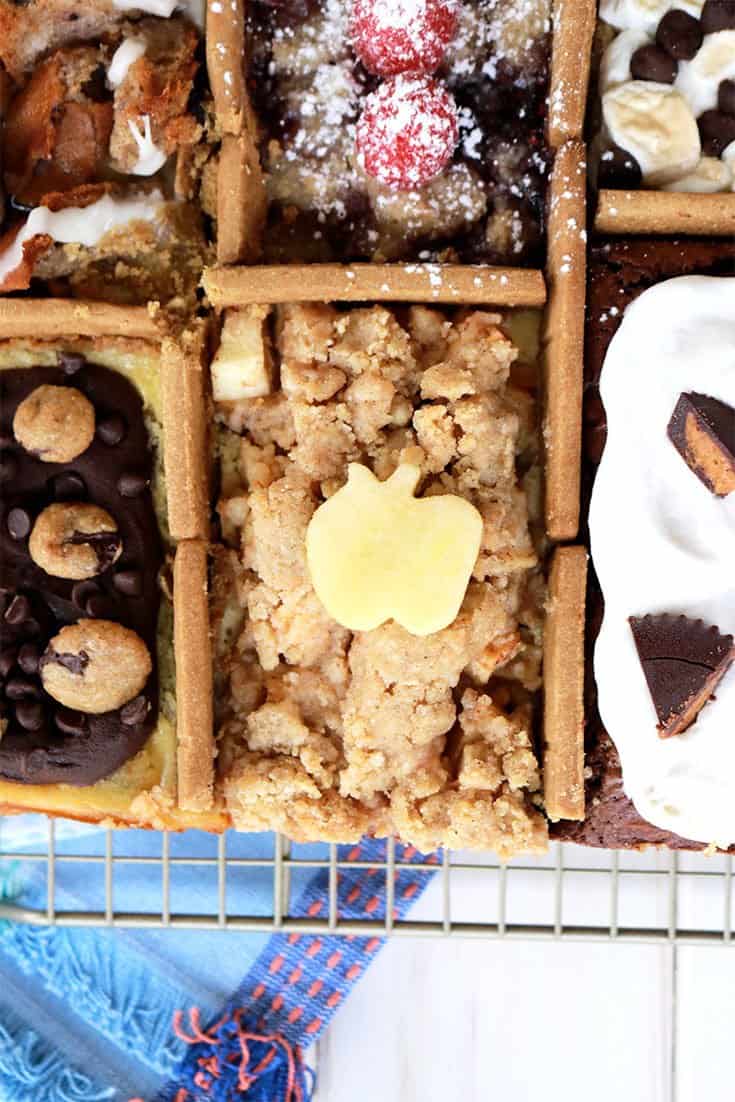 Now, we can't forget about the fudgy chocolate peanut-butter cup brownie, marble cake, and bread pudding! These three batters come together within minutes and taste phenomenal. The marble cake brings back childhood memories since my grandmother used to make it whenever I visited. Then, when I adopted a gluten-free lifestyle, this cake was not an option for me anymore. Years passed and I missed it…
So, finally, last week I swapped the all-purpose flour for gluten-free flour and bought a healthier chocolate syrup and attempted to healthify my grandmother's recipe. To my surprise, it worked perfectly! I was/am ecstatic to be able to eat this cake once again!
Are you getting excited about all these desserts??
Once the batters, crumble, and crust is prepared, the assembly is super quick. As long as you're strategic about the graham cracker placement (since they sperate each dessert), all will go very smoothly. Watch my youtube video to see how they're placed in the pan. If you're working with a very liquidy batter (such as the cheesecake and bread pudding), make sure your graham crackers are nearby and ready to use, to prevent the batter from flowing into other sections of the pan. Aside from the Sweet Loren's cookie dough being super delicious, they also help the graham crackers stand straight so that they don't fall into the cake batter.
This 8 Desserts In 1 Pan is:
Decadent!
Impressive!
Creative!
A Crowd Pleaser- Everyone will LOVE at least one dessert from the pan.
Totally Extra!
Made with the best gluten-free chocolate chunk cookies on Earth!
Filled with all great classic desserts.
Extremely fun to make!
If anyone was wondering….
You will not waste any ingredients in this recipe because I provide you with the exact measurements for small batches of batter. If you don't want to make a sectioned dessert, but you are eager to try one of the recipes, feel free to double, triple, or quadruple any one of them. You can multiply any one recipe as many times you like.
Once the dessert is baked, cooled off, and refrigerated, you can eat it as is or have a party and decorate the top. You can take this 8 Desserts In 1 Pan recipe up a notch by adding:
A confectioners sugar glaze to the bread pudding.
A spread of chocolate ganache, *mini chocolate chip cookies, and mini chocolate chips to the cookie dough cheesecake.
A few raspberries with a dusting of confectioners sugar to the raspberry bars.
An apple cutout to the apple pie bars. I used an apple shaped cookie cutter to make the apple shape.
Coconut whipped cream and quartered peanut butter cups to the brownie.
Chocolate chips to the S'mores bar.
*Medium-sized chocolate chip cookies to the chocolate chip cookie section. I attached these with the leftover ganache from the cheesecake.
*To make the mini/medium chocolate chip cookies, divide 1 Sweet Loren's raw chocolate chip cookie into about 10 mini or 4 medium cookies and bake them for 10-14 minutes. Then, cool and use to decorate.
Check out Sweet Loren's website here and learn all about their chewy, chocolatey, delicious cookies: www.sweetlorens.com
Follow them on Instagram too! @sweetlorens
Watch the Youtube video here.
#Sponsored