It only takes 20 minutes to prepare this Gluten-Free Lemon Drizzle Cake that will brighten up your day with its tangy zest. Baked to perfection, this moist cake with a delicate crumb is glazed in an intense lemon-flavored glaze; the perfect sweet and tart flavor combo. The bright lemon flavors come from fresh lemon juice and lemon zest!
Gluten free cakes are some of the best, most moist recipes out there. This cake is on par with our Apple Pudding Cake recipe and even our best Gluten Free Chocolate Cake. Time to bake up some cake(s) and serve them to friends and family!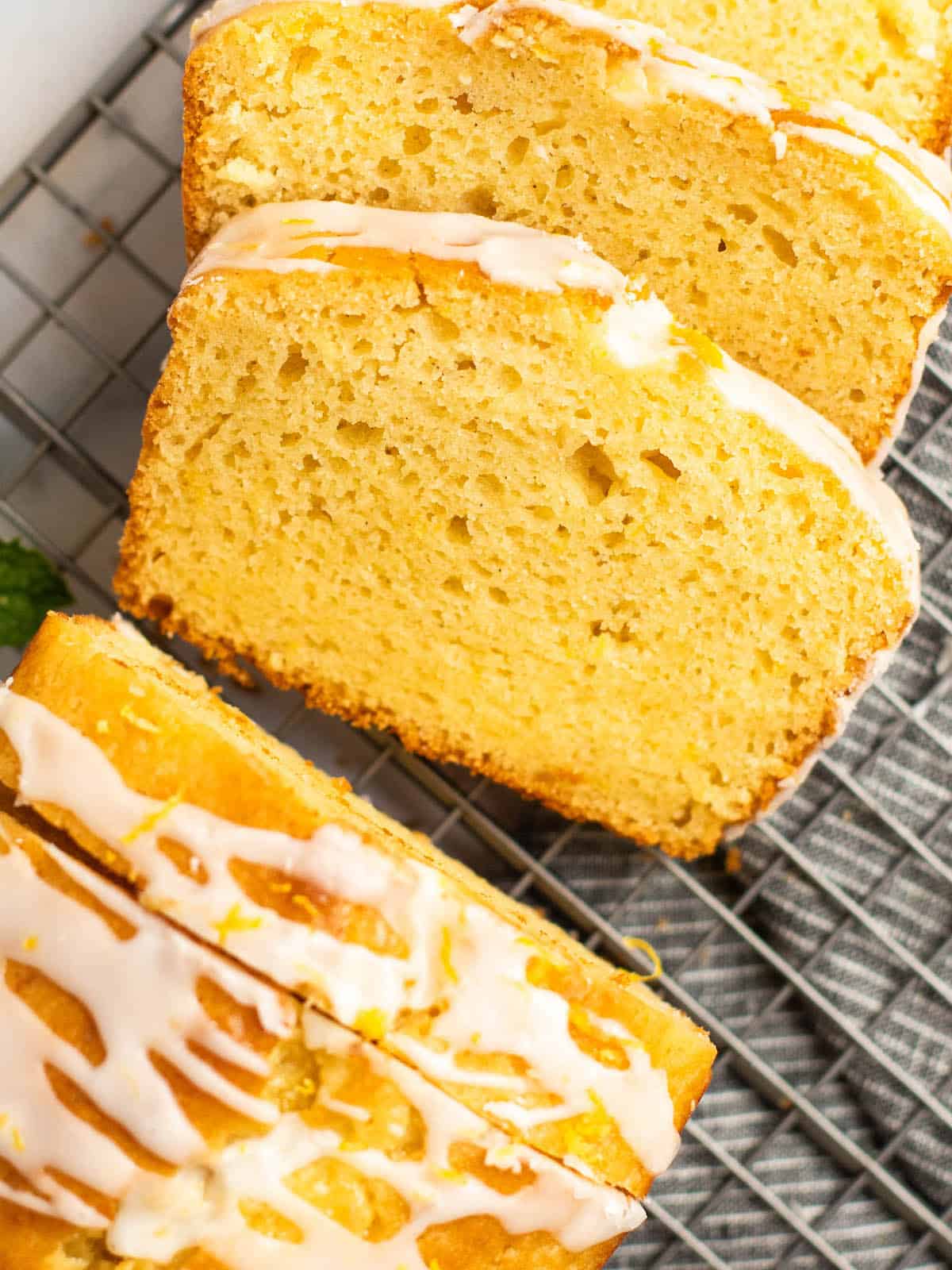 Jump to:
Why you'll love this recipe
This Gluten Free Lemon Drizzle Cake is such a favorite because of its incredible lemon flavor and soft and moist cakey texture. You won't believe it's gluten free!
The best gluten free lemon cake recipe!
Light, fluffy and super moist sponge
Easy to make in 20 minutes or less!
Uses only 12 ingredients
​Such a great recipe for special occasions!
Sweet and tangy lemon icing that sets beautifully on the cake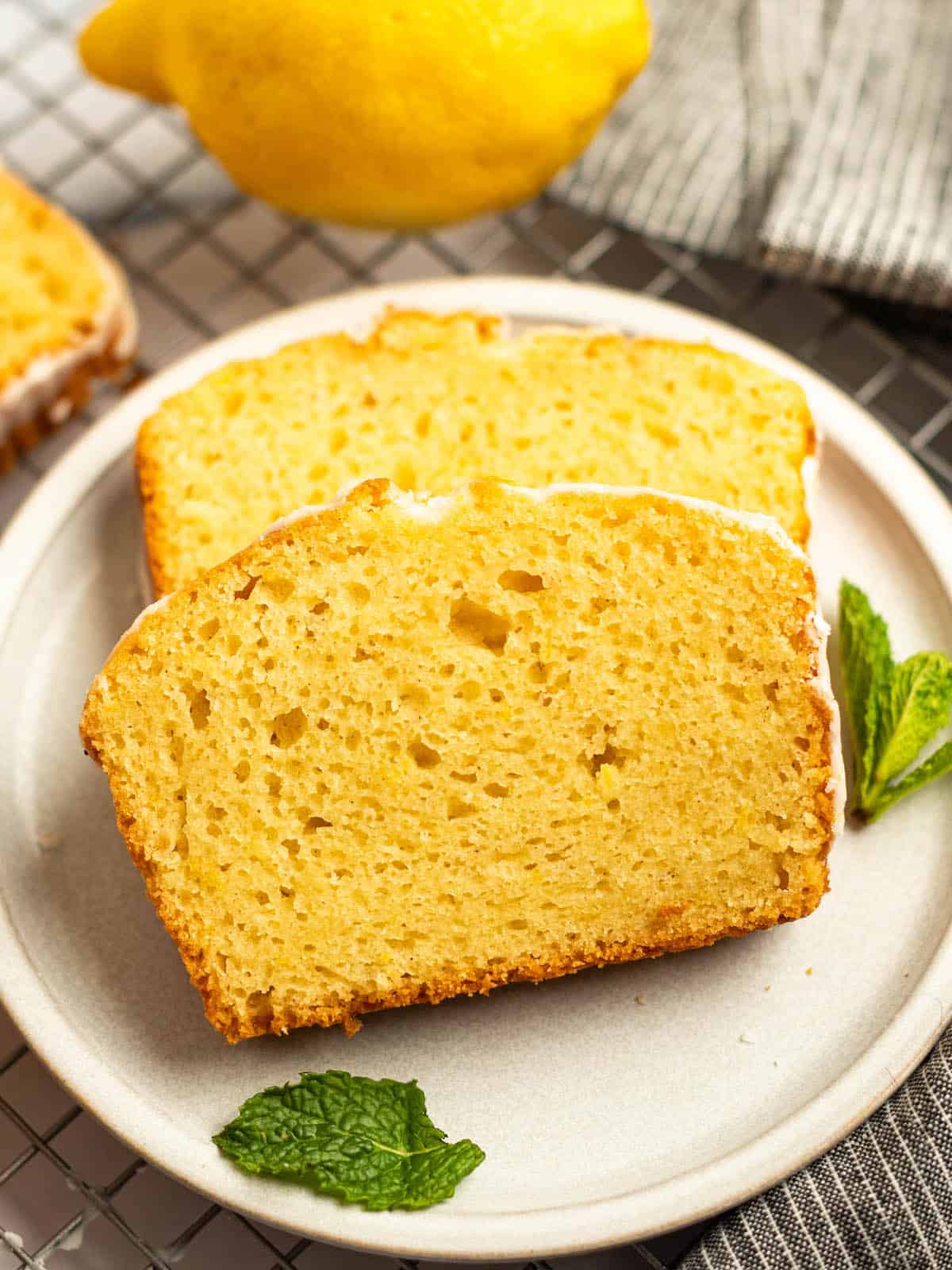 Recipe ingredients
You'll need the following ingredients to make this gluten free lemon loaf the best way possible: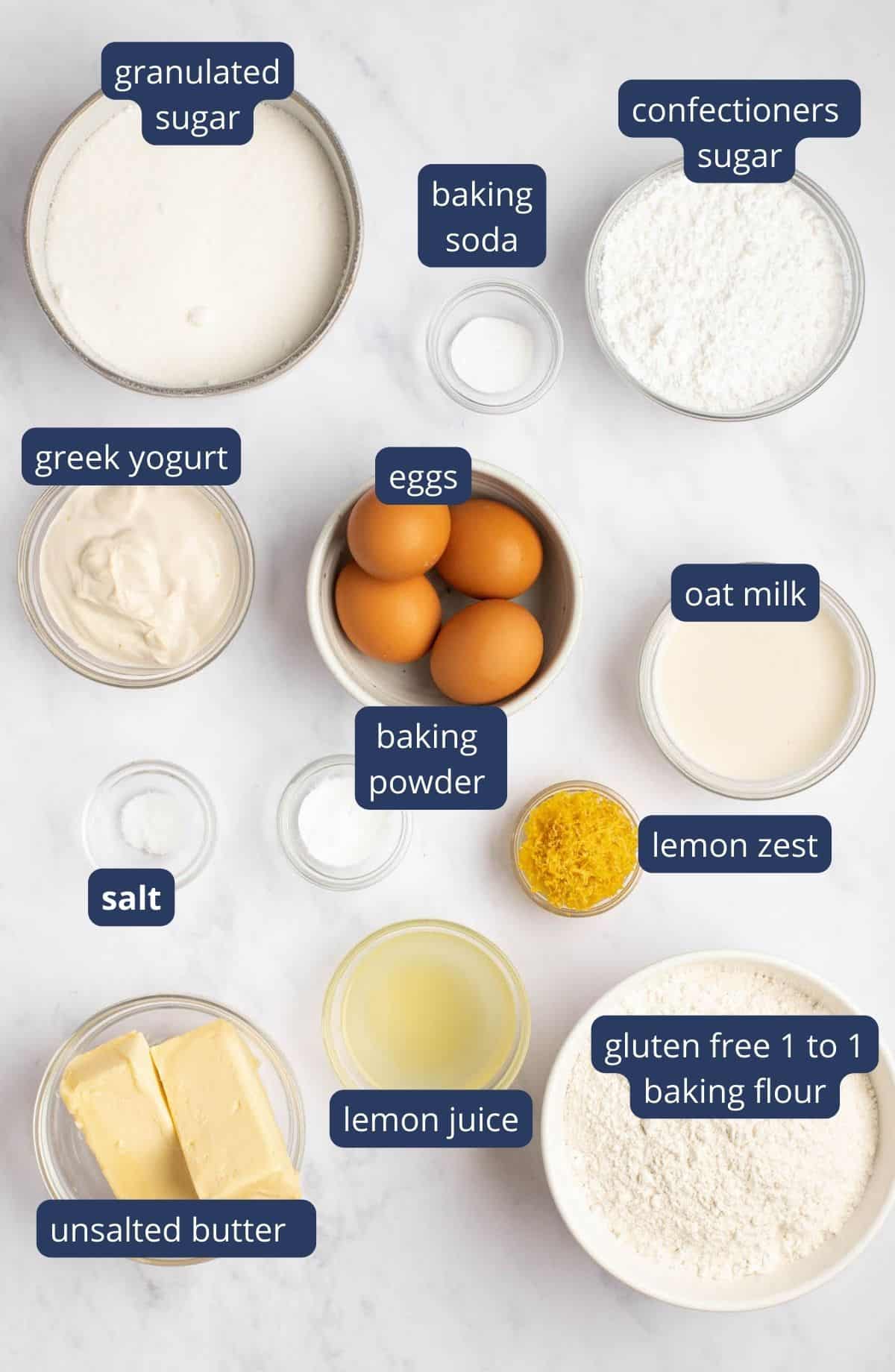 Ingredient notes
There are a few key ingredients to make the perfect gluten-free lemon drizzle cake recipe!
​
Gluten free flour with xanthan gum: I love using the Bob's Red Mill 1 to 1 Baking Flour since it yields consistent delicious cake results every time, and it already has xanthan gum added to the mix! If you use a xanthan-gum free gluten free flour blend, be sure to add the appropriate amount of xanthan gum to the recipe. Buying a store-bought gluten-free flour blend saves the guesswork of combining different gluten free flours.
Eggs: Always add eggs to cake to provide stability and texture.
Melted butter: I like to use vegan buttery sticks to keep this cake dairy-free, but you can use any unsalted butter you like. Be sure to buy butter sticks for baking, not the tub of butter!
Granulated sugar: This cake uses a generous amount of sugar, and it's perfection!
Lemon Juice and Zest: We use both the lemon juice and zest in the cake and frosting for optimal lemony goodness!
Whole Greek Yogurt: I like to add dairy-free greek yogurt to the batter for added fat content and to aid in the perfect structure of this cake crumb.
​Milk: I use oat milk in this recipe, but you can use almond milk, cashew milk or even dairy milk (preferably whole milk).
Of course, baking soda, baking powder, salt and some milk are necessary to this recipe too!
How to make Gluten Free Lemon Drizzle Cake step by step
Here are some quick visual instructions with a brief explanation. Be sure to read through the full instructions with exact ingredient measurements & steps in the recipe card below!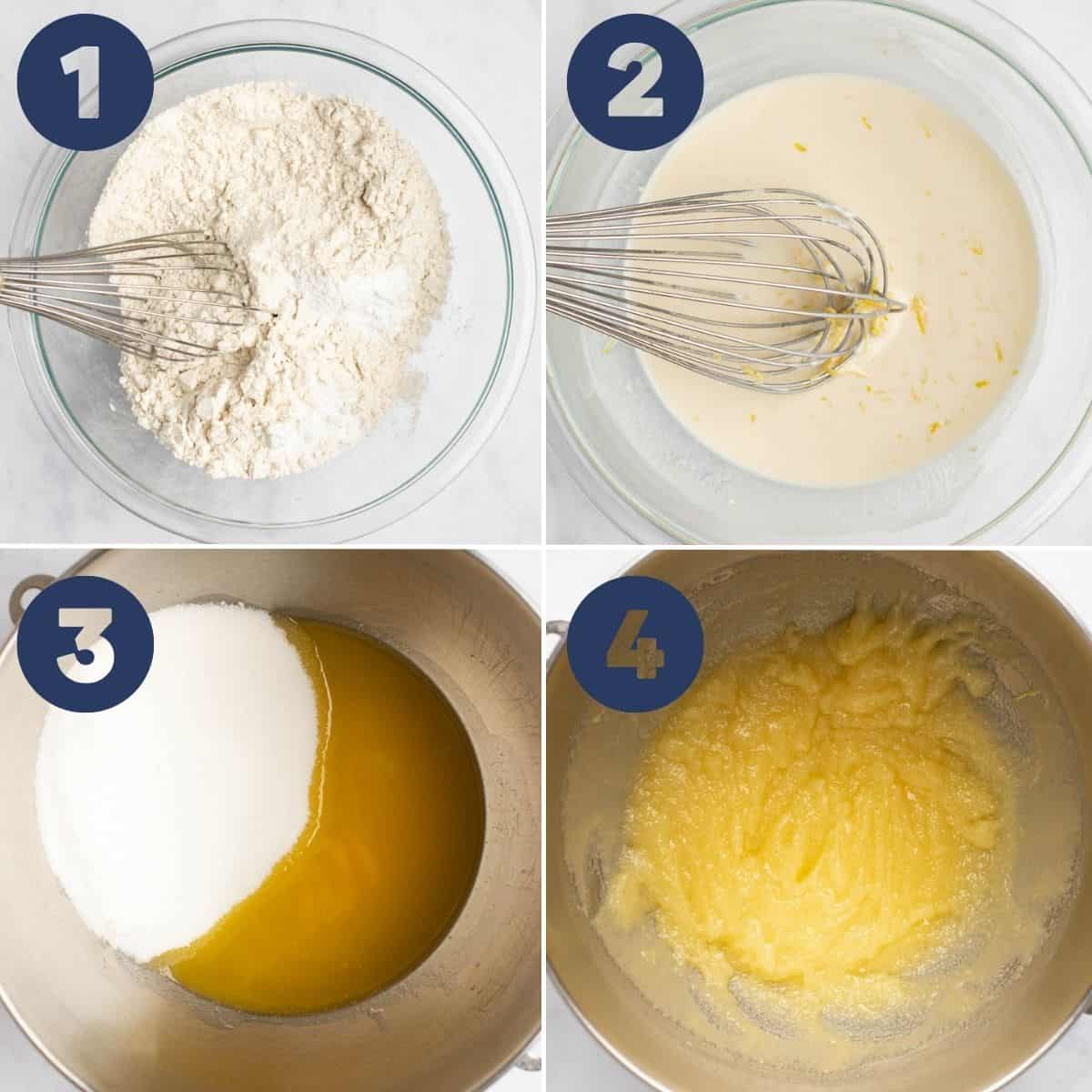 Step 1: Turn the oven temperature to 350°F. Whisk together the dry ingredients, including the gluten free flour, baking soda, baking powder and salt. Set it aside.
Step 2: In another medium mixing bowl, whisk together the yogurt, milk, lemon juice and lemon zest. Set aside for later.
Step 3: To a bowl of a stand mixer (or a large mixing bowl) with a paddle attachment, beat the melted butter and sugar for 5 minutes. It will start off looking soupy and end up a bit thicker. You can also use a hand mixer for this step.
Step 4: Finally, mix in the eggs until fully incorporated. It will look like a thick and slightly clumpy yellow batter at this point.
Step 5 and 6: Alternate adding the dry ingredients mixture and wet ingredients mixture into the stand mixer bowl. Always begin and end with flour.
Step 7: Be sure everything is whisked together very well so there are no clumps in the cake batter.
Step 8: Divide the cake batter among two 8"x4" loaf pans (each lined with parchment paper). I like to place the loaf pans onto a rimmed baking sheet for easy transport into and out of the oven. Bake in the center rack of a 350 degree F oven for 48-52 minutes.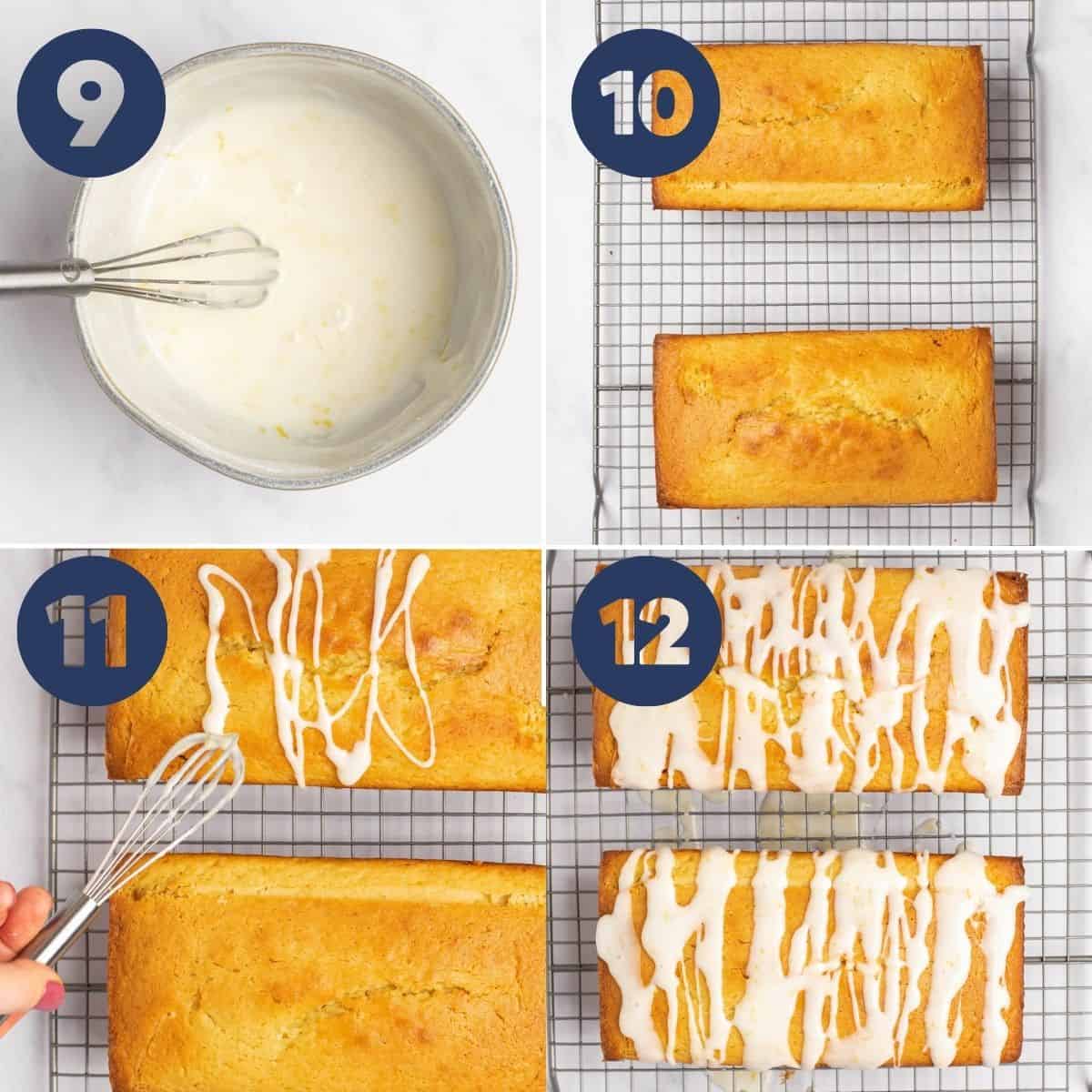 Step 9: While the cake cools, whisk together the glaze ingredients including the confectioners sugar (also commonly known as icing sugar), lemon juice and lemon zest.
Step 10: Remove the cakes from their pans and set onto the cooling rack.
Step 11: Use a spoon or whisk to drizzle the lemon glaze over the top of the cake. Repeat with the second cake!
Step 12: Allow the glaze to set on the cake for at least 20 minutes before slicing and serving.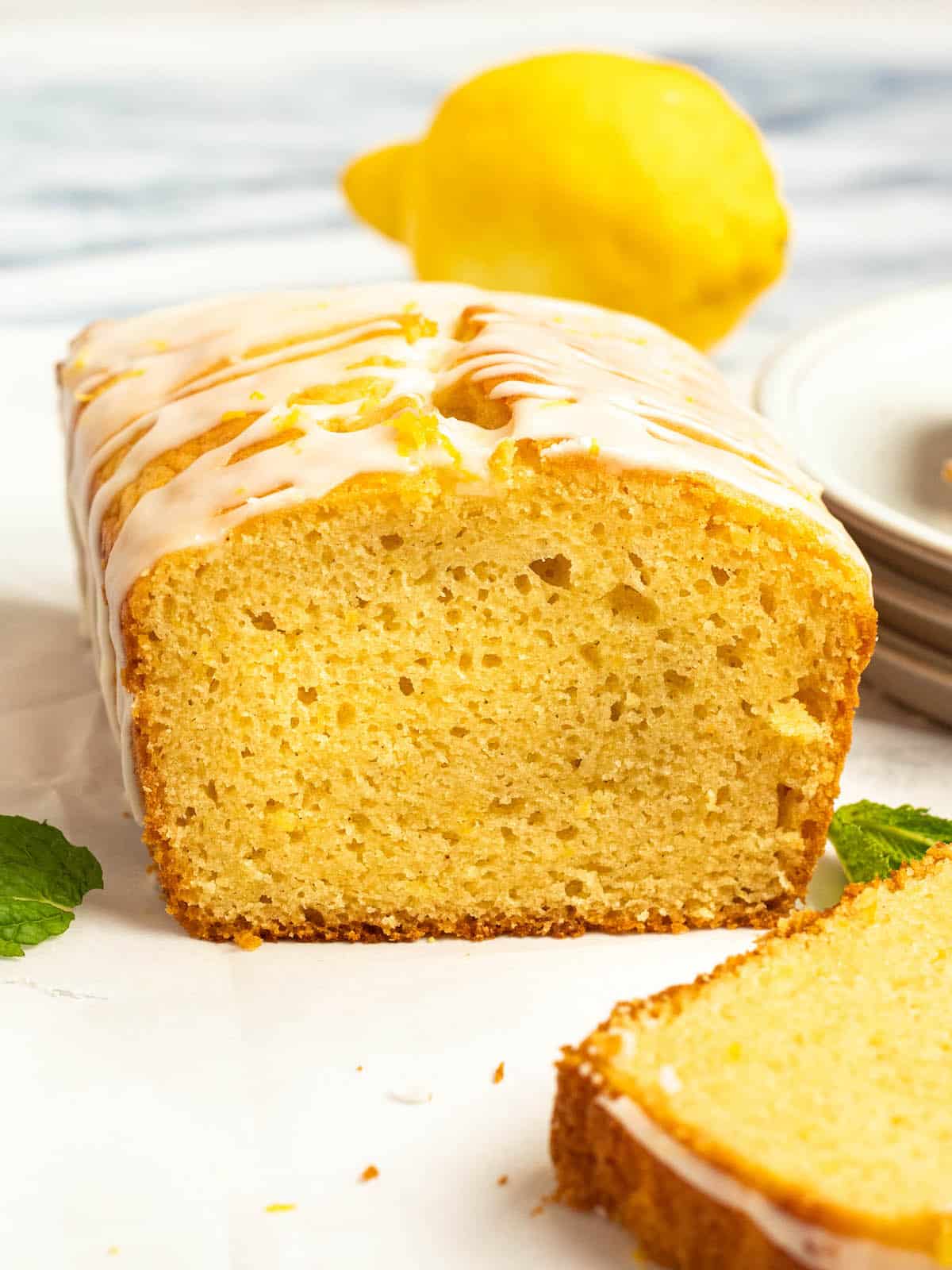 Recipe tips and tricks
Be sure to zest the lemon before squeezing the juice so you get the most out of the lemon.
Plan to either have two of the same sized 8"x4" pans to use for this cake recipe, or bake 1 loaf cake and some cupcakes. Be aware that cupcake bake time will be shorter!
It's very helpful to have all the ingredients set up and ready to make the cake batter, so you're not searching for ingredients in your kitchen.
You'll know the cake is ready when you insert a toothpick into the cake's center and it comes out clean. Be sure to check on the cake no earlier than the 45 minute mark, otherwise you may risk the cake collapsing and not rising properly.
Additions and substitutions
If you are in a rush, feel free to omit the drizzle and simply dust the cake with confectioners sugar for a quick and easy garnish.
You can try making this an orange cake –how cool would that be! Swap the lemon juice and zest or orange juice and zest, in both the cake batter and then drizzle.
You can use any milk you'd like in this cake, whether it be a non-dairy milk, like I used Oat Milk when testing this recipe, or a dairy whole milk will work too.
Want to take this cake up a notch? Slice the cake in half and fill with lemon curd. How delicious does that sound?!
Frequently asked questions
How long do you have to bake a lemon drizzle cake?
This lemon drizzle cake bakes for 48-52 minutes in the center rack of the oven. Always be sure to check it with a toothpick at the earliest time, and set additional 3-5 minute timers if you feel the cake needs to bake a few more minutes.
How do you make the lemon drizzle (lemon icing)?
It's super simple to make the lemon drizzle icing! Just mix together lemon juice, lemon zest and confectioners sugar until smooth and glossy.
How long will a lemon drizzle cake last?
The cake is best stored in a sealed airtight container or ziplock bag on the counter for 3-5 days. You can also freeze this cake! Simply, wrap carefully in plastic wrap and place into a freezer safe ziplock. Seal the ziplock and freeze the cake for up to 3 months. To defrost, remove the entire ziplock from the freezer and allow it to thaw on the counter at room temperature.
Why did my gluten free cake turn out gummy?
This cake should not turn out gummy as long as you use a good quality gluten free 1 to 1 baking flour that incorporates xanthan gum in it's ingredient list. I don't recommend swapping the gluten free baking flour for any other gluten free flours such as rice flour, brown rice flour, tapioca flour, corn starch, almond flour, tapioca starch, potato starch, and so on, since this can result in a gummy, really unpleasant texture if the ratios aren't perfect. 

How do you add moisture to a gluten free cake?
The balance of a good gluten free 1 to 1 baking flour with the yogurt, eggs, butter and milk in this recipe helps to create a very moist cake. Ratios are everything, so if you follow the recipe to a T, you will have a very moist cake.
Related recipes you may love
Here are some more gluten free cake recipes that I think you'll love!

Best Gluten Free Lemon Drizzle Cake
This Gluten Free Lemon Drizzle Cake is moist and has a luscious and flavorful lemon glaze on top! Makes two cakes so one can be frozen and one can be served to your family or guest.
Equipment
2 medium mixing bowls

1 stand mixer

or handheld mixer

1 whisk

2 loaf pans

8"x4" pans are best

parchment paper
Ingredients
For the cake
3

cups

Gluten Free 1 to 1 Baking Flour

spooned and leveled (490 grams)

1

teaspoon

baking powder

½

teaspoon

baking soda

¼

teaspoon

fine sea salt

or table salt

½

cup

whole greek yogurt

I recommend dairy-free almond milk greek yogurt

½

cup

milk of choice

I recommend oat milk or whole milk

2

tbsp

grated lemon zest

zest of about 3 medium lemons

¼

cup

freshly squeezed lemon juice

1

cup

unsalted butter

I use vegan buttery sticks, melted (2 sticks)

2

cups

granulated sugar

4

large eggs

at room temperature
For the drizzle
1

cup

confectioners sugar

2

tbsp

lemon juice

1

teaspoon

lemon zest

zest of about 1 medium lemon
Instructions
Preheat the oven to 350°F and be sure the oven rack is in the middle position in the oven. Grease two 8"x4" loaf pans with cooking spray and optionally line with parchment paper, allowing the sides to overhang for easy removal.

In a medium bow, whisk the flour, baking powder, baking soda and salt.

In another medium bowl, whisk the yogurt, milk, lemon zest and lemon juice. Set aside.

In a bowl of an electric mixer fitted with a paddle attachment, beat the melted butter and sugar on medium speed for about 5 minutes.

Scrape down the sides of the bowl and add the eggs one at a time, beating in between each addition.

On a low speed, add ⅓ of the flour and ⅓ of the milk mixture. Continue alternating between the flour and mixture, ending with the flour. Scrape the sides of the bowl, and then give the batter one last mix just until the flour is no longer visible. Be sure not to overmix.

Divide the batter evenly between the two pans. Run a butter knife down the center of the batter in each pan to help the cake rise evenly.

Bake for 48-52 minutes or until the cakes have risen and a toothpick inserted into the center comes out clean.

Allow the cake to cool on a wire rack for 15 minutes. Then, carefully lift the cake out of the pan using the parchment paper overhang. Cool the cake for 30 minutes before icing.

To make the icing, whisk together the confectioners sugar, lemon juice and zest.

Drizzle the glaze over the cooled cakes with a spoon, allowing it to drip down the sides of the cake.

Allow the icing to set on the cake for 30-60 minutes before slicing and serving.
Notes
Be sure to use Bob's Red Mill 1 to 1 Baking Flour for best results in this recipe.
Storage: This cake can be stored in an airtight container or ziplock on the counter for 4-5 days. 
Freeze the cake: This cake can be wrapped in plastic wrap and placed in a freezer-safe ziplock and frozen for up to 3 months. 
Milk options: I prefer to use oat milk, but you can use almond milk, cashew milk, coconut milk or a dairy whole milk. 
Yogurt options: I prefer to use KiteHill dairy-free almond milk greek yogurt, but you can use any dairy or non-dairy greek yogurt.  
Nutrition
Serving:
1
slice of cake
|
Calories:
516
kcal
|
Carbohydrates:
80
g
|
Protein:
6
g
|
Fat:
22
g
|
Saturated Fat:
12
g
|
Polyunsaturated Fat:
1
g
|
Monounsaturated Fat:
6
g
|
Trans Fat:
1
g
|
Cholesterol:
114
mg
|
Sodium:
189
mg
|
Potassium:
41
mg
|
Fiber:
4
g
|
Sugar:
54
g
|
Vitamin A:
687
IU
|
Vitamin C:
1
mg
|
Calcium:
81
mg
|
Iron:
2
mg
Have you tried this recipe? Consider leaving a ⭐️⭐️⭐️⭐️⭐️ rating in the recipe card right below and/or a review in the comment section further down the page. Or, consider following me on Facebook or Instagram! Thanks for visiting.