Making this Gluten Free Dutch Baby (German Pancake) couldn't be any easier than simply blending ingredients in a blender and baking the batter in a buttered skillet! You can prepare this breakfast recipe, essentially an oven pancake, in 10 minutes & bake for breakfast or even brunch.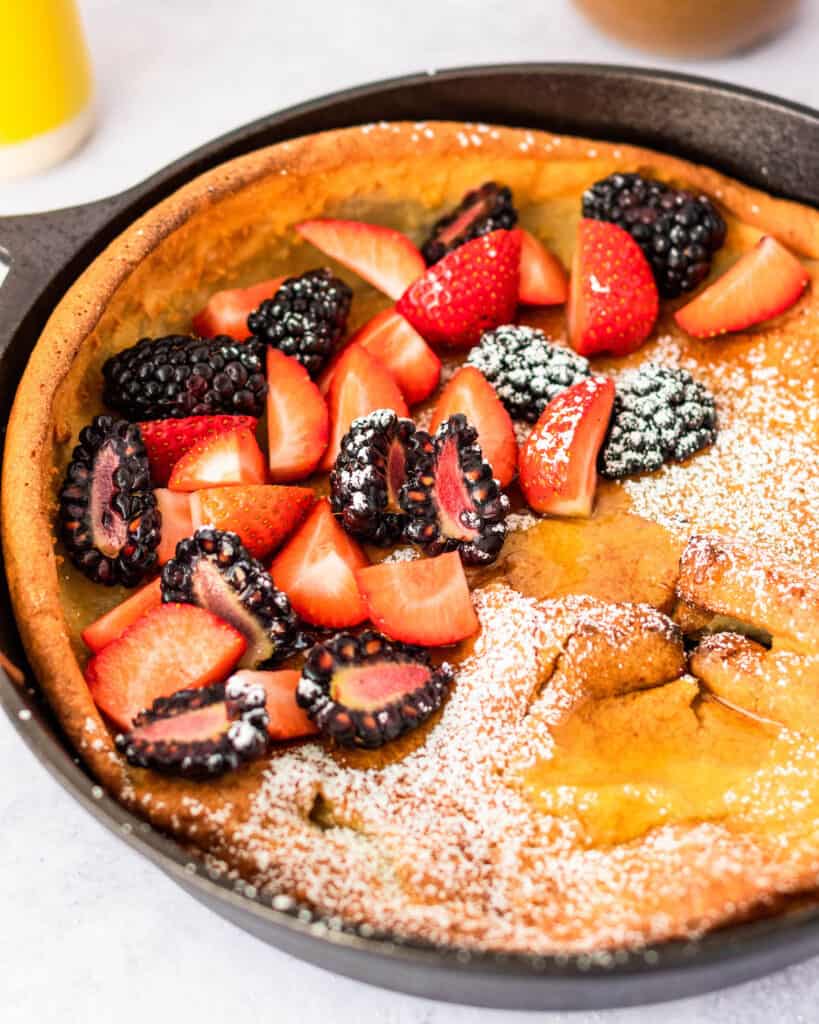 This recipe was updated on 5/1/22 and 4/24/23 with additional recipe details and instructions.
Jump to:
Why you'll love this recipe!
As someone who loves breakfast, but doesn't always make the time to prepare it, dutch babies are the perfect substitute for a pancake that can be made in half the time. They're similar to a Yorkshire pudding, but made in one large pan instead of small servings like the Yorkshire pudding is.
My Chia Seed Pudding is also such a great quick breakfast, but better for a week where you'd want to meal prep & plan in advance. The crowd pleasing pancake is perfect to make on a weekend as a rich & buttery custard-like dish everyone will love.
Prepare in 10 minutes & ready within 30 minutes!
Serves a crowd for breakfast or brunch
Gluten Free
Dairy Free
Best of both worlds: pancake & custard pudding in one dish!
This is also the ultimate gluten free summer recipe! Whether you want to serve this Dutch Baby a family gathering or quick summer brunch, it's such a great choice.
Ingredients for a Gluten Free German Pancake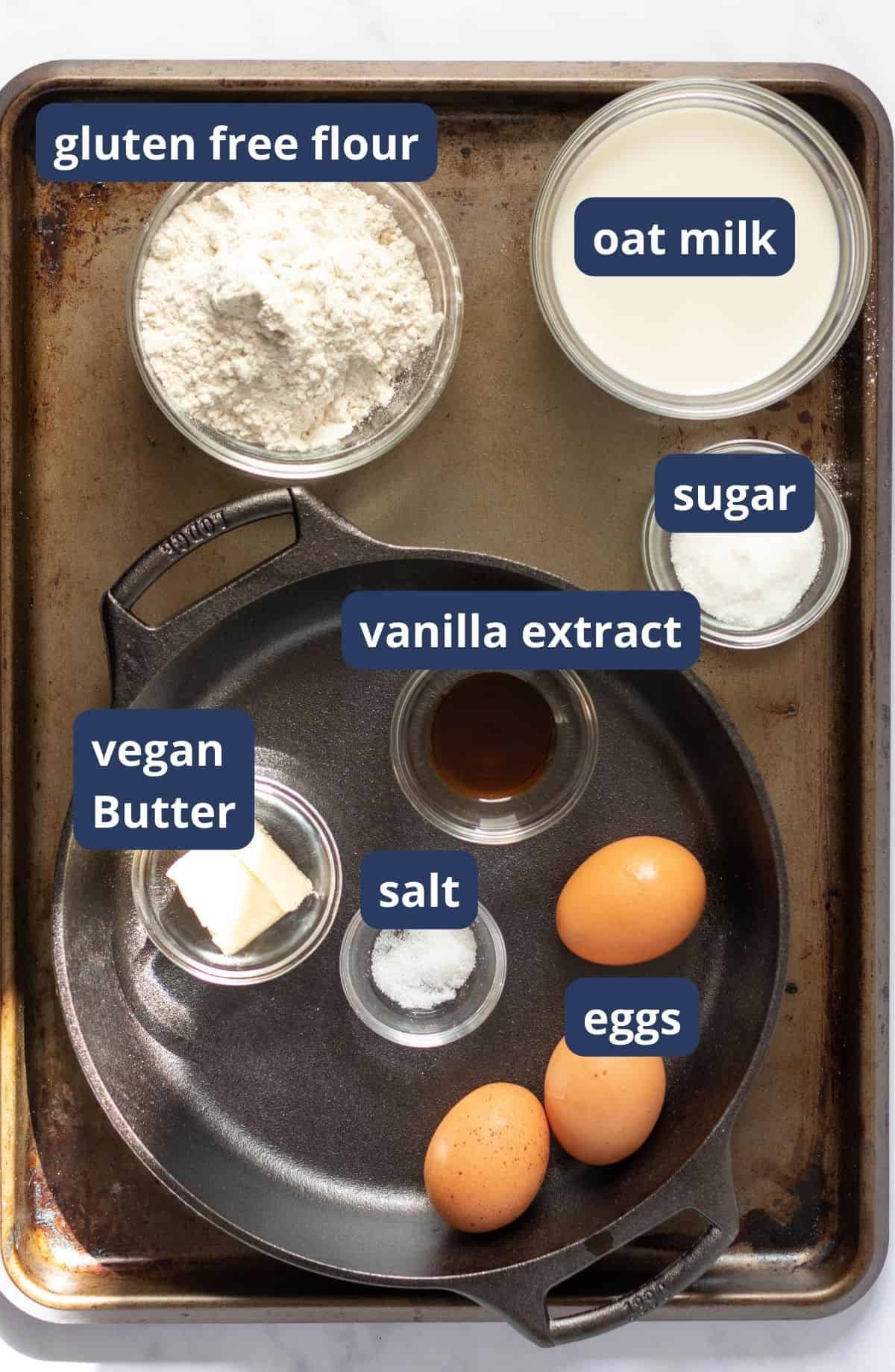 The ingredients you'll need to make this gluten-free dutch baby recipe are very minimal and ones you probably have on hand. These ingredients are similar to those of a traditional dutch baby, but it's gluten free so a few changes are made. They essentially consist of 6 basic ingredients that will yield a light custard base:
Gluten Free 1-to-1 Baking Flour - The Bob's Red Mill Gluten Free 1 to 1 Baking Flour is my go-to favorite gluten free flour blend that yields perfect results in this recipe every time. This gluten-free flour blend is the perfect substitute for regular all purpose flour (aka wheat flour that is NOT gluten free).
Full fat oat milk (or other plant-based milk) - Who would have thought you could make a Dutch Baby with Oat Milk?! It's fabulous! Oat milk or any full fat plant based milk will do the trick. You can also use a full fat canned coconut milk in this recipe; just shake it before using.
Large eggs - Adding eggs will help make it slightly custardy and keep its smooth texture. Many recipes call for room temperature eggs, but I don't find it to be necessary here!
Granulated sugar - I like to opt for an Organic Cane Sugar, but feel free to use any type you have on hand.
Vanilla Extract - Vanilla is an essential in most baking recipes and this is no except. A little goes a long way!
Salt - A large pinch of salt is important in almost every sweet and savory recipe.
Unsalted (vegan) butter - Yes, this recipe can be made with real butter or you can make a vegan version of a Dutch Baby! Only 3 tablespoons is needed, not a whole stick of butter thankfully.
Ingredient swaps & substitutions
This German pancake recipe is super straight forward, with minimal ingredients to achieve a fluffy texture of this gluten free version you will love. Here are a few swaps and substitutions that can be made:
Swap vegan butter for real butter! You can make this recipe dairy free or with dairy, however you please.
If you don't have large eggs on hand, swap for medium or extra large eggs.If using medium eggs, increase by 1 egg. If using extra large eggs, decrease by 1 egg.
Add a pinch of cinnamon or nutmeg to your dutch baby for a seasonal flare.
Swap oat milk or any other full fat milk you have available. You can use almond milk or whole milk for this dutch baby pancake.
You may want to swap the gluten free flour for coconut flour, almond flour, cassava flour, tapioca flour, oat flour (some popular ones) or another gluten free flour you have on-hand, but I can't guarantee the results. I'd recommend combining at least 3 gluten free flours in place of the 1 to 1 Baking Flour, but I can't guarantee the results. It would be your own kitchen experiment.
Feel free to add a teaspoon of lemon zest into the batter for a delicious lemony flavor.
Instructions
Making this gluten-free dutch baby pancake recipe couldn't be any simpler than 4 basic steps using 6 household ingredients! The best part is that you don't need any mixing bowls, just a high speed blender. How to make a gluten free dutch baby:
Step 1: Place your cast iron skillet into a super hot preheated oven (425°F) oven and allow to get warm.
Step 2: Blend dry ingredients and wet ingredients all together: gluten free flour, oat milk, eggs, sugar and vanilla extract for 15 seconds. Let sit for 10 minutes. Alternatively, blend ingredients by using a bowl and whisk or immersion blender.
Step 3: Place butter into the hot skillet so you now have melted butter in the pan and move around so it also coats the sides of the skillet. Then, pour batter into the buttered pan.
Step 4: Bake for 15-20 minutes until you have a puffy pancake that is golden brown with crispy edges. Allow to cool for 5 minutes then dust with confectioners sugar before serving.
If you don't have a cast iron skillet to make this recipe, my second choice would be to use a medium sized casserole dish. These are always different ways to make a recipe. It will work perfectly too!
Gluten Free Dutch Baby Toppings
This gluten free German pancake can be topped with a numerous amount of garnishes, from fruit to jams or even a simple syrup! 
Fresh Berries such as strawberries, blackberries, raspberries & blueberries
Simply confectioners sugar
Pure maple syrup
Sautéed spiced apples
Maybe even ice cream?!
Recipe FAQ's
What is a Dutch Baby?
A Dutch Baby is a magical creation that is a cross between a pancake, crepe and popover. It has very simple ingredients and is baked in the oven in a cast-iron skillet to yield a thin, pancake-like creation that becomes puffy and light when baked. You'll have to try my Gluten Free Dutch Baby version it to know what I mean!
What makes a Dutch Baby rise?
There is no chemical leavening in a Dutch Baby so you may wonder how does it rise. The Dutch Baby rises because it is baked in a super hot pan which immediately allow the milk and eggs to create steam which makes the Dutch Baby rise.
What types of flour should I use?
I personally recommend using 1 simple flour, the Bob's Red Mill Gluten Free 1 to 1 Baking Flour. You can swap to use a different 1 to 1 gluten free flour that already contains xanthan gum.
Why did my Dutch Baby deflate?
This is normal! The puffed Dutch Baby will last for a very short amount of time and deflates very quickly. Serve within the first 10-15 minutes for maximum puffiness, but know that the recipe will taste the same even when it deflates.
What goes with a Dutch Baby Pancake?
I love to serve this with fruit such as strawberries, blueberries, blackberries and raspberries. Plus a sprinkle of powdered sugar! You can also add a drizzle of maple syrup or even a dollop of whipped cream if you like. Move berry preserves? Add a swirl to the batter before baking for a cool marbled effect.
Can you reheat a Dutch Baby?
Definitely! I prefer it served fresh out of the oven but you can reheat it. Either place in the oven at 275°F or 300°F for 10 minutes or simply microwave for 30-60 seconds and enjoy.
Can I make a Dutch Baby Pancake without cast iron skillet?
Yes! You can make a Dutch Baby Pancake without a cast iron skillet, although I do prefer it. Be sure to use an oven safe pan that is well greased and it will work!
Can I use coconut oil in this recipe?
You likely can, but I have yet to try it! I have a feeling it would work great. Be sure to use Refined Coconut Oil for a less coconut-like flavor.
Top tips
Making this custard-like pancake is super simple, but there are a few tips to make sure it comes out perfect every time!
Don't over blend the pancake mixture otherwise it can become tough and less airy!
Use the specified gluten free flour for best results.
Make sure the pan is super hot before baking the dutch baby so it will rise and cook properly.
Best served the day off for visual appeal but it is still tasty the next day.
Add your favorite toppings to elevate your giant pancake!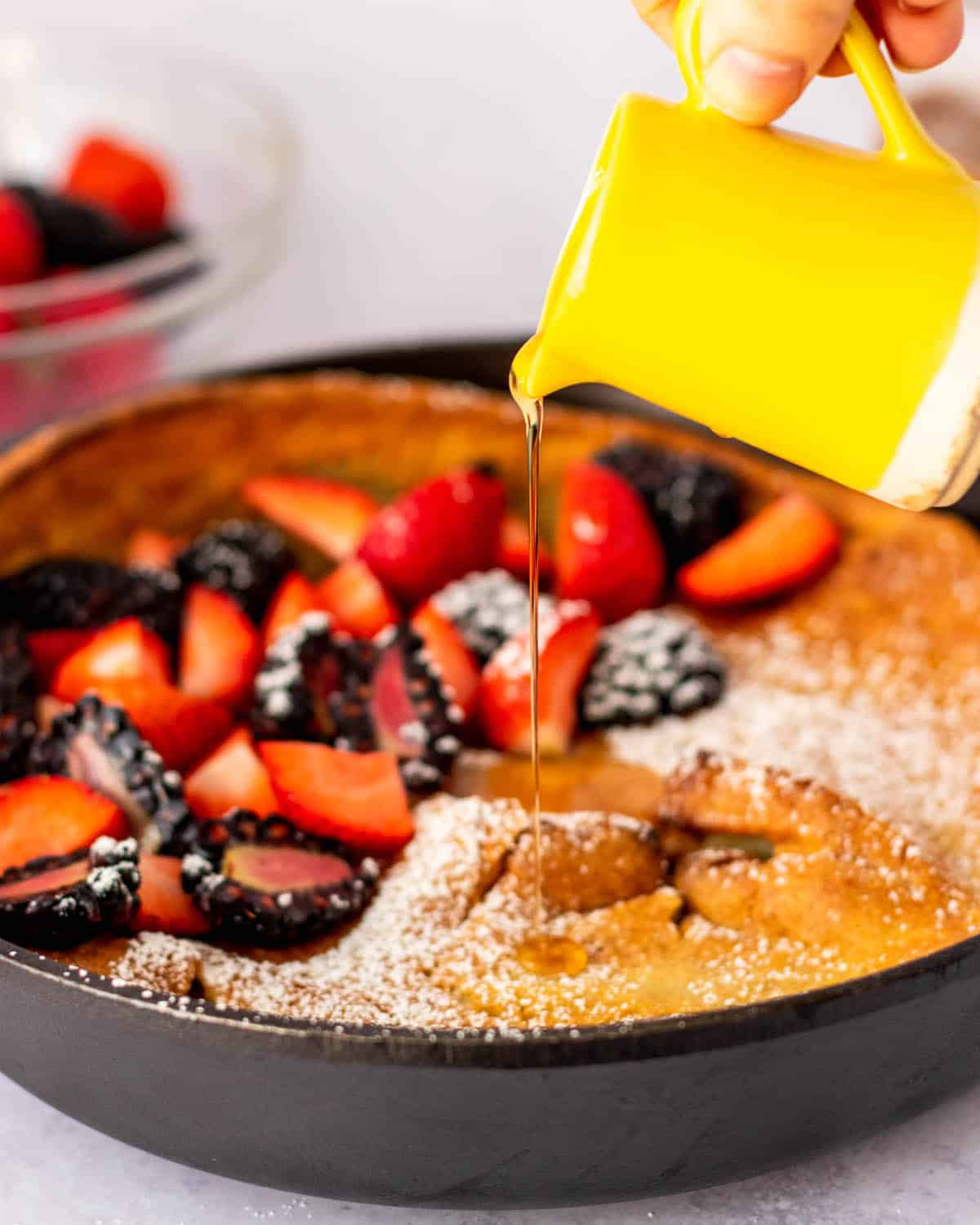 Related recipes you may love
Here are four delicious breakfast recipes that I thought you'd like. You can pair them with this fluffy dutch baby or make them another day!
Have you tried this recipe? Consider leaving a ⭐️⭐️⭐️⭐️⭐️ rating in the recipe card right below and/or a review in the comment section further down the page. Or, consider following me on Facebook or Instagram! Thanks for visiting.
Best Gluten Free Dutch Baby (German Pancake)
This gluten free dutch baby can be prepared within 10 minutes and yields a light and fluffy custard-like pancake everyone will love! With only 6 simple ingredients, you'll have breakfast in no time.
Equipment
1 Blender

1 Cast Iron Skillet
Ingredients
¾

cup

full fat oat milk

or other plant-based milk

3

large eggs

2

tablespoons

granulated sugar

2

teaspoons

pure vanilla extract

½

teaspoon

salt

3

tablespoons

unsalted butter

I use Vegan Buttery Sticks
Instructions
Preheat the oven to 425°F. 

Add all ingredients, except for the butter, to a blender and blend until smooth; about 15 seconds.

Allow the batter to sit for 10 minutes if time allows.

Place a 9" or 10" oven-safe cast iron skillet in the oven. 

Carefully, remove the pan from the oven and add the butter and swirl around until it coats the pan. 

Pour the batter into the pan. Tilt the pan to evenly distribute the batter, if needed.

Bake until the dutch baby is puffed and golden, about 15-20 minutes. 

Serve with confectioners sugar, berries and maple syrup!
Notes
I love to serve this with fruit such as strawberries, blueberries, blackberries and raspberries. Plus a sprinkle of powdered sugar! You can also add a drizzle of maple syrup or even a dollop of whipped cream if you like. Move berry preserves? Add a swirl to the batter before baking for a cool marbled effect.
Best made right before serving since it will be puffed and beautiful but it will still reheat well the next day.
Be sure to use a Cast-Iron skillet in this recipe if possible. If you don't have a cast iron skillet, you can use an oven-safe pan or baking side, about 9" to 10".
Milk swaps: Use any other nut or plant based milk in this recipe, such as almond milk or cashew milk. 
Topping ideas: Top your pancake with fresh fruit, a homemade berry compote, maple syrup, whipped cream and more! Be creative with your toppings. 
Nutrition
Serving:
1
Serving
|
Calories:
167
kcal
|
Carbohydrates:
18
g
|
Protein:
5
g
|
Fat:
9
g
|
Saturated Fat:
4
g
|
Polyunsaturated Fat:
1
g
|
Monounsaturated Fat:
2
g
|
Trans Fat:
1
g
|
Cholesterol:
97
mg
|
Sodium:
240
mg
|
Potassium:
49
mg
|
Fiber:
2
g
|
Sugar:
7
g
|
Vitamin A:
355
IU
|
Calcium:
67
mg
|
Iron:
1
mg