What do I love most in this world? Oat Milk Rice Pudding is at the top of the list! Just kidding, but I do truly love Rice Pudding more than most foods since it's creamy, nostalgic and uses very few ingredients.
With only 6 ingredients, you can make this dairy free rice pudding in under an hour with only 10 minutes of prep!
Jump to:
Why you'll love this recipe!
If you know me in person, I'm ALWAYS talking about rice pudding & this version makes the cut! Oat milk rice pudding is my new go-to for a dairy-free version that tastes delicious & creamy every time.
I love this recipe so much and I think you will too because:
It uses oat milk & has only 6 simple ingredients!
The rice is light and fluffy
It's thick and creamy
It only takes about 10 minutes of active prep time (1 hour total with cooking).
It is nostalgic and comforting!
Delicious served warm or cold
The perfect summer recipe!
Keep in mind, this rice pudding is delicious as is, but also yummy with toppings. Even consider a spoonful of my easy & delicious Blackberry Compote in your bowl!
Ingredients for the rice pudding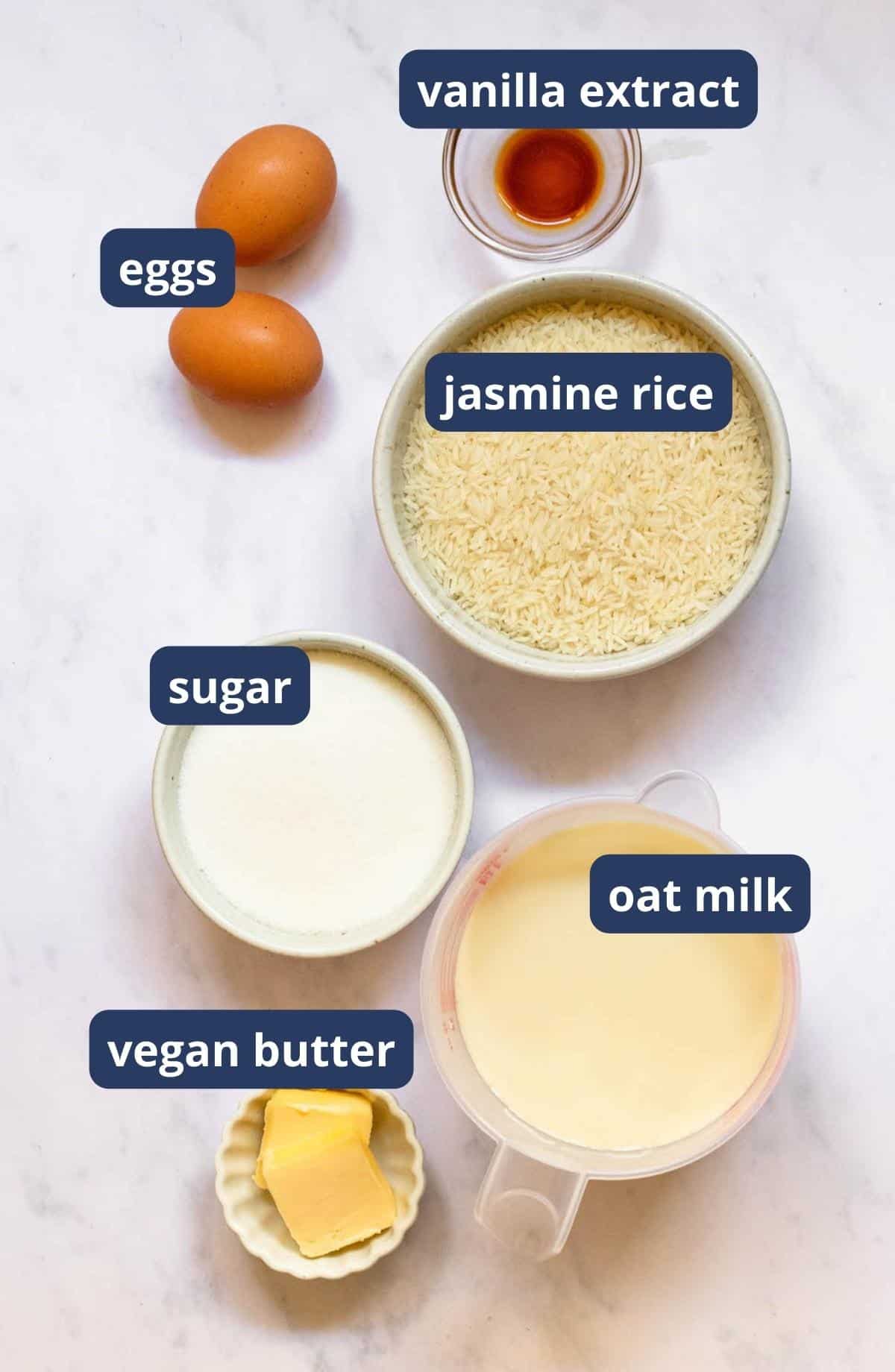 The ingredients for this dairy free creamed rice recipe is so simple and straightforward. Most of them can already be found in your pantry and fridge.
The ingredients you will need to make this oat milk rice pudding:
Jasmine rice - The rice is the main component of this dish. Jasmine rice is preferable to other rices for rice pudding because of how deliciously fluffy it gets.
Oat milk - Oat milk makes the pudding so creamy. I've tested this recipe with other plant based milks and oat it the absolute best.
Sugar - Granulated sugar adds the much needed sweetness in this dish.
Butter - You can use dairy butter, but for the sake of keeping this dairy free, I used vegan butter.
Eggs - The eggs add to the creamy texture and yellow color which I love.
Vanilla extract - In addition to the sugar, the vanilla adds delicious flavor.
Ingredient swaps
This recipe cannot be modified much, but here are a few ways in which it can be:
Use slightly more or less sugar. If you like your rice pudding super sweet , you can add a bit more sugar than the recipe calls for.
Make it dairy or plant based using a different milk/butter. I chose to use vegan butter and oat milk because I am dairy free, however, dairy butter and whole milk will yield the same delicious results! You can also use almond milk in this recipe.
Instructions
Rice pudding is fairly easy to make! How to make oat milk rice pudding in 4 easy steps:
Step 1: You start by cooking raw rice with water according to the package directions, without adding any oil or salt.
Step 2: Once the rice is cooked, it cooks a second time with full fat oat milk & lots of sugar!
Step 3: Cook this mixture uncovered for 15-20 minutes until thickened.
Step 4: Once the rice and milk mixture has thickened (after about 25 minutes of cooking), you'll temper the eggs by adding in a bit of the rice mixture to them whisking fast.
Step 5: Then, the egg-rice mixture is transferred back to the pot to cook for another few minutes. Mix in the vanilla extract and vegan butter.
Step 6: Once fully cooked, it's time to transfer the rice pudding to a baking dish & sprinkle on cinnamon. Serve warm or cold with toppings of your choice!
Recipe FAQ's
How to make rice pudding without milk?
You need some type of milk, plant based or dairy, to make rice pudding in order for it to become creamy. Substituting water will yield different results.
Can you make pudding with oat milk?
Absolutely! The creaminess of oat milk is perfect for making dairy free rice pudding.
What kind of rice should you use in rice pudding?
I use Jasmine rice in my recipe. I have not tested it with other rices, but feel free to try it out and leave a comment letting me know how it came out
Can I make the rice in a rice maker?
Follow the directions on your rice cooker to cook the Jasmine rice and then transfer to a pot on the stove for the remainder of the recipe.
What can I garnish my rice pudding with?
Feel free to enjoy simply with a sprinkle of cinnamon (as I do many times) or top with crushed nuts or fruit. I topped this batch with pomegranate seeds, crushed pistachios & coconut flakes.
Top tips
Making this rice pudding with oat milk is so simple to make, and here are a few tips to make sure it comes out perfect every time!
Temper the eggs! This step is crucial to keeping the eggs from scrambling in the rice pudding.
Chose full fat oat milk. The fat is what makes the oat milk extra creamy, so make sure your'e not using a low fat milk.
Chill in the fridge for 2-3 hours for chilled pudding perfection!
Top your rice pudding with anything you like. I love a sprinkle of cinnamon with some pomegranate seeds, coconut flakes and pistachios.
Related recipes you may love
Love oat milk recipes? Try my Oat Milk Hot Cocoa that it to die for!
Also, here are four more delicious dessert recipes I think you'll love that can be paired perfectly with your rice pudding.
Have you tried this recipe? Consider leaving a ⭐️⭐️⭐️⭐️⭐️ rating in the recipe card right below and/or a review in the comment section further down the page. Or, consider following me on Facebook or Instagram! Thanks for visiting.
Oat Milk Rice Pudding
This creamy Oat Milk rice pudding is made with only 6 ingredients and can be prepared in 10 minutes & ready within an hour.
Ingredients
1 ½

cups

raw Jasmine rice

3

cups

oat milk

full-fat version

¾

cup

granulated sugar

1

tablespoon

plant-based butter

I use the Earth Balance Vegan Buttery Sticks

2

large eggs

1

tablespoon

vanilla extract
Instructions
Begin with cooking the Jasmine rice according to package directions. Typically, you boil 3 cups of cold water in a medium pot. Then, pour in the raw rice and mix. Bring rice & water to a simmer & turn to low heat while covering the pot. Cook on a low simmer for 18 minutes, then turn off the heat. Allow the rice to steam in the pot for 5 minutes before uncovering and fluffing with a fork. 

Once the rice is cooked, keep it in the pot and mix in milk & sugar. 

Return the pot to the stovetop and turn the heat to medium-high. Bring the milk mixture to a boil, then lower the heat and cook at a simmer. Mix every few minutes so the rice doesn't burn at the bottom of the pot. 

Simmer for about 20 minutes, until the rice & milk has thickened. 

In a medium bowl, whisk together the eggs & vanilla extract. 

Pour 2 cups of the hot rice mixture into the eggs and whisk fast, so the eggs don't curdle & cook. 

Pour the tempered egg-rice mixture back into the pot and mix until combined. Cook for another 2 minutes; the mixture will continue to thicken. Mix in the vegan butter.

Transfer the rice pudding mixture to a 9" x 13" glass dish, dust with cinnamon and allow to cool completely before covering with plastic wrap and placing in the fridge to set.

Once ready to serve, scoop into bowls and top with fruit, chopped nuts or coconut flakes.
Notes
Feel free to cook the rice a day in advance and store covered in the fridge. Then, you can take out the rice and proceed with the recipe.
This rice pudding can be served cold or warm.
Oat milk substitute: You can also use almond milk or another plant-based milk if you don't have access to oat milk.
Topping ideas: Sprinkle with cinnamon or even add fruits, nuts or seeds. I topped my bowls with pomegranate seeds, coconut flakes and chopped pistachios.
Nutrition
Serving:
1
Serving
|
Calories:
149
kcal
|
Carbohydrates:
30
g
|
Protein:
3
g
|
Fat:
2
g
|
Saturated Fat:
1
g
|
Polyunsaturated Fat:
1
g
|
Monounsaturated Fat:
1
g
|
Trans Fat:
1
g
|
Cholesterol:
22
mg
|
Sodium:
38
mg
|
Potassium:
55
mg
|
Fiber:
1
g
|
Sugar:
14
g
|
Vitamin A:
130
IU
|
Calcium:
78
mg
|
Iron:
1
mg