This creamy 6-ingredient Oat Milk Rice Pudding is the perfect dairy-free dessert recipe or breakfast to make , using very simple ingredients you can find in your pantry.
It only takes 10 minutes of hands-on prep to make this rice pudding, then you just cook and stir, making it so worth it! If you like rice pudding, you may also love my Chia Seed Pudding or Gluten Free Dutch Baby as a delicious breakfast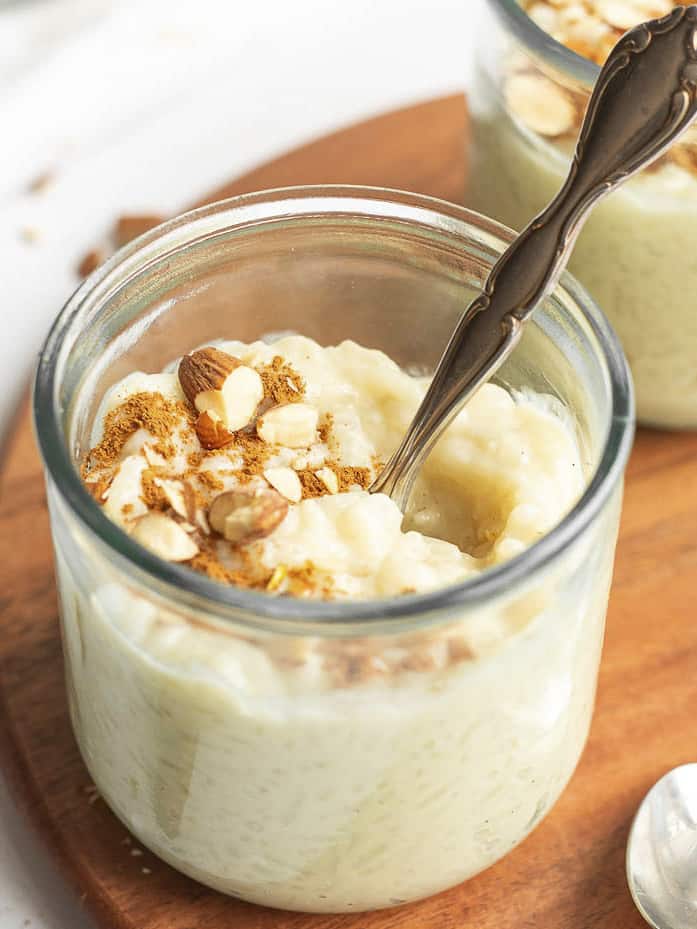 Stovetop Rice Pudding is such a nostalgic recipe in my family and I love to make this classic version! If you like a fruity rice pudding though, swirl in my 3 Ingredient Blackberry Compote.
Why you'll love this Oat Milk Rice Pudding
Oat milk rice pudding is my new go-to for a dairy-free version that tastes delicious & creamy every time.
6 ingredients - Oat Milk Rice Pudding uses 6 simple pantry ingredients you likely have at home!
Dairy free & Gluten free - Allergen friendly, and nut free too!
Thick and creamy - Simmering the rice pudding for a long period of times helps to thicken the pudding.
Easy & quick - Only takes about 10 minutes of active prep time (1 hour total with cooking).
Delicious served warm or cold - My preference is cold right from the fridge, but many people love warm rice pudding too!
Jump to:
Ingredients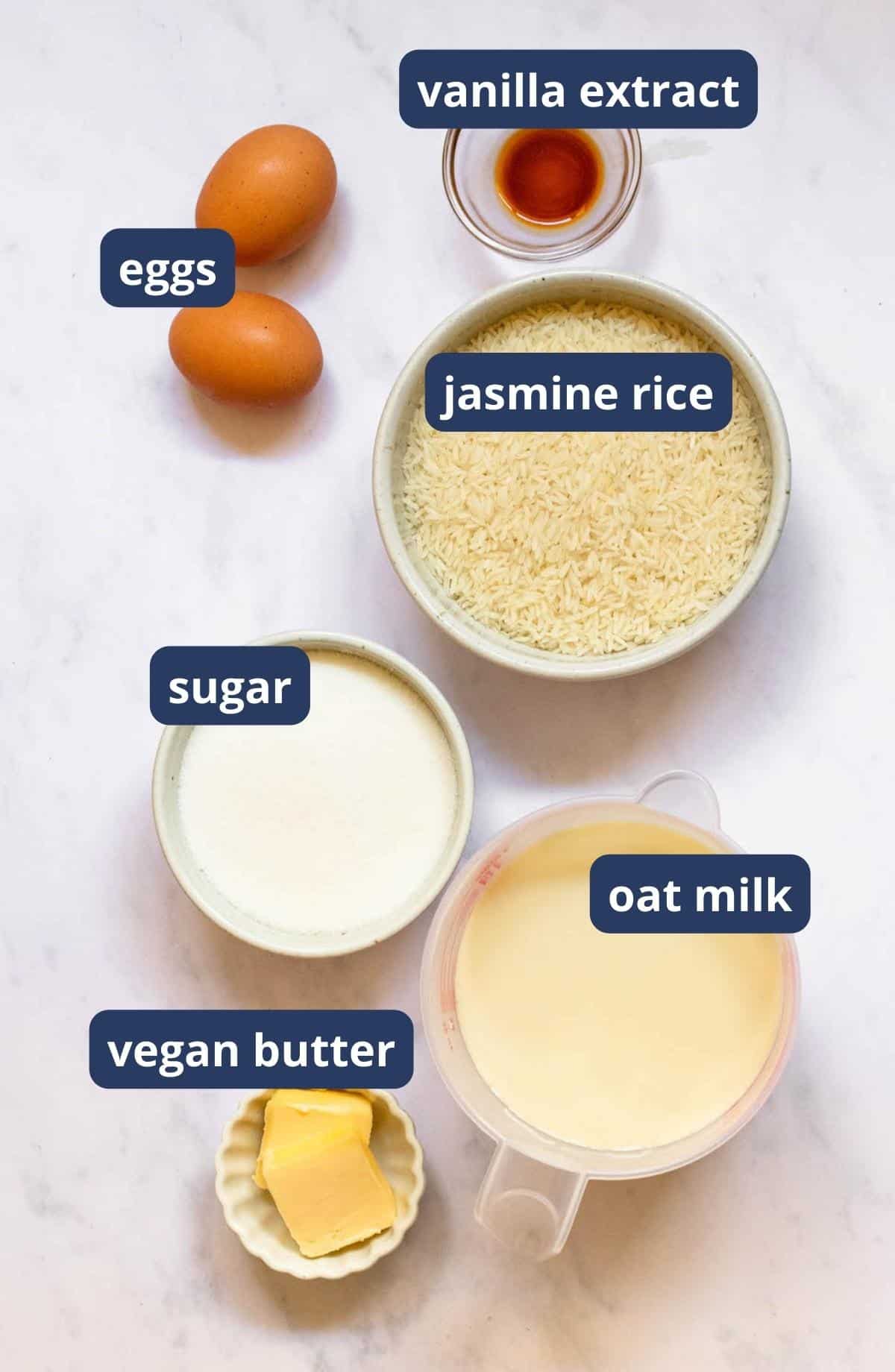 The ingredients for this dairy free creamed rice recipe are so simple and straightforward.
Jasmine rice - Jasmine rice is preferable to other rices for rice pudding because of how deliciously fluffy it gets. Arborio rice can also work!
Oat milk - Full fat oat milk makes the pudding so creamy.
Sugar - Granulated sugar. You can also use unrefined sugar for a healthier recipe.
Vegan Butter - I use dairy free unsalted butter, but you can use regular as well.
Eggs - Add to the creamy texture and yellow color which I love.
Vanilla extract - Vanilla adds delicious flavor!
Pudding topping ideas
Eat this pudding as-is with a sprinkle of cinnamon, or enjoy with a fun topping.
Raisins - Sprinkle the top of your pudding with raisins, and extra cinnamon!
Nuts - Chopped walnuts, pecans, pistachios or peanuts are an easy way to all flavor and texture. Toast the nuts at 350°F for 3-7 minutes in the oven for the perfect nutty flavor.
Berry toppings - Swirl in your favorite raspberry or strawberry preserves/jam, or add a dollop of 3 Ingredient Blackberry Compote or other simmered fruit mixture. Fresh fruit would be amazing too!
Maple syrup - Drizzle the pudding with maple syrup for an extra sweet touch.
Ingredient swaps & variations
Granulated Sugar - Use maple syrup instead! I'd recommend starting with ½ cup maple syrup, then tasting and adjust with more if needed.
Oat Milk - You can use a different plant-based milk such as a full-fat cashew milk, almond milk or rice milk. You can technically use canned full fat coconut milk, but I would recommend mixing it with another milk since it can be too strong on its own.
Jasmine rice - I prefer using Jasmine rice for this recipe, but you can also use Arborio rice or brown rice.
Pumpkin pie spice rice pudding- Add a sprinkle of pumpkin spice to give your warm pudding and mix together, for the perfect fall flavor.
Use slightly more or less sugar. If you like your rice pudding super sweet, you can add a bit more sugar than the recipe calls for.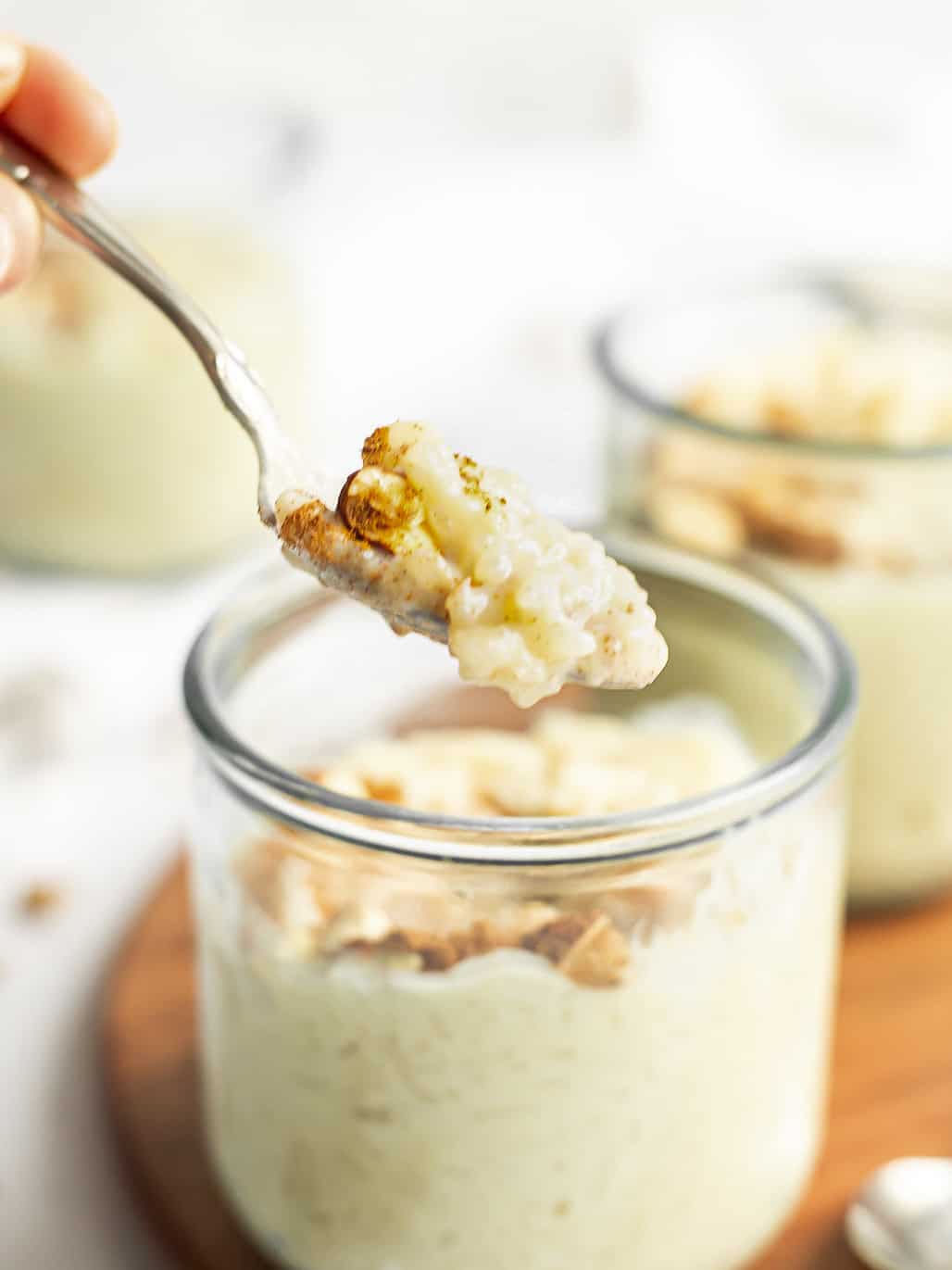 Vegan oat milk rice pudding
Make it vegan using vegan butter & skipping the eggs from the recipe. I've made this recipe with and without the eggs and both ways are super delicious!
How to make oat milk rice pudding
This healthy(ish) rice pudding is super easy to make, and requires just a bit of patience!
Step one: Cook the raw rice with water according to the package directions, without adding any oil or salt. No need to cool before next step.
Step two: Once the rice is cooked, add the full fat oat milk and sugar. Continue to cook.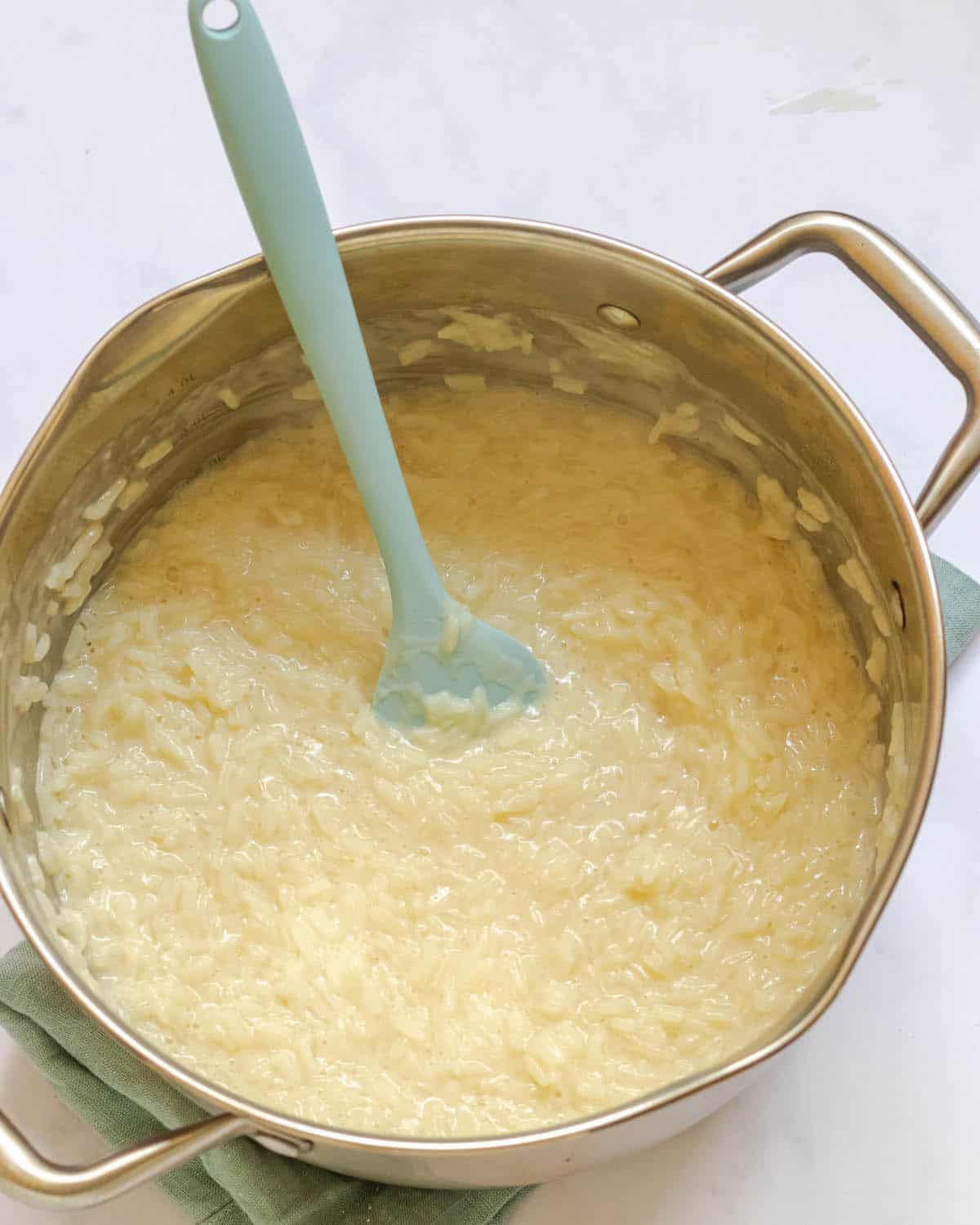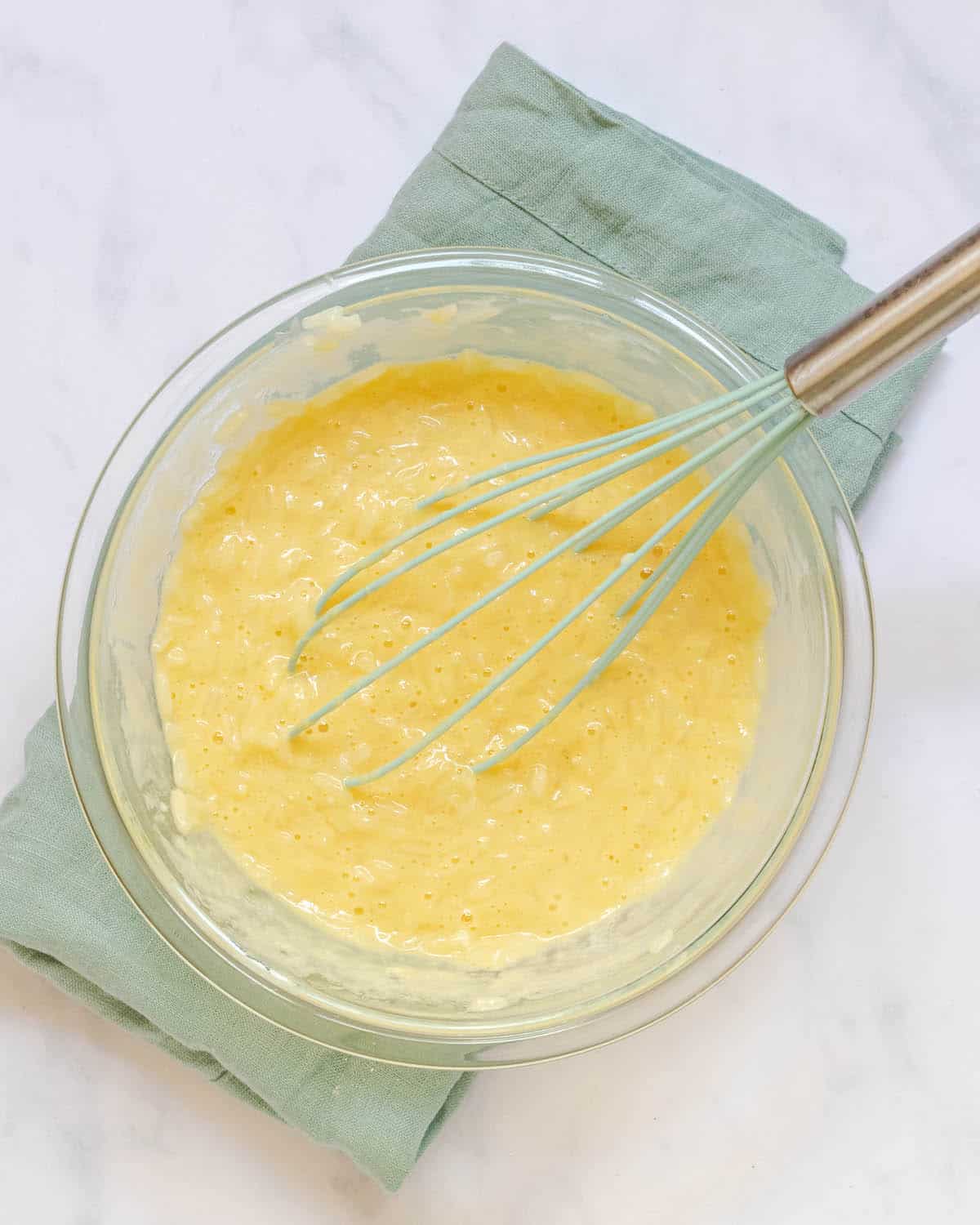 Step three: Simmer this mixture over a low heat, uncovered, for 20 minutes until thickened.
Step four: Whisk eggs in a bowl and quickly whisk in 1 cup of the hot rice pudding.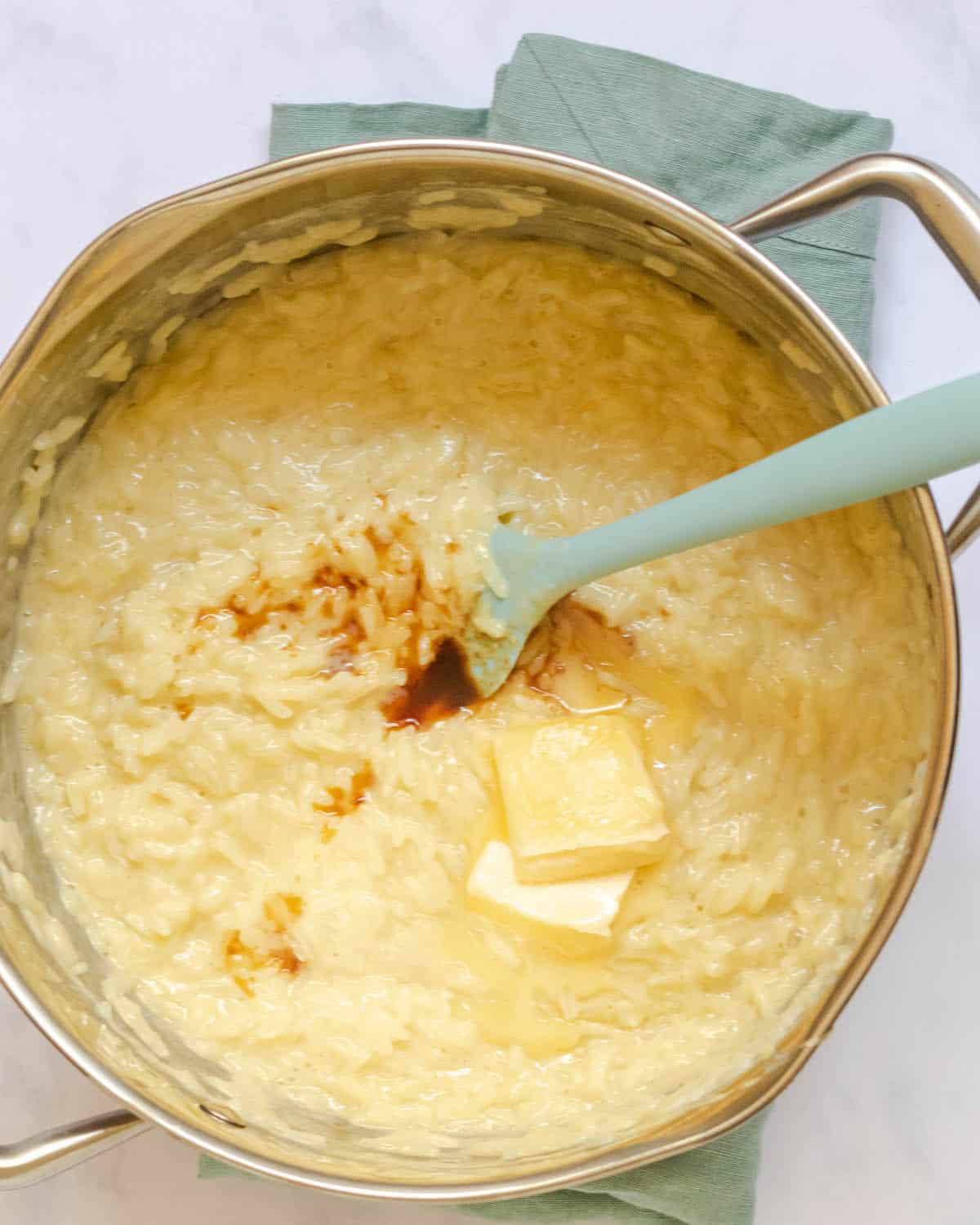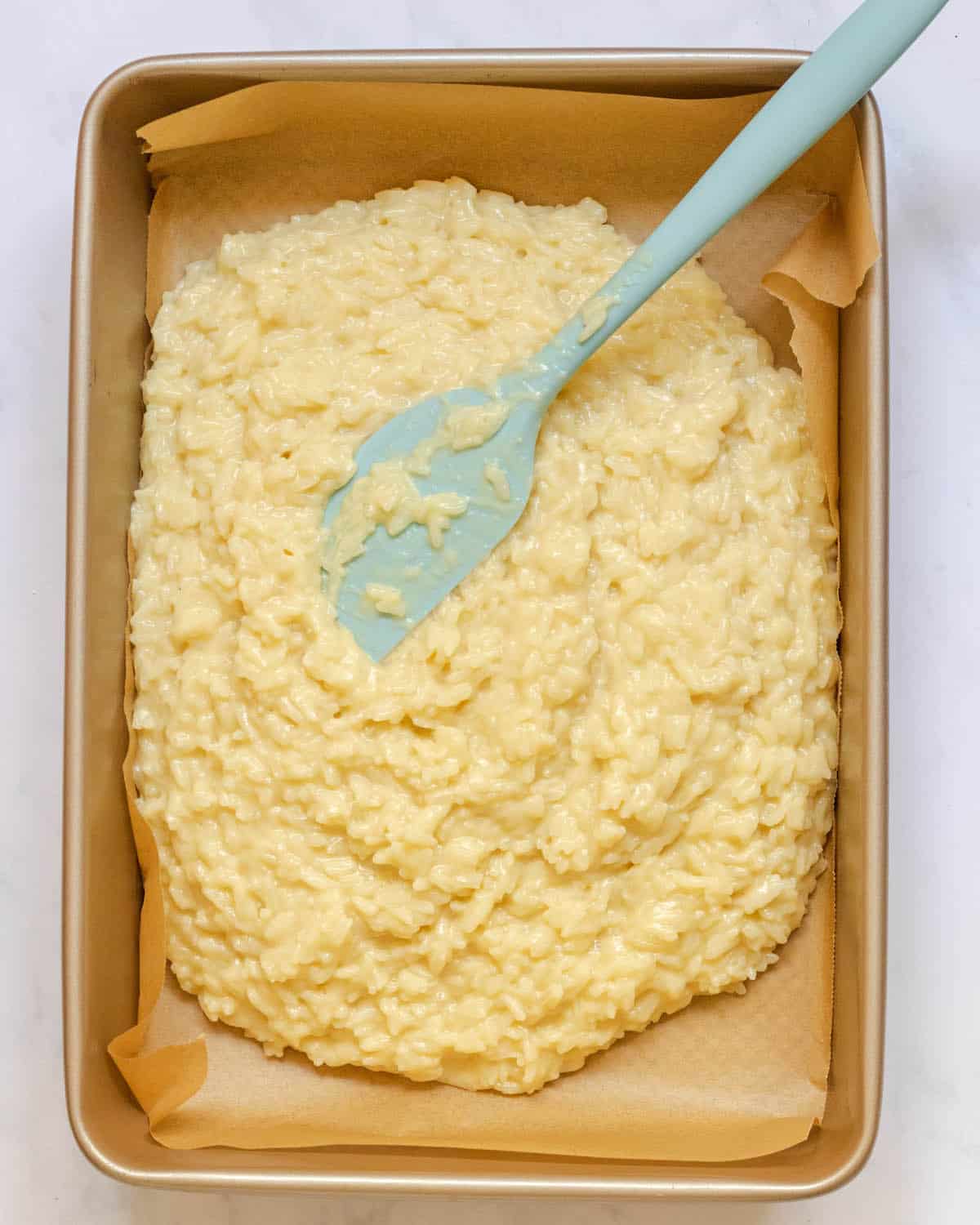 Step five: Transfer the egg-rice back to the pot and cook for another few minutes. Stir in the vanilla extract and vegan butter.
Step six: Once fully cooked, transfer the rice pudding to a 9"x13" baking dish and spread into an even layer.
Step seven: Sprinkle the rice pudding with cinnamon and place into the fridge to set.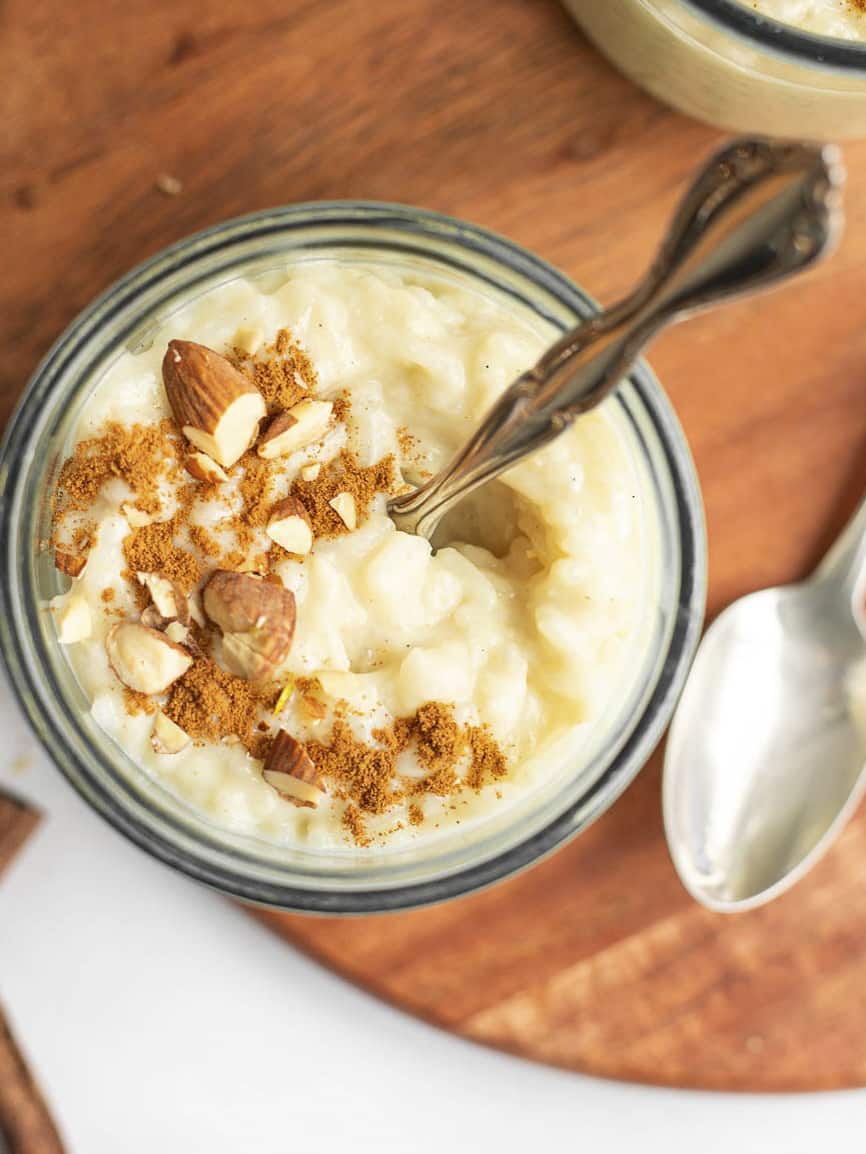 Expert tips
Whisk often - When the rice pudding is simmering, be sure to whisk the mixture often to prevent it from sticking and burning at the bottom of the pan.
Chose full fat oat milk. The fat is what makes the oat milk extra creamy, so make sure your'e not using a low fat milk.
Add more oat milk to adjust the consistency- If your rice pudding seems too thick for your liking towards the end of the cooking process, add ¼ cup more oat milk at a time to loosen the mixture and simmer an extra 2 minutes.
Chill in the fridge for 2-3 hours for chilled pudding perfection!
Top your rice pudding with anything you like. I love a sprinkle of cinnamon with some pomegranate seeds, coconut flakes and pistachios.
Recipe FAQ's
How to make rice pudding without milk?
You need some type of milk, plant based or dairy, to make rice pudding in order for it to become creamy. Substituting water will yield different results.
Can you make pudding with oat milk?
Absolutely! The creaminess of oat milk is perfect for making dairy free rice pudding.
Is rice pudding eaten hot or cold?
You can eat it either way, hot or cold! Some people really love a warm rice pudding, while others prefer a thicker cold version.
Can I make the rice in a rice maker?
Follow the directions on your rice cooker to cook the Jasmine rice and then transfer to a pot on the stove for the remainder of the recipe.
Is rice pudding eaten for breakfast or dessert?
Rice pudding is perfect for both breakfast and dessert!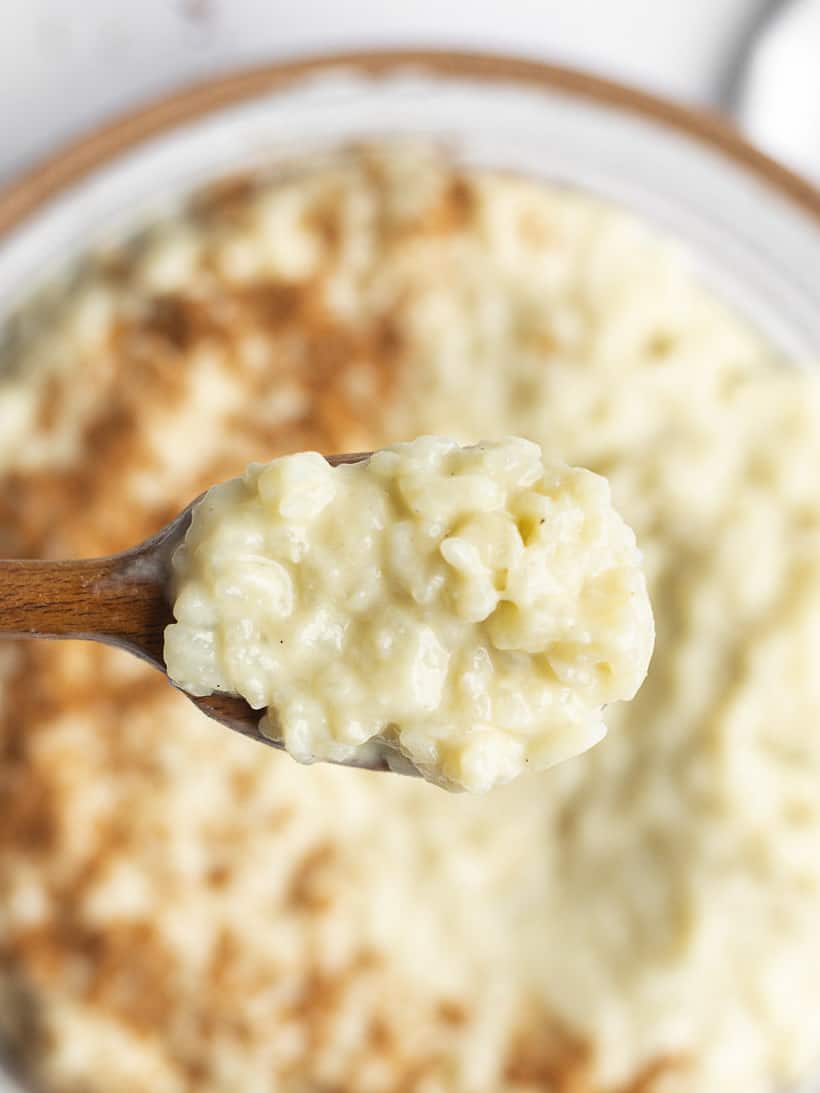 Storage
Store the rice pudding covered in the fridge for up to 5 days.
How to freeze rice pudding
Rice pudding can be frozen! Allow the cooked rice pudding to cool completely, then transfer to a freezer-safe container or ziplock. I like to wrap the container in plastic wrap to prevent freezer burn.
Thaw frozen rice pudding in the fridge overnight or directly in the microwave. Do not leave on the counter to defrost since it can breed bacteria when unevenly defrosting at room temperature.
To reheat the rice pudding once thawed, place it in a pot over medium-low heat and stir often. Add a bit more oat milk to help loosen the rice pudding, since the rice may have soaked up the liquid.
If you plan to add raisins, don't add them before freezing. Be sure to add them after the rice pudding is frozen and thawed for ideal texture.
Related recipes you may love
Love oat milk recipes? Try my Oat Milk Hot Cocoa that it to die for!
Here are more delicious dessert recipes I think you'll love that can be paired perfectly with your rice pudding.
Have you tried this recipe? Consider leaving a ⭐️⭐️⭐️⭐️⭐️ rating in the recipe card right below and/or a review in the comment section further down the page. Or, consider following me on Facebook or Instagram! Thanks for visiting.
Oat Milk Rice Pudding
This creamy 6-ingredient Oat Milk rice pudding is with pantry ingredients and makes the perfect dessert recipe or breakfast!
Ingredients
1 ½

cups

jasmine rice

raw

3

cups

full fat oat milk

such as Chobani or Oatly

¾

cup

granulated sugar

1

tablespoon

plant-based butter

I use the Earth Balance Vegan Buttery Sticks

2

large

eggs

omit if vegan

1

tablespoon

pure vanilla extract
Instructions
Cook the jasmine rice according to package directions (without any salt or oil). Typically, you boil 3 cups of cold water in a medium pot. Then, pour in the raw rice and mix. Bring rice & water to a simmer & turn to low heat while covering the pot. Cook on a low simmer for 18 minutes, then turn off the heat. Allow the rice to steam in the pot for 5 minutes before uncovering and fluffing with a fork.

Once the rice is cooked, keep it in the pot and mix in milk & sugar.

Return the pot to the stovetop and turn the heat to medium-high. Bring the milk mixture to a boil, then lower the heat and reduce to a simmer.

Simmer for about 20 minutes, until the rice & milk has thickened. Mix the pudding very often to prevent it from sticking to the bottom of the pot and burning.

In a medium bowl, whisk together the eggs & vanilla extract.

Pour 2 cups of the hot rice mixture into the eggs and whisk fast, so the eggs don't curdle & cook.

Pour the tempered egg-rice mixture back into the pot and mix until combined. Cook for another 2 minutes; the mixture will continue to thicken. Mix in the vegan butter.

Transfer the rice pudding mixture to a 9" x 13" glass dish, dust with cinnamon and allow to cool completely before covering with plastic wrap and placing in the fridge to set.

Once ready to serve, scoop into bowls and top with fruit, chopped nuts or coconut flakes.
Notes
Cook the rice a day in advance and store covered in the fridge. Then, you can take out the rice and proceed with the recipe.
Serve warm or cold from the fridge.
Oat milk substitute: You can also use almond milk, cashew milk, rice milk or another plant-based milk if you don't have access to oat milk.
Topping ideas: Sprinkle with cinnamon or even add fruits, nuts or seeds. I topped my bowls with pomegranate seeds, coconut flakes and chopped pistachios.
Storage: Refrigerate for up to 5 days.
Omit the eggs if you'd like to make this recipe vegan.
Nutrition
Serving:
1
Serving
|
Calories:
282
kcal
|
Carbohydrates:
56
g
|
Protein:
6
g
|
Fat:
4
g
|
Saturated Fat:
1
g
|
Polyunsaturated Fat:
1
g
|
Monounsaturated Fat:
1
g
|
Trans Fat:
0.3
g
|
Cholesterol:
47
mg
|
Sodium:
74
mg
|
Potassium:
105
mg
|
Fiber:
1
g
|
Sugar:
26
g
|
Vitamin A:
252
IU
|
Calcium:
146
mg
|
Iron:
1
mg