Cheesecake is one of my all time favorite summer desserts and it's even incredible when merged with a cake! This 15-minute, no-fuss No Bake Cheesecake Filling for a Cake only has 4 ingredients and is easy to make using cream cheese, confectioners sugar, heavy cream and vanilla.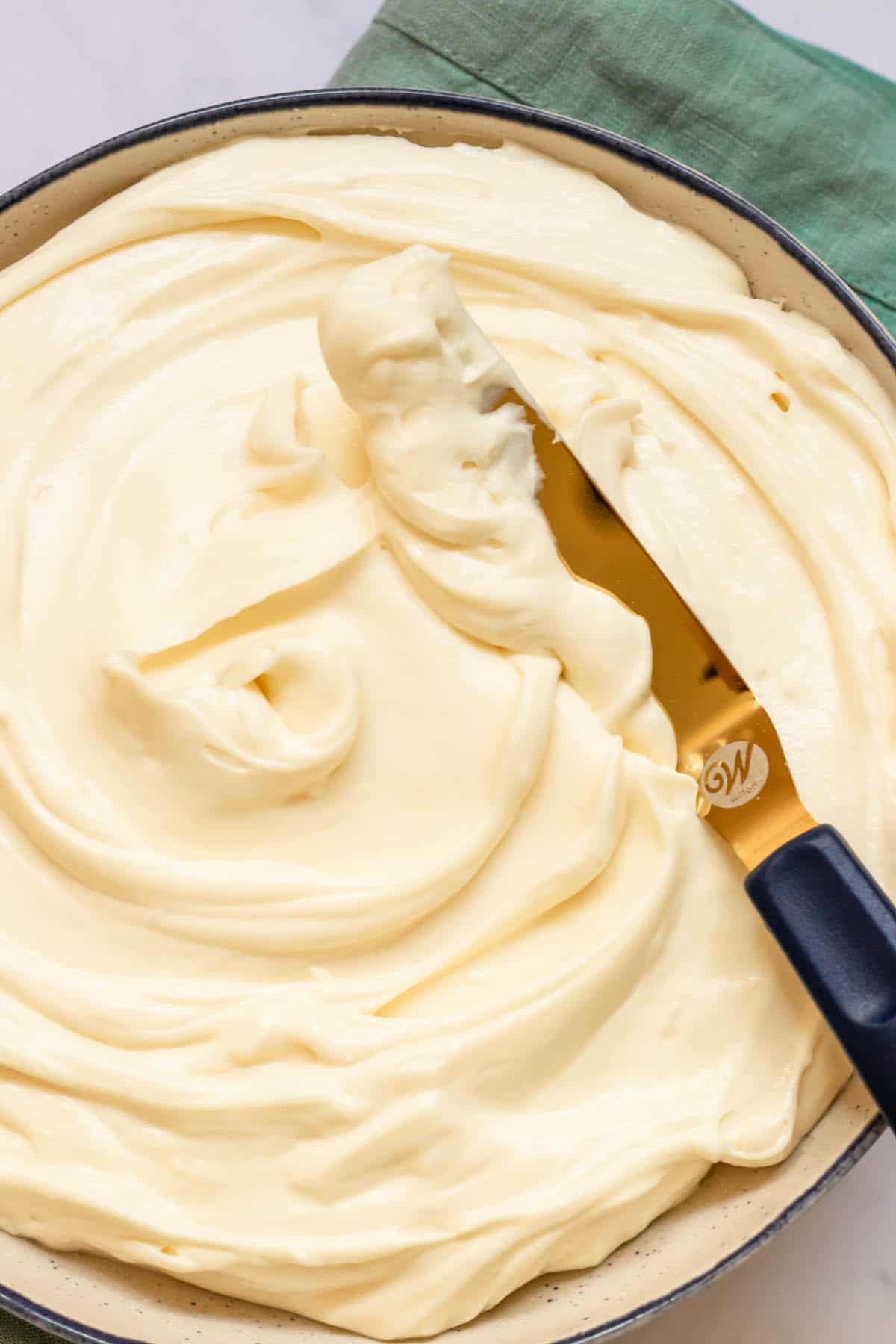 Jump to:
Why you'll love this recipe!
This is truly the best no bake cheesecake filling for cakes out there. Its easy to make and super versatile.
You can layer this cheesecake filling between any two cakes you love. I'd highly recommend it paired with this easy & quick Chocolate Cake and then add some berries for garnish or even layered in a parfait cup with my Gluten Free Pumpkin Bread!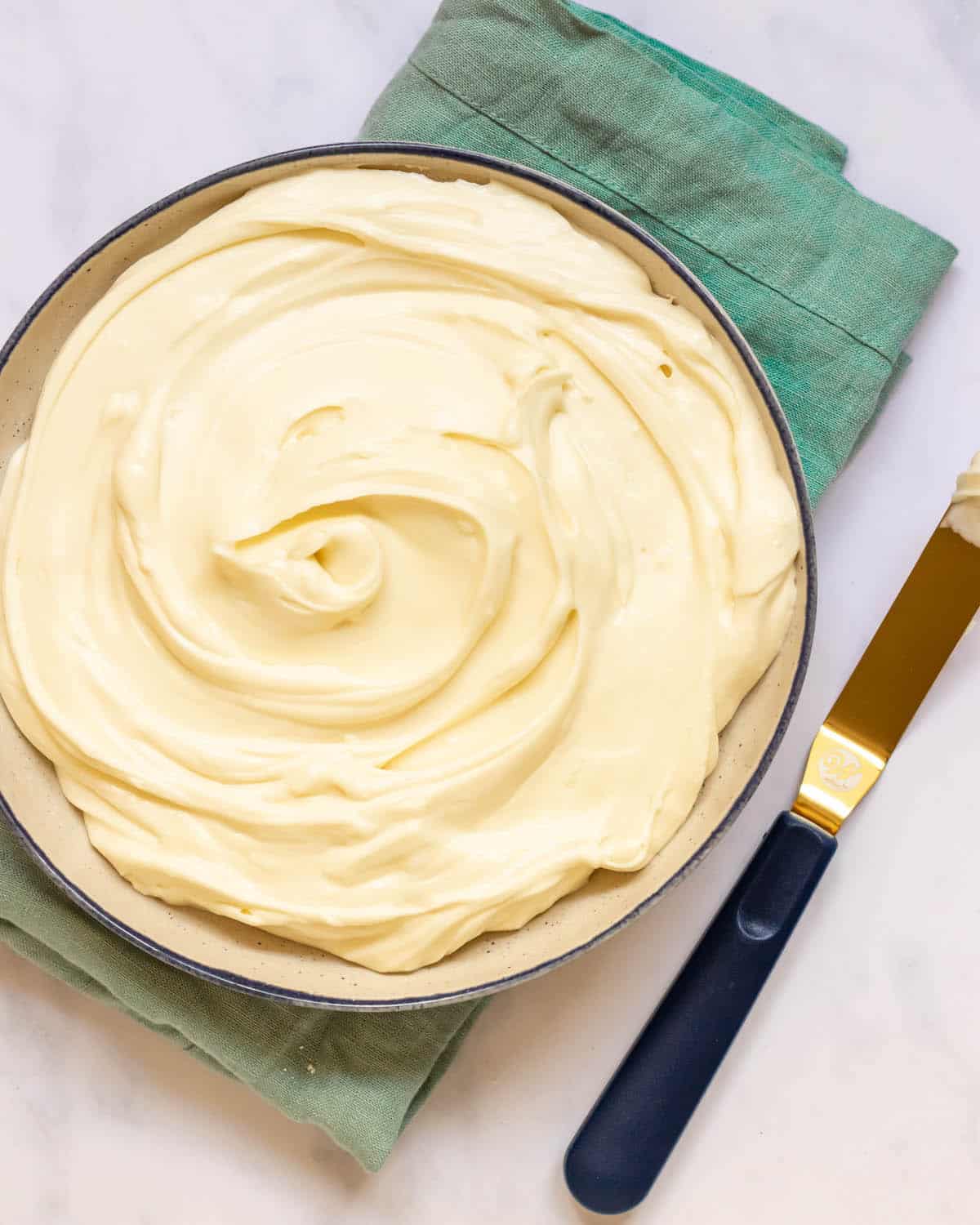 I love this recipe and I think you will too because:
Quick and easy and can be made in 15 minutes!
It only has 4 ingredients, so minimal time prepping and cleaning.
No baking required at all
Uses simple ingredients you may already have at home.
A super cool and refreshing dessert for summer!
You can put this filling into many things such as cakes, pie crusts, cupcakes, or anything you want.
Stores perfectly and can be made in advance.
Ingredients for the filling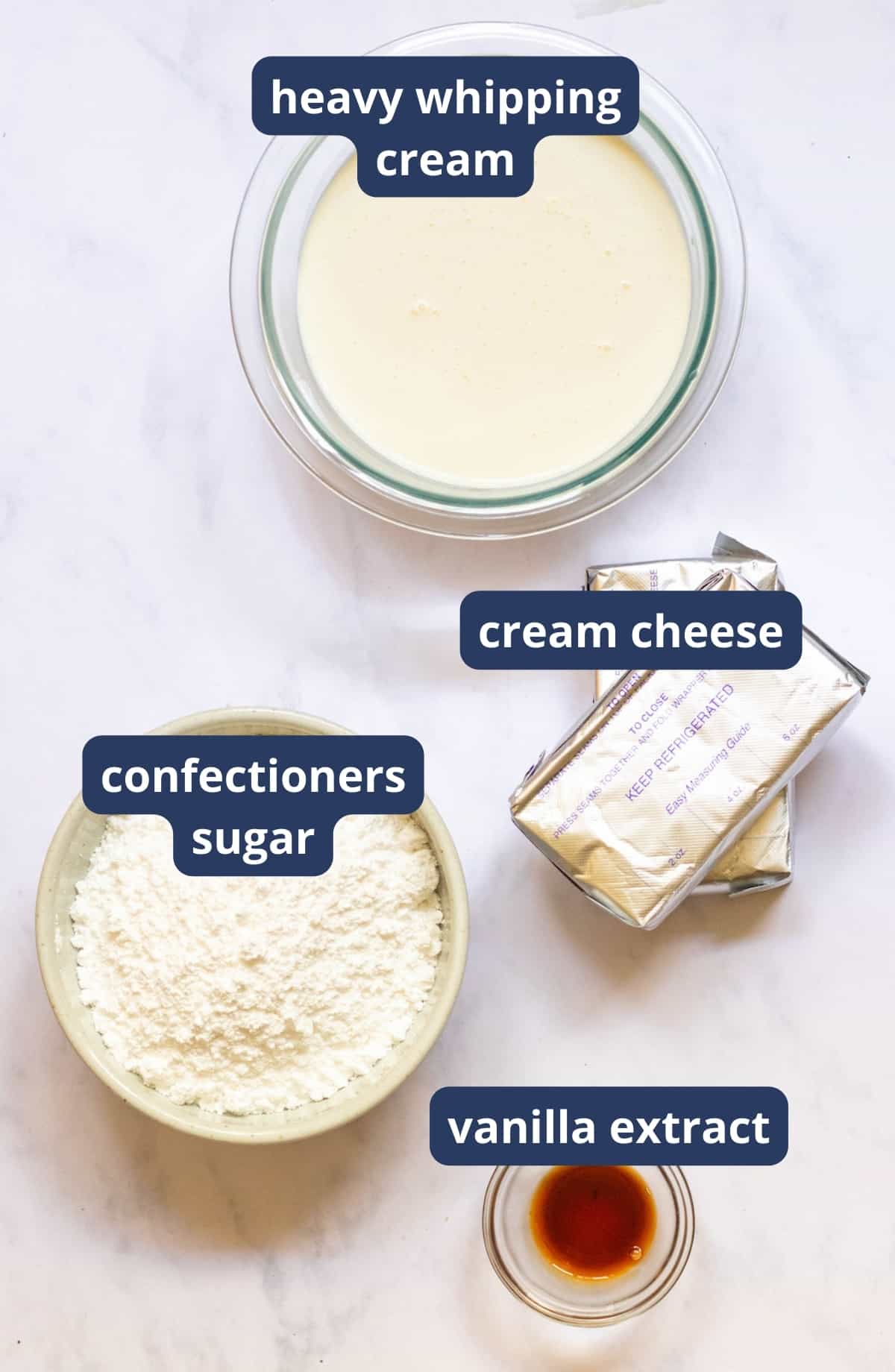 The ingredients for this cheesecake cake filling recipe are super strait forward.
The ingredients you will need to make this cheesecake filling consist of:
Heavy whipping cream - The whipping cream makes the cheesecake filling light and extra creamy.
Softened Cream cheese - Cream cheese is the core ingredient in a cheesecake filling.
Confectioners sugar - Sugar provides the sweetness that is necessary to mellow out the tangy flavor of the cream cheese.
Vanilla - Vanilla adds so much delicious flavor to the cheesecake.
Ingredient swaps & substitutions
This recipe cannot be modified, however, there are some things you can do to switch it up a bit.
Put the no bake cheesecake filling into things other than cake! Put the no bake filling into mini pie crusts. Serving cheesecake this way is excellent when you are making for a crowd. Everyone will love having their own individual cheesecake.
Swirl in some caramel sauce. Turn this into a caramel cheesecake filling by swirling in some caramel into the final product.
No bake cheesecake filling for cupcakes. This is an excellent way to upgrade a plain vanilla cupcake. You can even use it as an icing for our Apple Pie Honey Cupcakes!
Substitute the vanilla extract with an almonds extract or even coconut extract for a different flavor profile.
Make it vegan! Use a vegan heavy cream variation with a vegan cream cheese (such as the Tofutti brand) and you can enjoy this recipe too.
Instructions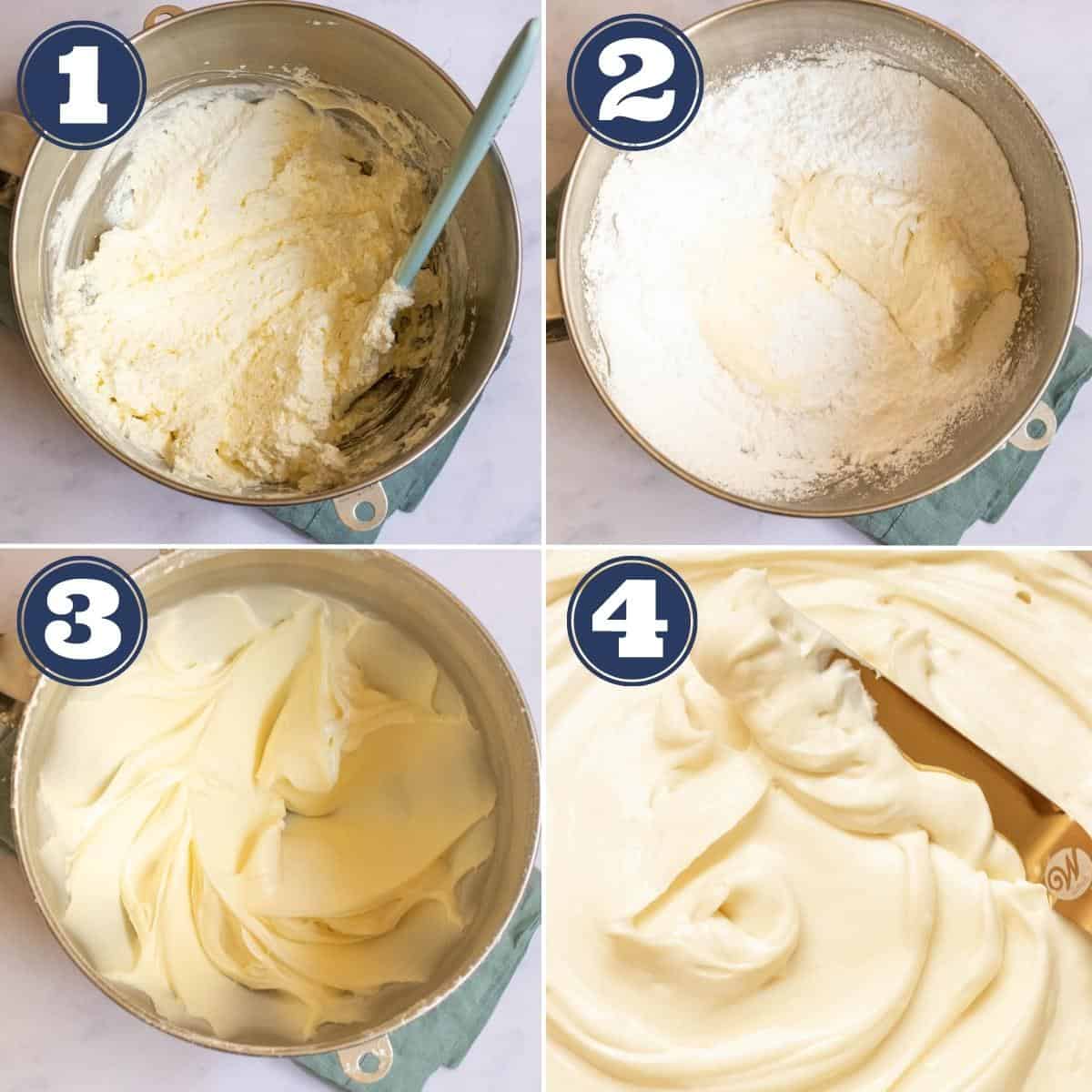 You can easily make this delicious filling in 15 minutes with no baking required. This recipe comes together in 4 extremely easy steps.
How to make a cheesecake filling:
Step 1: With an electric stand mixer or handheld mixer, whip the heavy cream until stiff peaks form.
Step 2: In a separate bowl, mix the cream cheese and sifted confectioners sugar.
Step 3: Carefully fold the whipped cream into the cream cheese mixture.
Step 4: Mix in the vanilla until it's clump free, and voila, you're done!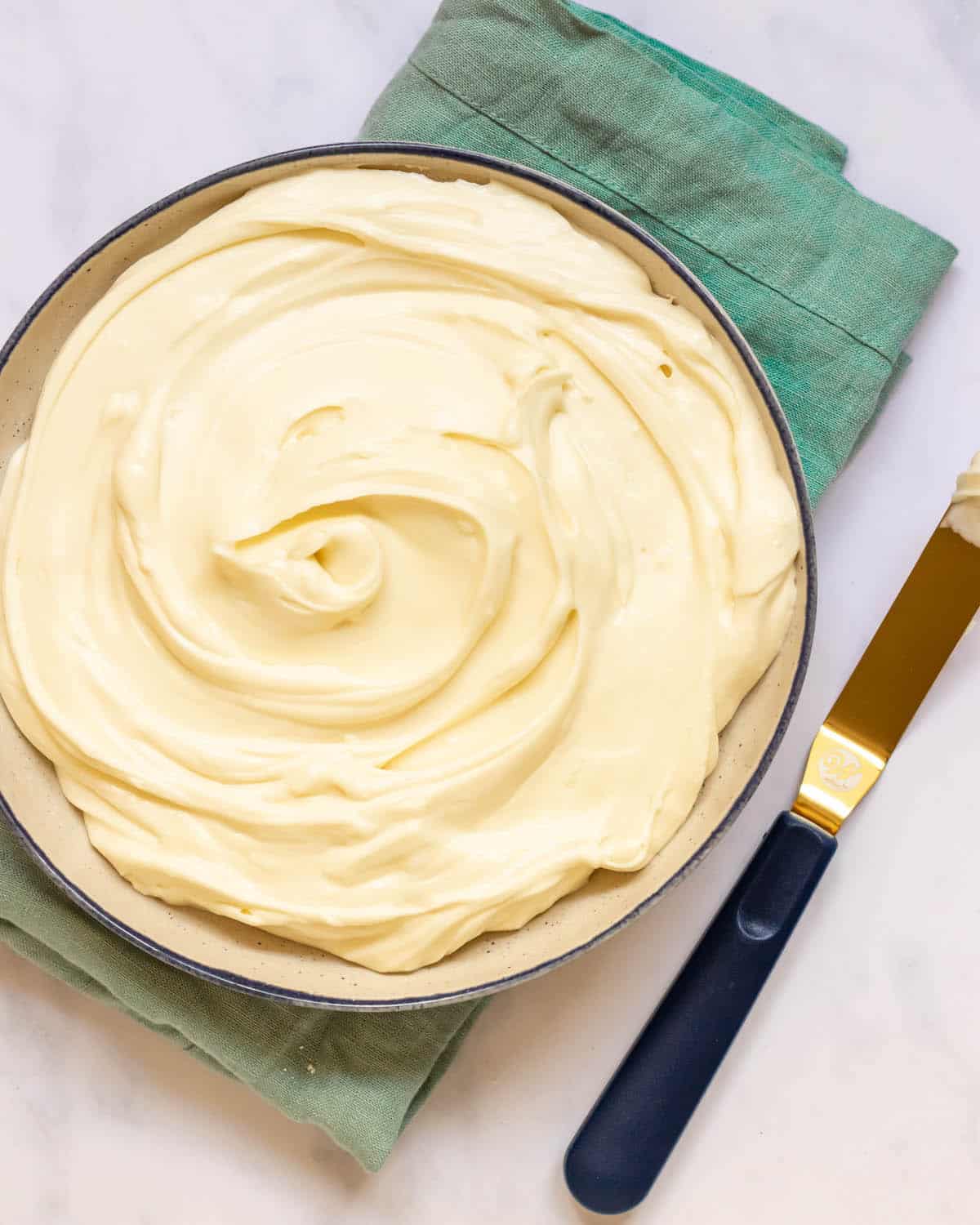 Recipe FAQ's
How can I make my no bake cheesecake firmer?
The heavy whipping cream is a crucial step in the firmness of the cheesecake filling so be sure to buy that rather than a creamer or coconut milk at the store. Additionally, refrigerating the cheesecake filling will help it to firm up.
If your cheesecake filling is still not firm enough, consider returning it to the mixer and beating it for another 1-2 minutes.
What is the difference between no bake cheesecake and regular cheesecake?
No bake cheesecake firms up in the fridge, and baked cheesecake firms up in the oven. Because the no bake version doesn't get baked, it does not contain eggs.
Do I need to refrigerate my no bake cheesecake?
Yes, this cheesecake filling must be stored in the fridge because it contains dairy.
Is cheesecake better baked or no baked?
No bake cheesecake and classic baked cheesecake are two totally different things and reply on different ingredients, so I wouldn't say one is better than the other. They're just different! You can try both and see which one you love most.
How long does a no bake cheesecake last?
The filling alone should last 4-5 days in the fridge easily! But, consider if you're filling a cake with the no bake cheesecake if the cake can become dry or if you fill a pie crust with the filling if the crust will become soggy over time.
I'd recommend keeping a filled cake or pie crust in the fridge with the filling for no more than 2 days before serving for best results!
Can I freeze no bake cheesecake?
In terms of setting the cheesecake filling, I would not recommend freezing it. Be sure to use the fridge to help firm up the filling (not the freezer).
In regard to freezing an assembled cake or pie crust which containers the no bake cheesecake filling, it should work well. Carefully wrap whatever you are freezing in a few layers of plastic wrap and then place into a freezer-safe ziplock bag. You can freeze the no bake cheesecake for 2-3 months for best results. Simply thaw in the refrigerator overnight or for 6-8 hours and serve.
Top tips
Making this recipe could't be easier, but here are a few tips to make sure it comes out perfect every time!
Be sure to sift the confectioners sugar so there are no lumps in the creamy filling.
Fold/mix in the whipping cream gently (on a low speed)! This step is crucial in attaining the perfect texture.
Add the vanilla extract for a hint of vanilla flavor that rounds out the recipe.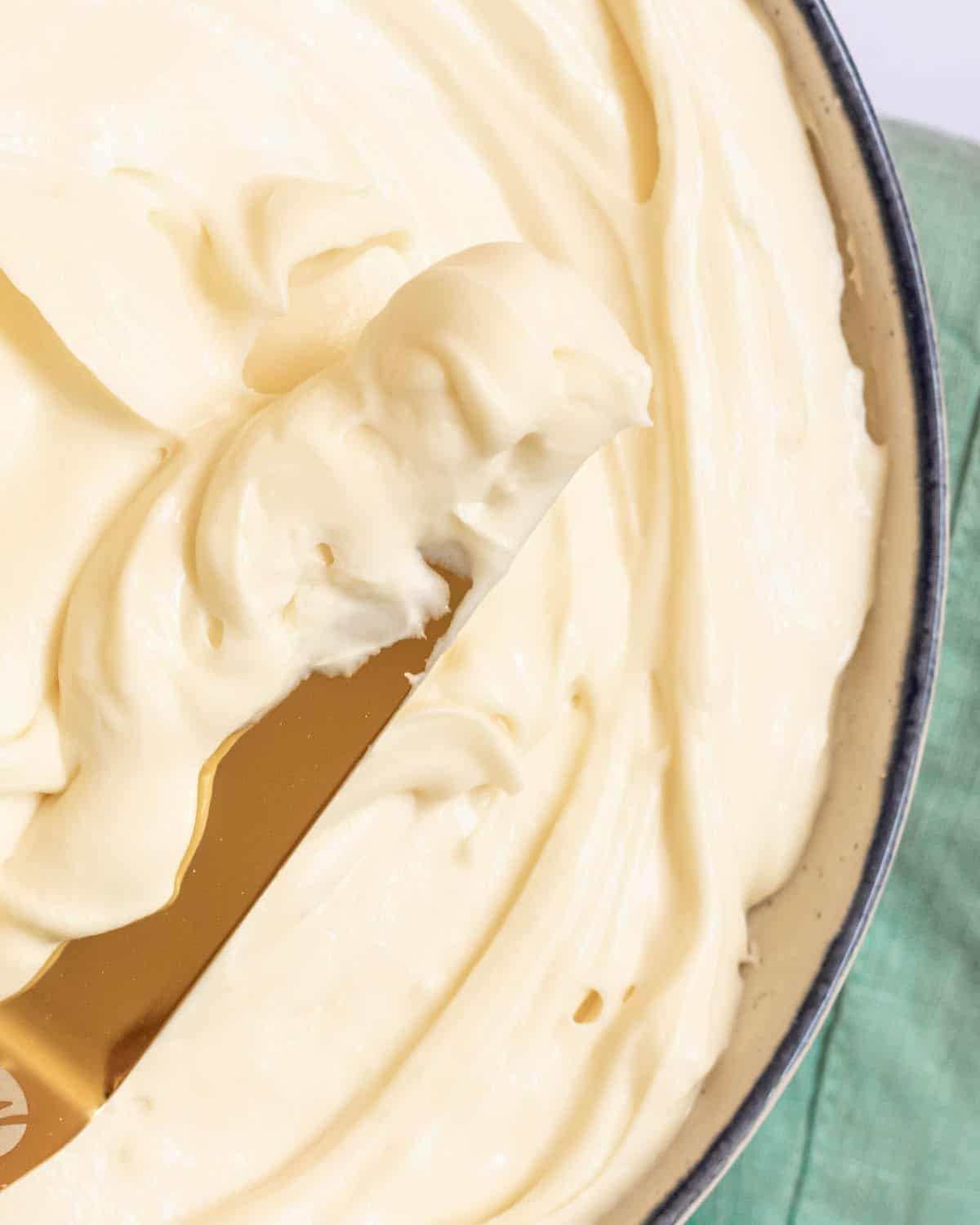 Related recipes you may love
Here are some more delicious dessert recipes that I think you'll love. You can pair them with this cheesecake filling or make them another time!
Have you tried this recipe? Consider leaving a ⭐️⭐️⭐️⭐️⭐️ rating in the recipe card right below and/or a review in the comment section further down the page. Or, consider following me on Facebook or Instagram! Thanks for visiting.
 Cheesecake Filling for Cake (No Bake)
15 minute No Bake Cheesecake requires only 4 ingredients and is incredibly easy to make, yielding delicious results!
Ingredients
2

cups

heavy whipping cream

cold from the fridge

16

ounces

cream cheese block

softened at room temperature

2

cups

confectioners sugar

(260 grams)

2

teaspoons

pure vanilla extract
Instructions
Place heavy cream in a bowl of a stand mixer or handheld electric mixer fitted with the whisk attachment. Beat for 4-8 minutes or until medium-stiff peaks form. Be careful not to overheat otherwise it can turn into butter.

Transfer whipped cream to another bowl and set aside.

In the empty bowl of an electric mixer (from before) add the cream cheese and sift the confectioner sugar on top of it. Beat with the paddle attachment for 3-5 minutes until thick and smooth.

Carefully add in ¼ cup of the whipped cream at a time into the cream cheese mixture and mix on low speed or fold with a spatula, just until combined.

Mix in the vanilla for 10-20 seconds.

Refrigerate the filling for at least 30 minutes for best spreadable consistency for a cake.
Notes
Ways to use this no bake cheesecake filling: Layer the filling between cakes for a cheesecake filled cake, pour cheesecake filling into a pie crust and refrigerate for 3-5 hours to set, pipe into parfaits with fruit/cake, use as a sandwich cookie filling or enjoy as is!
You can store this filling in the fridge for up to up to 5 days.
This recipe can be made dairy free using a dairy-free whipping cream alternative and Tofutti brand cream cheese. 
You may want to double the recipe if you're making the filling into parfaits or filling a 3 layer cake. 
Nutrition
Serving:
1
cup
|
Calories:
1526
kcal
|
Carbohydrates:
144
g
|
Protein:
42
g
|
Fat:
88
g
|
Saturated Fat:
56
g
|
Polyunsaturated Fat:
4
g
|
Monounsaturated Fat:
22
g
|
Cholesterol:
296
mg
|
Sodium:
1659
mg
|
Potassium:
865
mg
|
Sugar:
137
g
|
Vitamin A:
3619
IU
|
Vitamin C:
1
mg
|
Calcium:
955
mg
|
Iron:
1
mg