Make this Sesame Street themed Cookie Monster Cake, layered chocolate cake layered with whipped cream & cookies, coated in chocolate ganache, and decorated with a delicious buttercream frosting! No special cake decorating equipment needed, just cake, ganache, icing, some cookies and Oreos.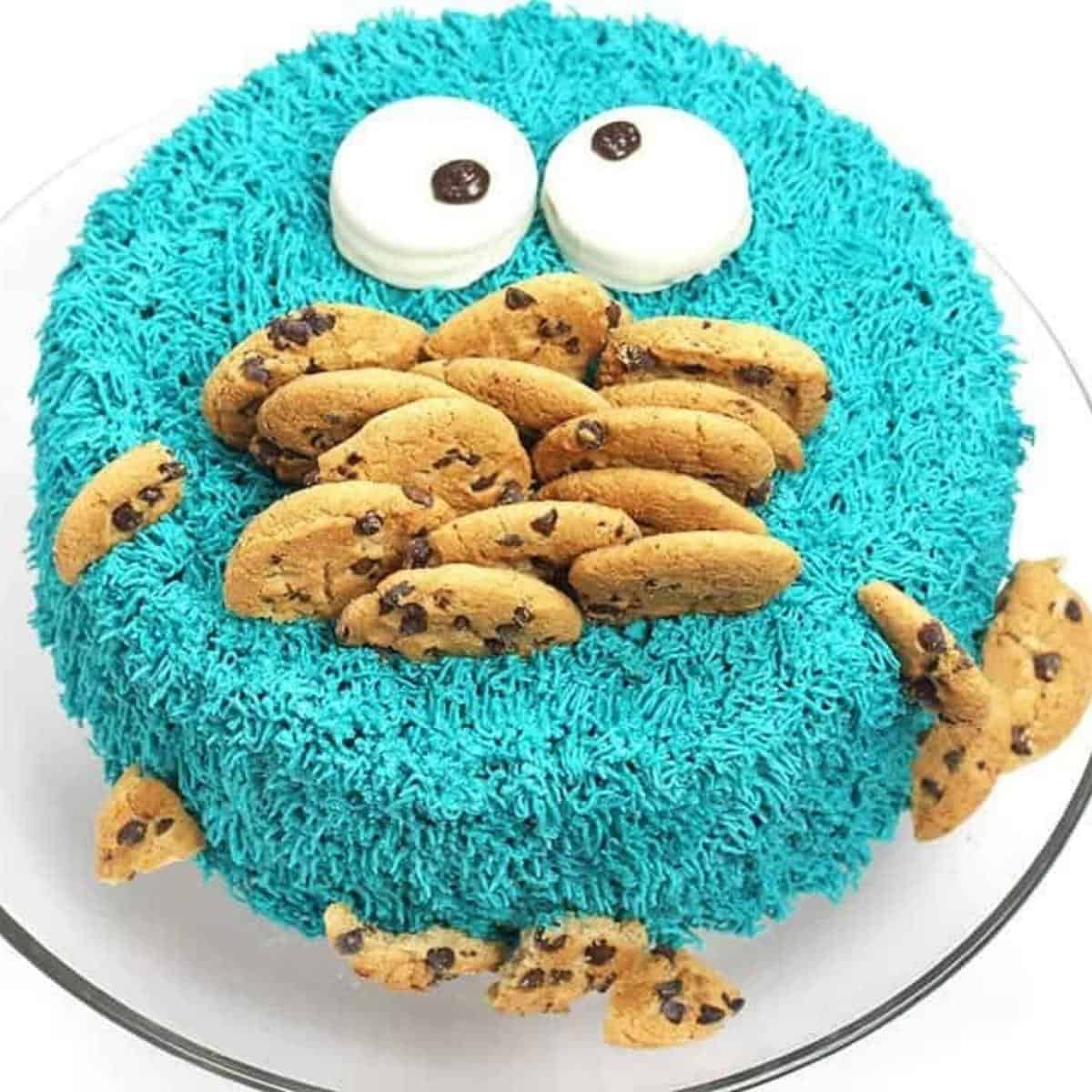 Jump to:
Why you'll love this recipe
Cookie Monster is a childhood classic that definitely deserves a delicious cake to celebrate all those delicious cookies consumed!
This cake consists of layers of delicious chocolate cake with chocolate ganache, blue frosting and pre-made chocolate chip cookies! You can even make my homemade Sesame Chocolate Chip Cookies to use in this cake.
I love this recipe and I think you will too because:
Ingredients for the cake
The ingredients for this layered cake recipe are super strait forward.
The ingredients you will need to make this Cookie Monster cake consist of:
Ingredient swaps and substitutions
This recipe can modified is a few different ways; here's how!
Instructions
You can easily assemble this delicious Sesame Street inspired cake in 30 minutes with no baking required. This recipe comes together in 8 extremely easy steps.
How to make a Cookie Monster Cake: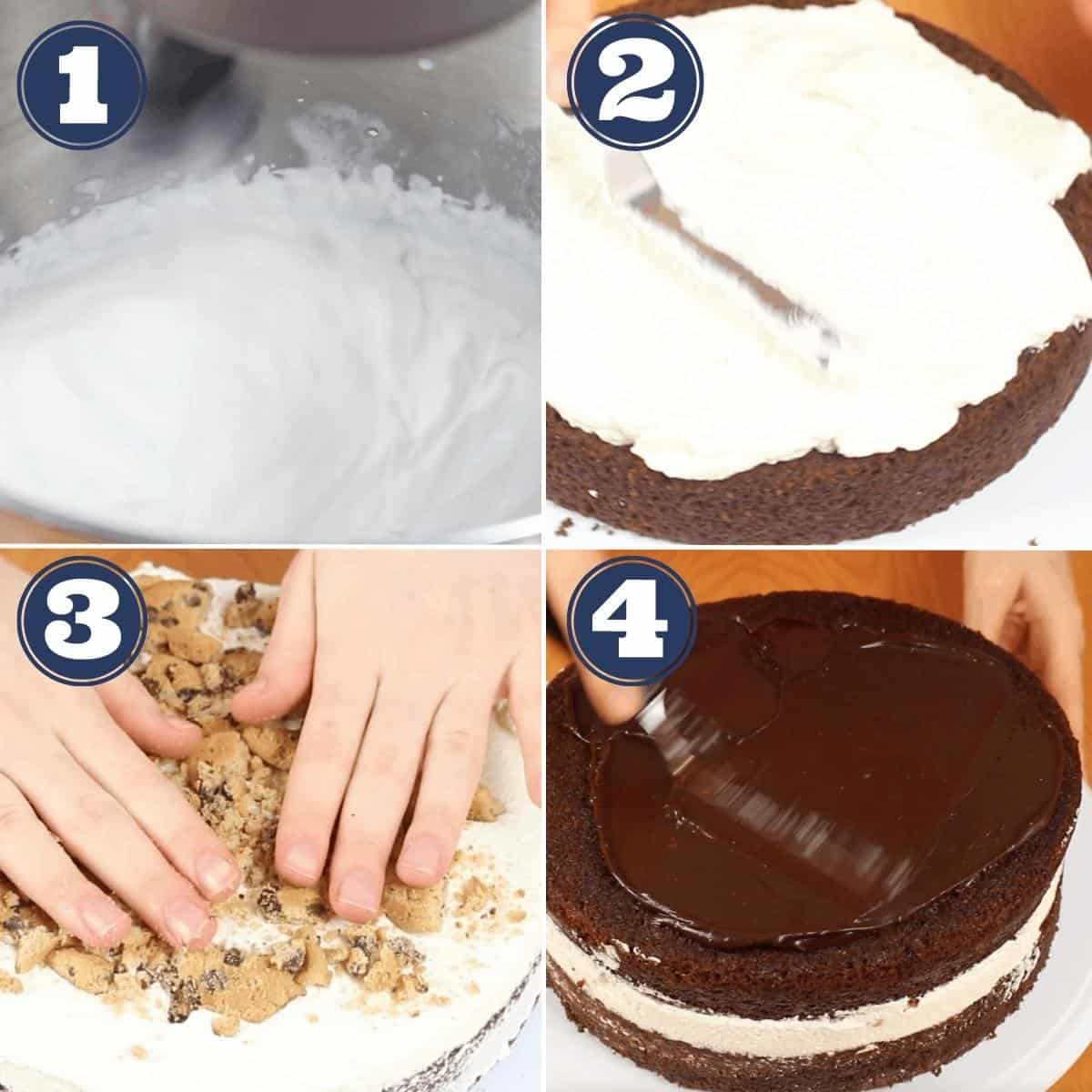 Step 1: Whip the whipped cream in a bowl of stand mixer until stiff peaks form. Be sure not to over whip otherwise it can turn into butter!
Step 2: Spread the whipped cream over the first cake layer.
Step 3: Top the whipped cream with crushed cookies, and make sure it's covering the entire layer, leaving about 1" without cookie crumbs around the perimeter so they don't fall out of the cake.
Step 4: Add the second layer of cake on top, making sure to place it upside down so the smooth side is facing upwards. Begin spreading the chocolate ganache on the top of the cake and along the sides. Refrigerate the ganache iced cake until it is set and no longer tacky.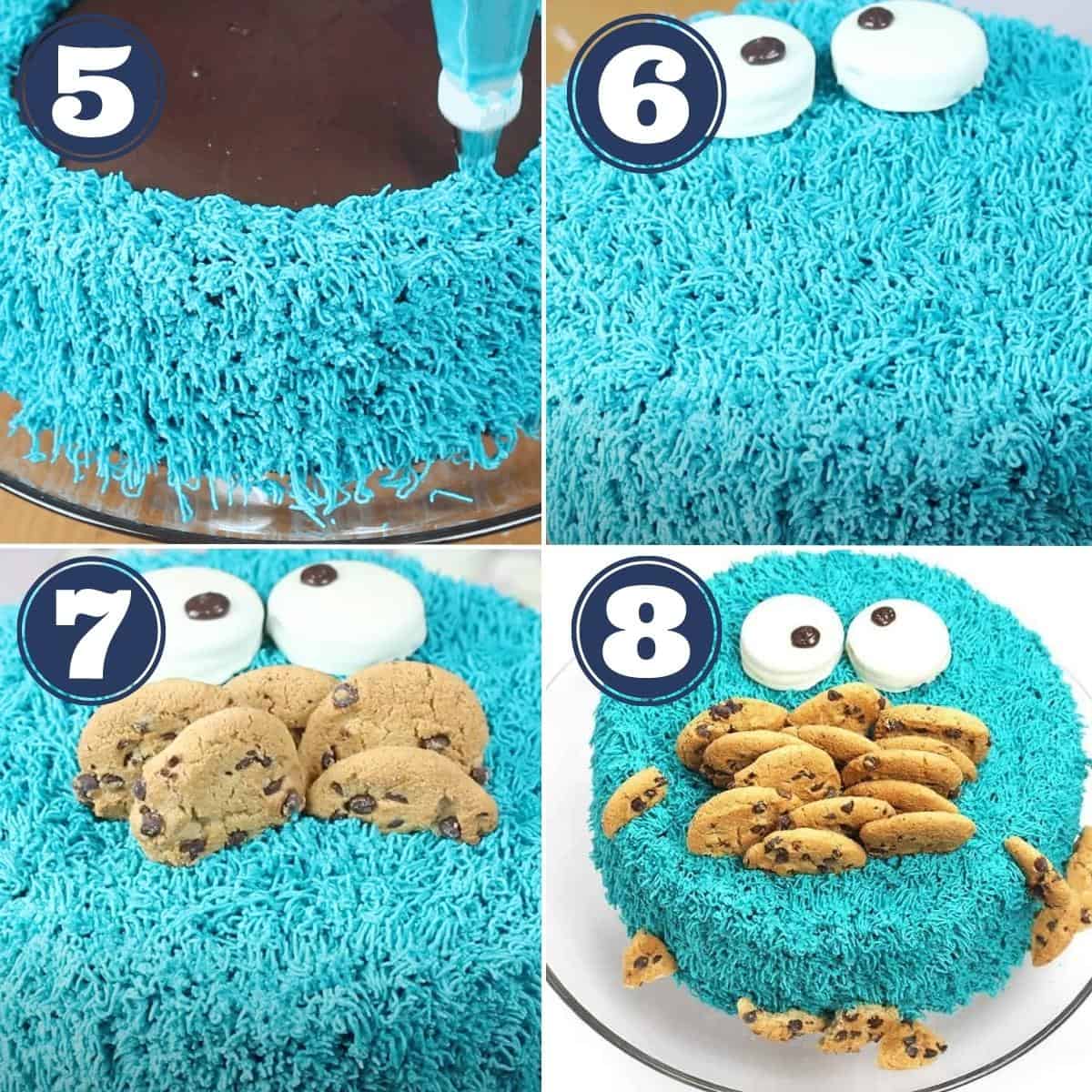 Step 5: Use a grass piping tip to pipe the icing all around the top and sides of the cake.
Step 6: Once the cake is iced, decorate with cookies + a white chocolate dipped oreo with two chocolate dots as the eyeballs.
Step 7 and 8: Add the cookies to the mouth area of Cookie Monster on the cake. Also decorate some of the sides with cookie too!
Recipe FAQ's
What piping tip do I use for a Cookie Monster cake?
I like to use the Wilton grass piping tip #233. It works perfectly to create the hair-like affect.
How to make the Cookie Monster icing?
I simply took white buttercream icing and dyed it blue with Wilton gel food coloring.
Can I prepare this recipe in advance?
For sure! Feel free to prep the entire cake 1-2 days in advance and store in a cake holder in the fridge. When you're ready to serve, defrost on the counter for about 45 minutes.
How do you make the eyes for the Cookie Monster cake?
It's super easy! I like to use Oreos dipped in white chocolate to make the eyes for this cake.
Top Tips
Making this recipe couldn't be easier, but here are a few tips to make sure it comes out perfect every time!
Related recipes you may love
Here are some more delicious dessert recipes that I think you'll love. You can pair them with this Cookie Monster Cake or make them another time!
Have you tried this recipe? Consider leaving a ⭐️⭐️⭐️⭐️⭐️ rating in the recipe card right below and/or a review in the comment section further down the page. Or, consider following me on Facebook or Instagram! Thanks for visiting.
Cookie Monster Cake
Make this Sesame Street themed Cookie Monster Cake, layered chocolate cake, whipped cream cookies, ganache, and buttercream frosting, perfect for your kids party celebration!
Equipment
1 cake decorating spatula

1 cake turn table

1 stand mixer
Ingredients
For the Chocolate Ganache
For the Chocolate Covered Oreo "Eyes"
2

Oreos

½

cup

white chocolate chips

1-2

teaspoons

vegetable shortening

⅛

cup

of the leftover ganache
For the Buttercream
2

cups

classic buttercream of choice

I love this recipe mixed with blue food coloring
Other
1

package

Chips Ahoy Cookies or similar Gluten Free Chocolate Chip Cookies
Instructions
To make the whipped cream, place heavy cream, confectioners sugar and vanilla in a bowl of a stand mixer fitted with a whisk attachment or in a bowl with a handheld electric mixer.

Beat on medium speed until thick and fluffy, like whipped cream. Set in the fridge meanwhile.

To prepare the ganache, begin with boiling the heavy cream in a small saucepan. Then, pour over a bowl of chocolate chips. Allow to sit for 3 minutes, then stir together until a thick chocolate mixture forms. Cover the bowl with plastic wrap, pressing directly onto the ganache, and allow it to sit in a cool place on the counter overnight.

For the Chocolate Covered Oreo "Eyes", place white chocolate with vegetable shortening in a microwave safe bowl. Microwave for 20 second intervals, stirring in between, until fully melted. Dip each Oreo into the melted chocolate and allow excess chocolate to drip off before placing onto a parchment lined baking sheet to dry. Place ganache into a ziplock bag and snip off the corner and pipe a dot in the top right corner of each oreo to create the eyeball effect. Use a toothpick to smooth the ganache into a circle shape if needed.

To assemble the Cookie Monster cake, level each cake using a serrated knife.

Place a cake board onto a cake turn-table or your counter and spread a bit of whipped cream onto the center to help your cake stick. Place the first layer of cake, cut side down, onto the cake board.

Spread the whipped cream onto the first cake layer and sprinkle with crushed cookies (be sure to save some whole cookies for the cake decorations).

Place the second cake layer on top and press down. Run an offset spatula around the sides of the cake to smooth out any whipped cream that oozed out of the cake.

Ice the entire cake in chocolate ganache. This layer does not have to be gorgeous because nobody will see it, but it should be smooth for piping onto.

Fill a piping bag with the teal colored Buttercream, fitted with a coupler and tip #233 (Wilton grass tip) and pipe grass all around the sides and top of the cake.

Place the chocolate covered Oreo eyes onto the top-center of the cake.

Then, arrange the cookies around the mouth area of your cookie monster cake. I broke the bottoms off of many of the cookies so that they weren't too high. You can also place a few broken cookie pieces on the sides and bottom of the cake to make it seem like Cookie Monster overstuffed his face and food is falling out.
Notes
Prepare the cake layers in advance as well as the frosting/icing, so you can easily assemble the cake the day of serving.

Feel free to use store-bought icing if it's easier!

Make this cake gluten free by using a gluten free cake recipe, gluten free cookies and gluten free Oreos.
Make ahead: You can assemble the cake up to 2 days ahead and store in your fridge until ready to serve. Take out of the fridge at least 2 hours before serving to allow the frosting to soften.