These Gluten-Free Sufganiyot are one of my absolute favorite desserts ever!!
Ever since I adopted a gluten-free lifestyle 4+ years ago, I have not had the luxury of eating the classic indulgent sufganiyah each year on Chanukah. This year I made it my mission to change the sad reality that as a gluten-free eater fried jelly donuts aren't an option. So, I tested two recipes, and somehow, after the second try, my donuts came out phenomenal! For real! These fried gluten-free sufganiyot are heavenly! All you gluten-free eaters rejoice because now you can make the easiest, super delicious sufganiyot that are gluten-free!
Get excited!
These gluten-free sufganiyot are made similar to regular ones, but there are a few differences. Let's walk through all the steps and I'm going to throw in some tips and tricks to making the perfect donuts.
To make these donuts, just like most donut recipes, the yeast, warm water, and sugar are combined. Very easy! Next, all the liquid ingredients are whisked together in a bowl of a stand mixer. You add the yeast mixture to the liquid and mix to combine.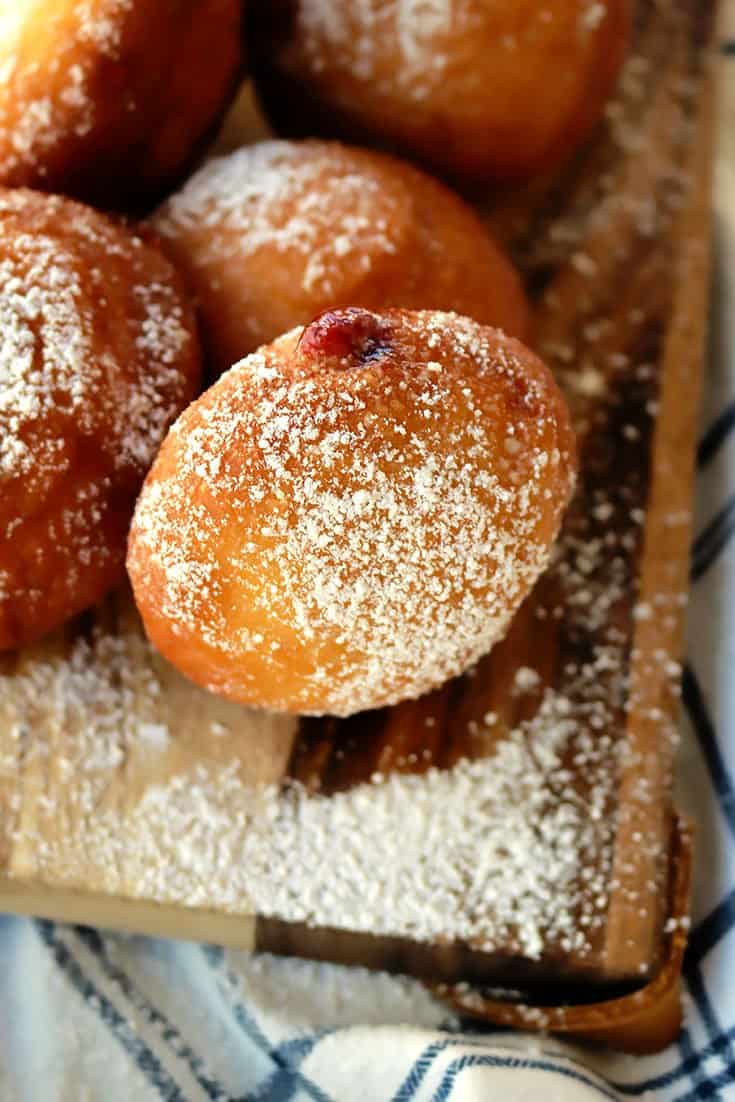 The next few ingredient are very important. These ingredients are crucial to making this gluten-free donut taste like the real deal. What are they?
Tapioca Starch
White Rice Flour
Xanthan Gum
(You'll also add salt, but it's not as crucial as those top three ;-))
After adding the top three crucial ingredients, along with the salt, into the liquid mixture it's time to whisk everything together.
Keep in mind, the donut mixture will NOT look like your typical donut dough. Actually, it will look like a super thick batter. You're probably wondering how this funny looking batter will be turned into donuts.... no worries! A piping bag or plastic bag is now you're BFF during this donut making process.
Prepare a piping bag fitted with a large circle tip, or snip the corner off of a gallon ziplock bag. Fill the bag with batter and pipe large mounds onto parchment paper squares. Yes, I said it. Each mound of batter should have its own parchment paper square. You'll need about ten 3" x 3" (doesn't need to be so exact) squares of parchment.
Once all the dough is piped, freeze it for 1 hour. Defrost for 30 minutes. Fry it all up!
A few tips for frying these fabulous gluten-free sufganiyot:
ALWAYS use a candy thermometer when frying to check the temperature of the oil. The oil shouldn't be too hot (very dangerous) or too cold.
Keep the oil around 350℉. If the temperature drops too much, allow the oil to get hotter again before frying more donuts.
Don't over-crowd the pan with donuts. I recommend frying 2-3 donuts at a time; no more than that!
After frying and the oil is FULLY cooled off, don't pour the oil down your sink. Transfer the oil to a gallon or 2-gallon ziplock bag and zip it up tight. Then, place the ziplock into another grocery bag and place in the garbage.
Now that you've got the whole step by step process laid out for you, I hope you feel super confident to make these donuts. If you are gluten-free, I promise you that they will be a game changer for you.
If anyone is wondering what exactly what a "Sufganiyah" is, and why I'm making them, here's a super quick explanation: Sufganiyot (plural) and sufganiyah (singular) are the fried donuts that are eaten on Chanukkah. On the holiday of Chanukkah, we traditionally eat Sufganiyot since they are an oily food and we are supposed to remember the miracle of the oil lasting. There's a ton more information about Chanukah online if you are interested in learning more.
Also, make the donuts the day that you plan to serve them. They are best on the first day! If you want to eat the donuts after the first day, heat your donut in the microwave for 15-20 seconds. They will be tasty from the microwave but not as good they will taste on Day #1.
I wouldn't say this for most of my recipes, but if you plan to make these donuts I highly recommend that you watch the full Youtube video. It's a bit long, but it's very informative and I mention a few important tips along the way. Click here to watch the video.
Love these Gluten-Free Sufganiyot?? Here are more delicious gluten free recipes: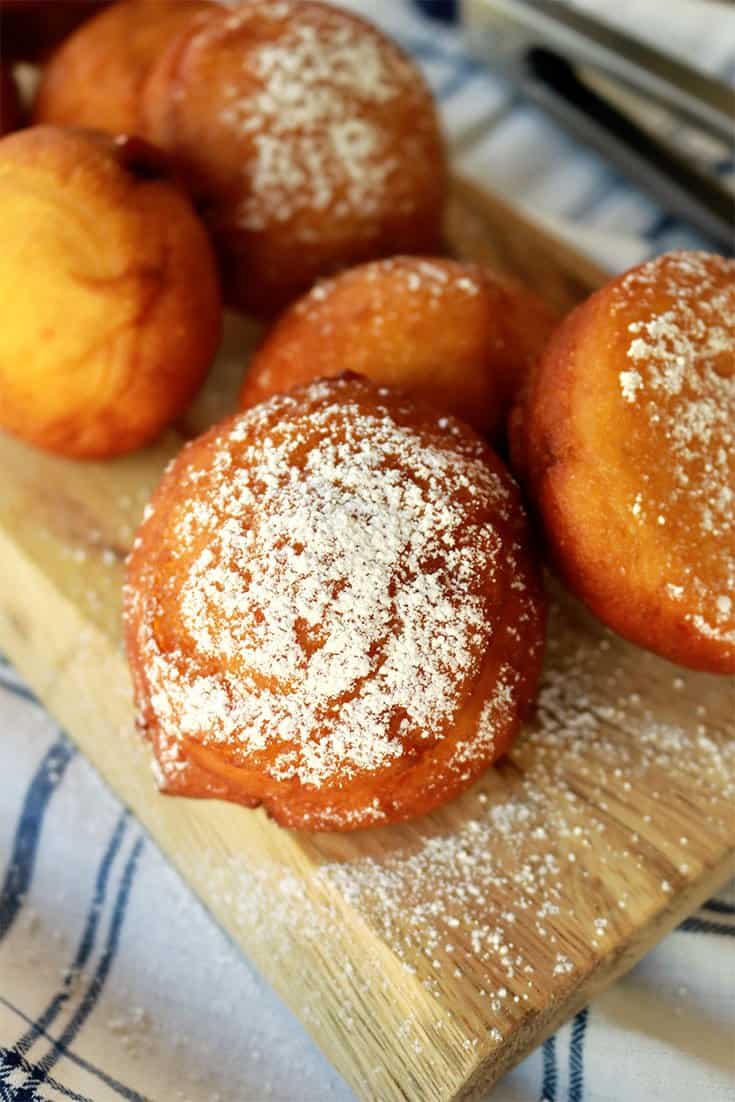 Print
Gluten-Free Sufganiyot (Donuts)
---
1 tablespoon

Instant Yeast

2 tablespoons

granulated sugar

¾ cup

water

3

large eggs

½ teaspoon

molasses

1 tablespoon

Pure Vanilla Extract

1 tablespoon

pure maple syrup or granulated sugar

1 tablespoon

Apple Cider Vinegar

¼ cup

grapeseed oil (or other flavorless oil)

2 cups

tapioca starch

1 cup

white rice flour

1

and ½ teaspoons xanthan gum
pinch salt

48

fluid ounces vegetable oil
---
Instructions
Make the Dough:
Pour the water into a microwave-safe cup/bowl. Microwave for 15-30 seconds or until warm.
Then, sprinkle the 2 tablespoons of granulated sugar and yeast into the warm water.
Mix with a fork and set aside for 5 minutes so that the yeast can activate.
Meanwhile, in a bowl of an electric mixer fitted with a whisk attachment (or in a bowl with a handheld mixer), beat together the eggs, molasses, vanilla extract, maple syrup or sugar, apple cider vinegar, and oil. Beat on medium-low speed until well combined.
Next, add the yeast mixture to the egg mixture and beat for 1 minute on medium speed until all the ingredients are thoroughly combined.
Then, add the tapioca starch, white rice flour, xanthan gum and salt to the egg-yeast mixture. Beat on medium speed for 3 minutes, scraping down the sides of the bowl every 30 seconds.
The mixture will look like a thick batter and totally NOT kneadable.
Line a large cookie sheet with 10 parchment paper squares. Let aside.
Then, fit a piping bag with a large circle piping tip. Alternatively, cut about ¾ inch off the corner of a gallon ziplock bag.
Fill the bag half way with the batter and pipe large donut-shaped mounds onto each parchment square on the prepared pan. *My donuts were about 2 inches in diameter.
Optional: If you have the time, allow the piped donuts to rise on the counter for 20-30 minutes.
Then, place all the piped donuts on the baking sheet into the freezer for 30 minutes to 1 hour.
Then, allow the donuts to defrost for 20-30 minutes on the counter.
Fry the Sufganiyot
When you're ready to start frying, heat two inches of oil in a large, deep pan until it reaches 350 degrees Fahrenheit.
Drop the frozen donuts on the parchment into the hot oil. Only fry two to three donuts at a time or else they won't cook evenly.
Cook the donuts on each side for two to three minutes or until golden brown.
Transfer the fried donuts to a plate lined with paper towel and place paper towels on top of the donuts to soak up any excess oil.
Serve immediately or within a few hours of making for best results. If eating the second or third day, microwave the donut for 30 seconds for best results.
Notes
These donuts can be filled with jam, custard, or any other filling you like. I highly recommend filling them with a good quality raspberry jam. These are super delicious with a sprinkle of confectioners sugar.
Recipe adapted from imglutenfree.com