Think about the most dreamy and creamy Risotto dish packed with bursting flavorful confit tomatoes and garlic. This Tomato & Garlic Confit Risotto is truly magical!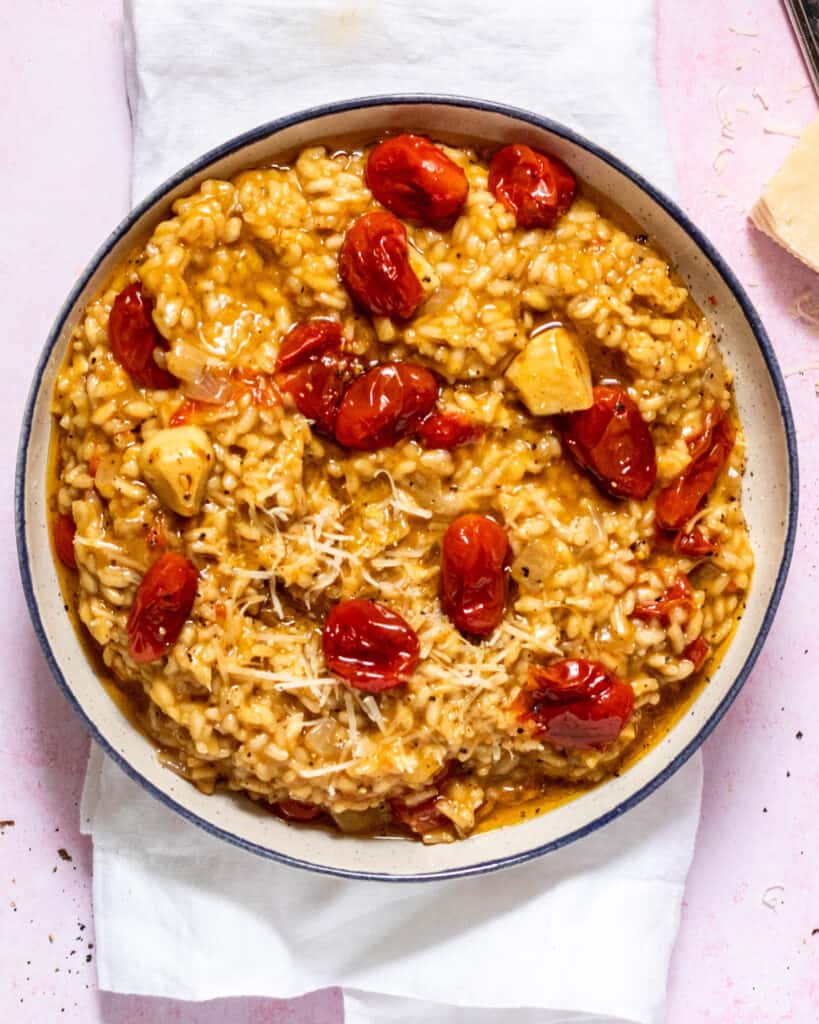 This post is sponsored by Pure Flavor®. All opinions are my own.
Many people find Risotto to be intimidating, because of the semi extensive process to make it. After making this recipe three times, it has become second nature. This recipe is very straightforward and will outline for you how to make perfect creamy and luscious Risotto every time!
This Tomato and Garlic Confit Risotto is gluten free and dairy free! Yes, it is creamy and cheesy, but there is no dairy involved. Risotto is naturally gluten free since it is simply made of arborio rice, a stock, wine and aromatics; quite simple and packed with flavor.
Here's how to make it!
Jump to:
INGREDIENTS YOU'LL NEED
Fresh Garlic
Olive oil or avocado oil
Fresh thyme
Sugar or honey
Yellow onion
Arborio rice
Salt and pepper
Smoked paprika
Vegetable stock or chicken stock
Dry white or red wine
Vegan parmesan cheese (optional)
I LOVE using the Organic Pure Flavor® Juno Bites Red Grape Tomatoes in this recipe because they are incredibly sweet and bursting with flavor. Plus, they keep fresh on my counter for up to 2 weeks which is incredible to me! They fit so perfectly into this recipe, and I love using any leftover tomatoes for snacking while I work and cooking into all sorts of dishes throughout the week.
Thank you again to Pure Flavor® for sponsoring this recipe! It's such a favorite in my home now.
HOW TO MAKE RISOTTO FROM SCRATCH
Prepare the Confit Tomato and Garlic by combining them in a pan. Drizzle with olive oil, salt, pepper and thyme. Mix and sprinkle with sugar. Bake low and slow!
Make the risotto by sautéing onions and garlic on the stove.
Mix in the arborio rice, spices and wine. Let win cook out.
Slowly add in ⅓ cup of hot broth at a time and cook in between, stirring frequently.
Mix confit tomatoes and garlic into risotto. Enjoy!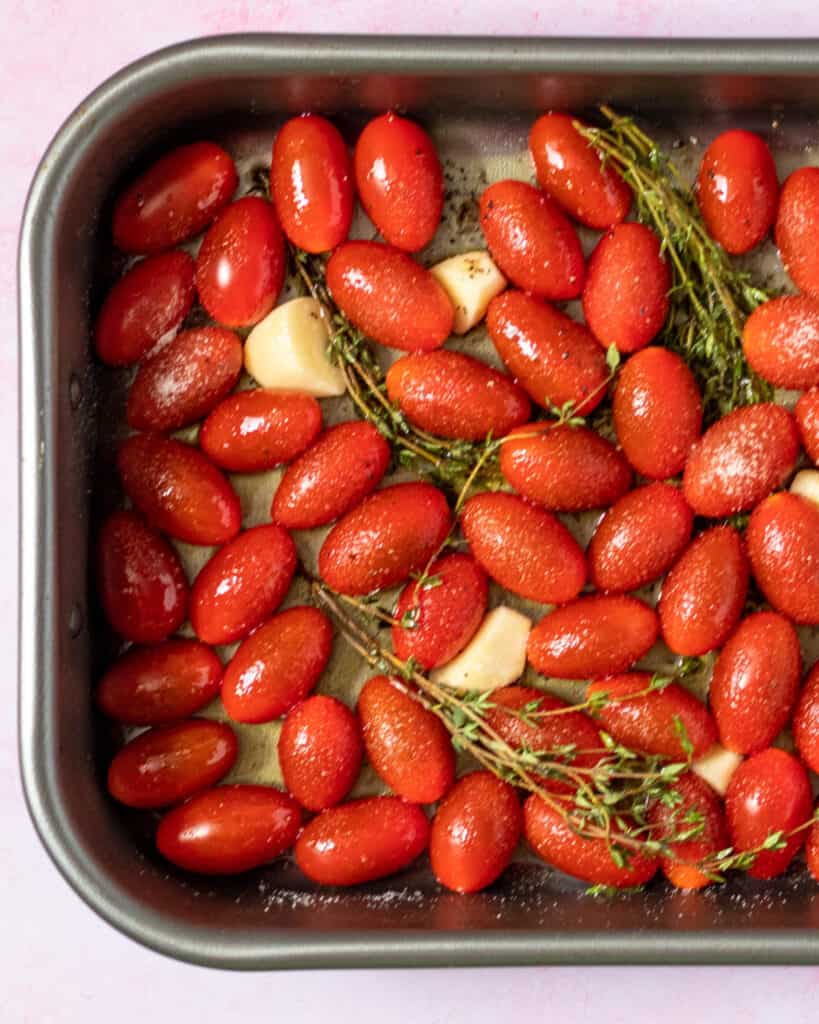 COMMON QUESTIONS ABOUT RISOTTO
Can I add all the stock at once?
No way! This recipe is a labor of love. Adding the warm stock in slowly, in increments, will give your risotto the creamy al-dente texture you're looking for. Please don't skip this crucial step.
Can I double this risotto recipe?
For sure! Feel free to double this recipe, just be aware that it may take a bit longer to cook.
Can I use dairy cheese in this recipe?
Yes! I always opt for a vegan cheese since I have a dairy sensitivity, but feel free to use dairy parmesan if that works for you.
How does Risotto hold up as leftovers?
If planning to serve this Risotto to guest, make it the day of. It will be the best if made that day! I do eat leftovers for 2-3 days after and they're super delicious, just slightly less creamy than when they're first prepared.
YOU MAY ALSO LIKE
Tomato & Garlic Confit Risotto (Dairy Free & Gluten Free)
Think about the most dreamy and creamy Risotto dish packed with bursting flavorful confit tomatoes and garlic. This Tomato & Garlic Confit Risotto is truly magical! 
Servings
6
servings as a side
Ingredients
2

packages Pure Flavor® Organic Juno Bites Red Grape Tomatoes

Approx 48 ounces

6

cloves

garlic

peeled (divided)

6

tablespoons

olive oil or avocado oil

divided

7 - 8

sprigs fresh thyme

1

teaspoon

sugar or honey

1

yellow onion

diced

1 ½

cups

arborio rice

1 ½

teaspoons

salt

divided

½

teaspoon

pepper

divided

1

teaspoon

smoked paprika

6

–8 cups veggie stock or chicken stock

⅓

cup

dry white or red wine

¼

cup

vegan parmesan cheese

optional
Instructions
Preheat the oven to 275°F. 

In a 9"x 13" baking dish, toss together the tomatoes, 4 garlic cloves (cut in half) & thyme sprigs. Add 4 tablespoons of olive oil, ½ teaspoon salt, and ¼ teaspoon ground black pepper to the tomatoes. Mix to combine. 

Sprinkle it with sugar. Cook for 1 ½ hours until tomatoes have burst. Allow tomatoes to cool at room temperature. 

Place stock into a large pot and bring to a boil. Turn heat to low, bringing the liquid to a simmer, to remain hot. 

Next, heat 2 tablespoons of oil in a large saucepan over medium heat and add diced onion. Cook 5-7 minutes or until translucent and tender.

Mince 2 cloves of garlic and mix into the onions, cooking another 2-3 minutes.

Mix in the dry rice, 1 teaspoon salt, ¼ teaspoon black pepper and smoked paprika, stirring and cooking until any moisture is cooked out. Mix in the wine and bring to a simmer, cooking until it mostly evaporates, about 1 minutes.

Add ¼ cup of the hot stock to the rice pot and stir until combined. Allow stock to cook out and add another ¼ cup, then mix and allow to simmer until it has thickened. Repeat this process, adding a bit more stock each time, until the rice has puffed up and is cooked through and creamy. You will use 6-8 cups of stock total. This process will take 20-30 minutes. Then, turn off the heat.

Mix in the vegan parmesan cheese (optional).

Mix half of the confit tomatoes and garlic into the cooked risotto. 

Then, transfer the risotto to a serving bowl or dish and garnish with remaining confit tomatoes, garlic and thyme sprigs. Add grated parmesan as garnish. Enjoy!
Notes
Best served right after cooking! You can eat leftovers, but I recommend serving the freshest risotto to guest for maximum creaminess.
If you don't want to include wine omit it. 
I recommend the Pure Flavor® Organic Juno Bites Red Grape Tomatoes which I love, but feel free to use any Grape Tomatoes you can source locally. 
Use the confit tomato & garlic mixture as a garnish for chicken, salmon, or any other dish. It's phenomena used so many different ways!
Nutrition
Serving:
1
Serving
|
Calories:
445
kcal
|
Carbohydrates:
56
g
|
Protein:
11
g
|
Fat:
18
g
|
Saturated Fat:
3
g
|
Polyunsaturated Fat:
2
g
|
Monounsaturated Fat:
12
g
|
Cholesterol:
7
mg
|
Sodium:
982
mg
|
Potassium:
520
mg
|
Fiber:
3
g
|
Sugar:
7
g
|
Vitamin A:
542
IU
|
Vitamin C:
20
mg
|
Calcium:
33
mg
|
Iron:
4
mg