This Gluten Free Pesto Pasta Salad with Tomatoes & Olives is quite simple to put together with a couple of important techniques to make the best creamy pesto every time! Serve with gluten free pesto pasta salad as a side dish or add chicken, chickpeas or another protein to it and enjoy as a main dish.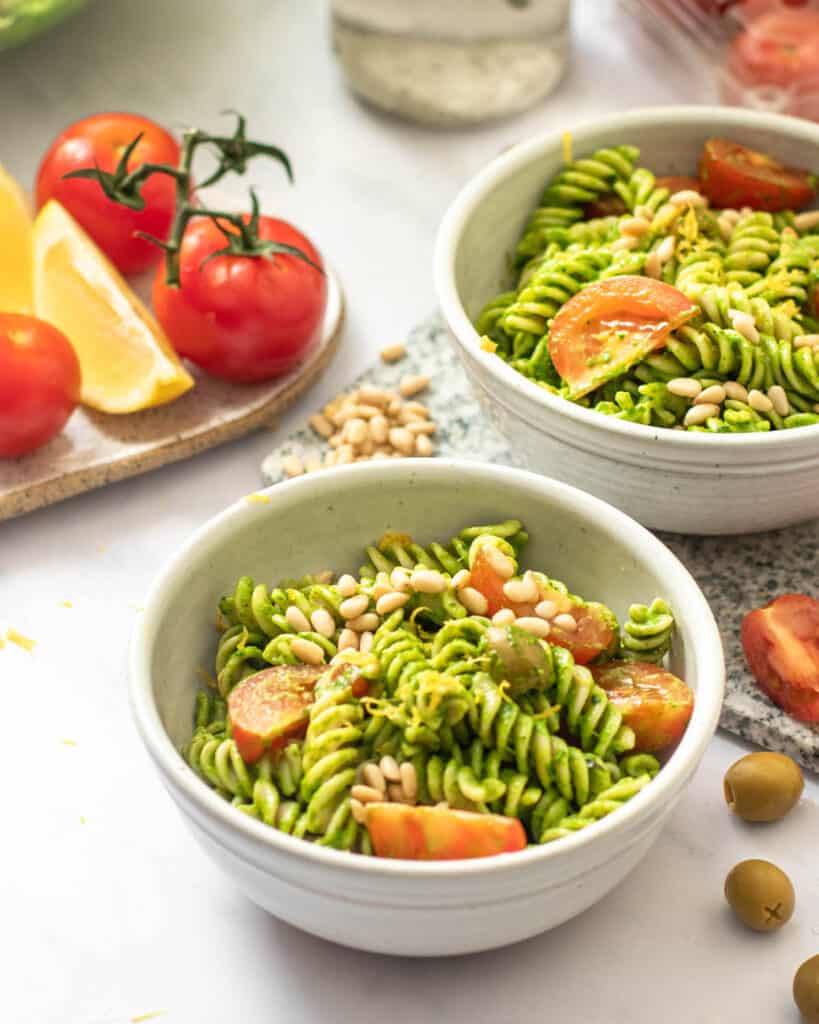 This post is sponsored by Pure Flavor®. All opinions are my own.
I have a pesto obsession lately, and have probably made it 4+ times this past month. Between working as a personal chef in NYC and cooking Shabbat meals for friends, pesto is such a great go-to. I tend to use lots of leftover herbs at the end of the week to make a delicious pesto, usually a new variation every time.
Jump to:
This recipe is great made a day in advance as long as the gluten free pasta can be reheating before since it can get hard in the fridge. If serving the day of, this makes for an excellent cold pesto pasta salad!
What You Will Need
For the Pesto, you will need quite a few ingredients, but some you may already have on hand and others can be substituted if needed
Fresh Basil + Parsley + Kale + Spinach = I love this combination of greens, but if you want, feel free to sub the kale for spinach and vice versa!
Oil (I recommend half olive oil and half avocado oil)
Fresh garlic - I prefer fresh garlic over jarred garlic or garlic powder in this recipe. If you prefer a less intense garlic flavor, feel free to substitute with ½ teaspoon garlic powder
Miso Paste - Miso paste adds such a delicious umami flavor that I feel is very important. If you don't have miso, you can leave out. The recipe may need a bit more lemon & salt at the end.
Pine Nuts - Pine nuts are a classic ingredient in pesto and in this recipe my favorite choice. Feel free to substitute with toasted walnuts if you like though!
Jalapeno - Jalapeño adds just enough spice but you can also substitute with ¼-1/2 teaspoon red pepper flakes if that's more available to you.
Nutritional Yeast - Nutritional Yeast adds a delicious cheesy flavor to pesto! Feel free to substitute with grated parmesan cheese if you'd like.
Lemon Rind + Juice - fresh lemon is ideal but if you only have bottled, you can use it and just leave out the rind. I think lemon rind in this recipe is excellent though!
Salt & Pepper - Always add what the recipe says and then taste and see if more is needed.
You will need a few more ingredients to round out this recipe, making it a pesto Pasta with Tomatoes & Olives.
Gluten Free Pasta - I made this a pretty large recipe to serve a crowd since I find that to be the case when I make pasta salad. I used 2 boxes of my favorite Organic Brown Rice Pasta by Jovial.
Pure Flavor® Luna® Sweets tomatoes are my go-to favorite tomatoes for this recipe and many others! They're sweeter than most tomatoes, the perfect size to cut into cute triangular wedges and are so bright and beautiful in this recipe.
Olives with Pimentos - I love to always add a punch of something salty to my recipes and this is no exception! Feel free to substitute with capers if you prefer.
How to Make Pesto Pasta Salad with Tomatoes & Olives
Prepare the Pesto First!
Blanch the pesto greens for a few seconds in boiling water then add to ice water. Squeeze out excess water from greens and chop.
Blend all other pesto ingredients together with some of the oil. Then, slowly add the greens and blend until smooth.
Taste and add more ingredients if needed.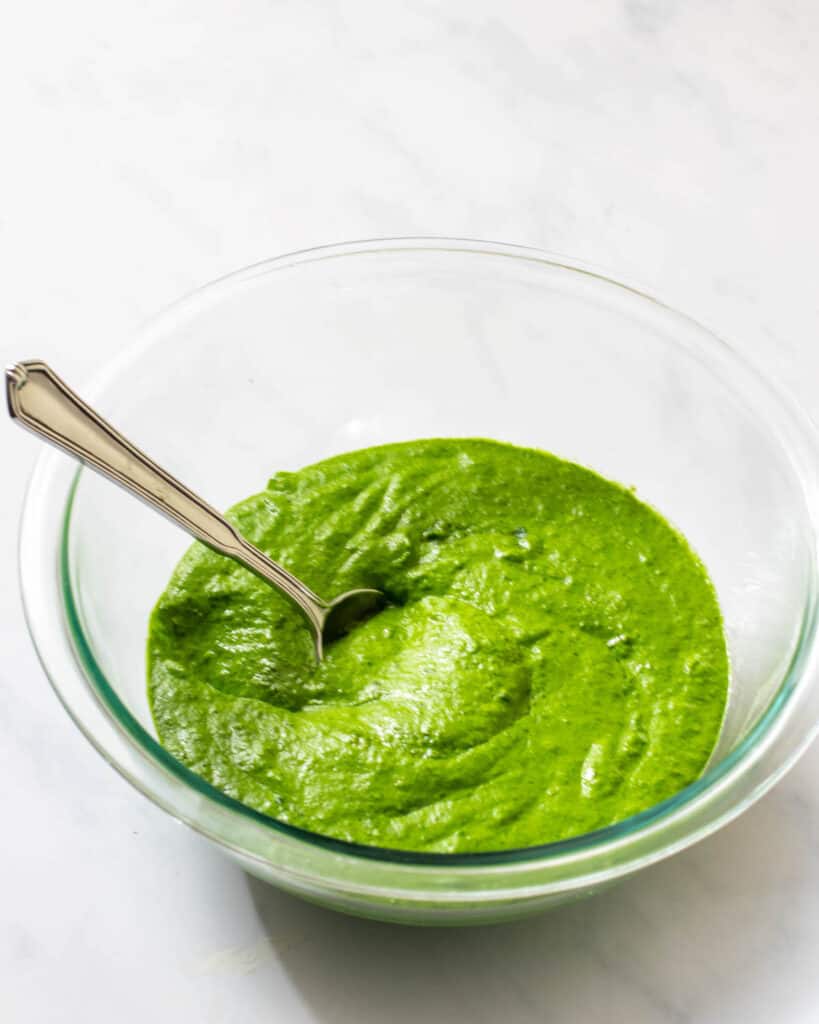 Assemble the Salad:
Mix together cooked gluten free pasta, the homemade pesto, quartered tomatoes & olives in a bowl.
Add Protein to the Salad!
Turn it into a Gluten Free Chicken Pesto Pasta Salad by adding roasted or grilled chicken pieces to it. Super delicious way to make this salad more filling!
Make it into a Gluten Free Tuna Pasta Salad by adding drained canned tuna to the recipe. The combination of the pesto and tuna would be delicious!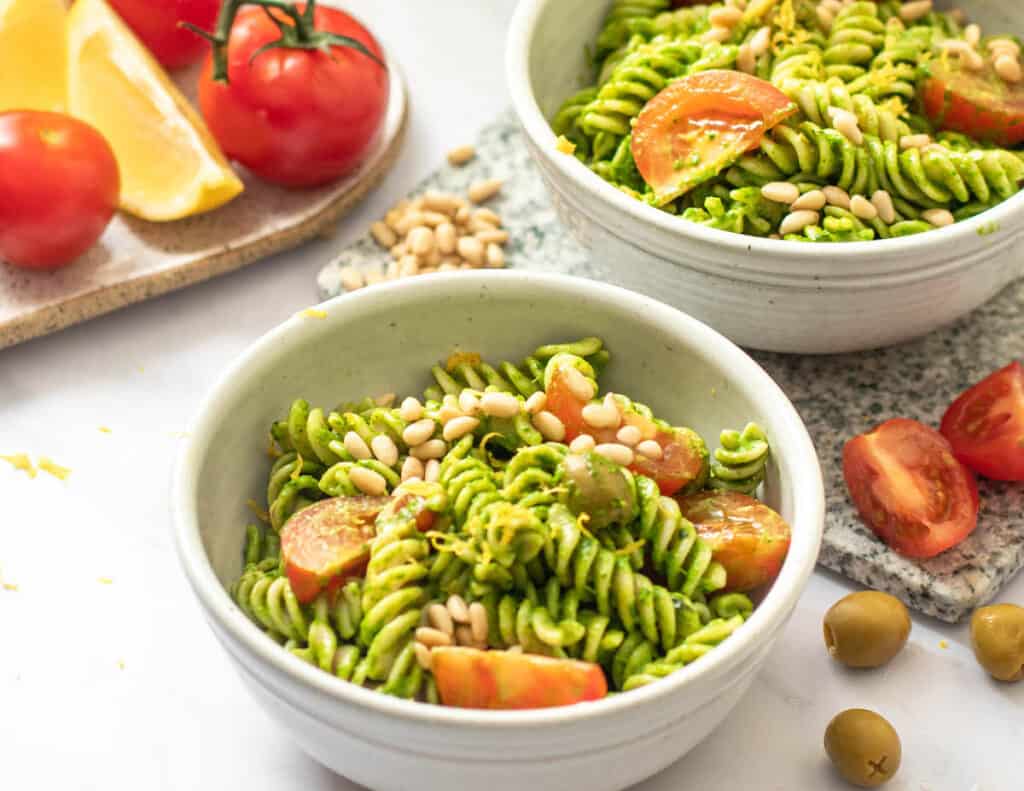 More Recipes You May Love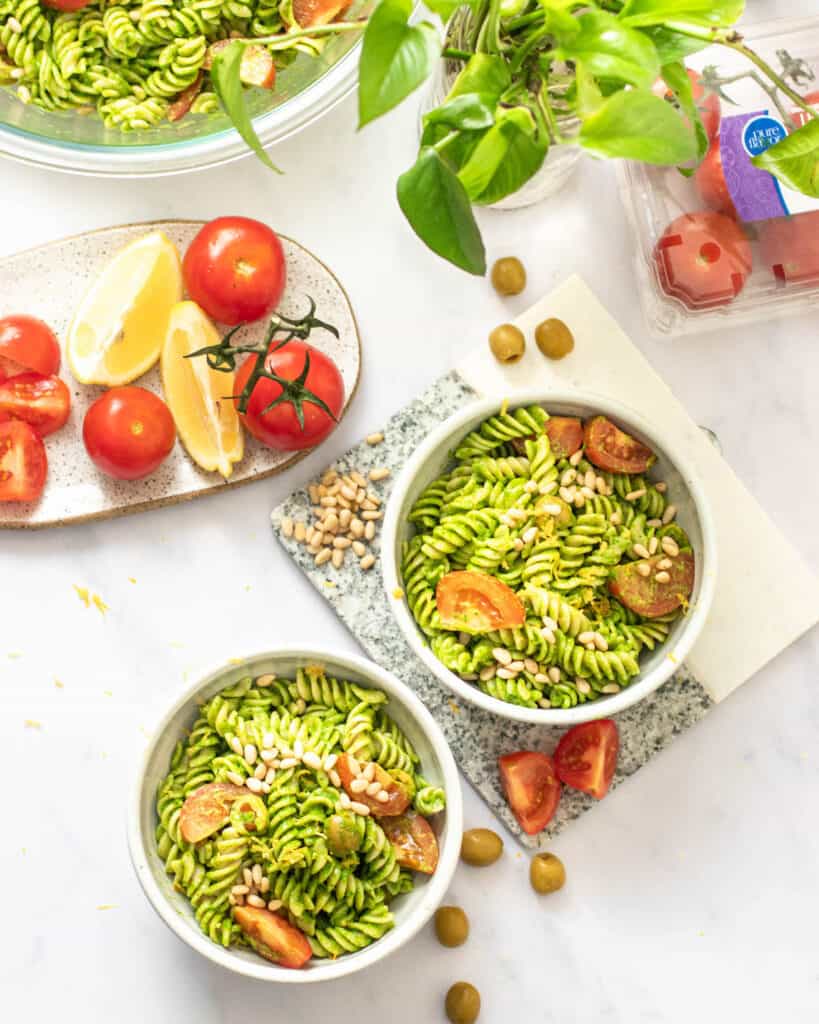 Gluten Free Pesto Pasta Salad with Tomatoes and Olives
This Gluten Free Pesto Pasta with fresh tomatoes & olives is such a crowd pleaser. It works well as a side dish or can be served as a main with some added protein (such as crispy chickpeas or grilled chicken).
Servings
8
-10 servings, as a side
Ingredients
For the Pesto
2

cups

fresh basil

(64 g)

1

cup

fresh parsley

(37 g)

1 ½

cups

kale, stem removed and chopped

(115 g)

2

cups

spinach

(69 g)

¾ to 1

cup

oil

I like doing half olive oil and half avocado oil

2

clove

garlic

roughly chopped

1

tablespoon

miso paste

⅓

cup

pine nuts

½

jalapeno

seeds removed if you prefer

2

tablespoons

nutritional yeast

Peeled skin of ½ lemon

or zest of ½ lemon

2

tablespoons

fresh lemon juice

2

teaspoons

fine sea salt

¼

teaspoon

ground black pepper
Instructions
Make the Pesto:

Let's blanch greens! To do so, bring a large pot of salted water to a boil. Also prepare a bowl of ice water on the side.

Place basil, parsley, kale & spinach into the boiling water for 15-20 seconds, then carefully remove with a slotted spoon or colander into the ice water. This may need to be done in two batches. Allow to sit 1 minute, then remove the greens from the water and squeeze out any excess water with your hands.

Place blanched greens into a bowl on the side.

Combine all the pesto ingredients except for the blanched greens & olive oil. Blend for 30 seconds. Begin with adding ½ cup oil and blend until combined.

Next, slowly add greens in 3 additions, blending in between each addition. Slowly add the remaining oil throughout the blending process (either ¼ or ½ cup depending on if you feel the pesto needs more), making sure to pause the machine and scrape down the sides every so often.

Blend pesto until smooth and creamy.

Prepare the Pasta:

Cook pasta according to package directions in salted water. Strain and rinse with cold water.

Place the pasta into a bowl and mix in the quartered tomatoes & olives.

Taste pasta and add more salt or pepper to taste. Enjoy!
Nutrition
Serving:
1
Serving
|
Calories:
447
kcal
|
Carbohydrates:
42
g
|
Protein:
8
g
|
Fat:
29
g
|
Saturated Fat:
3
g
|
Polyunsaturated Fat:
8
g
|
Monounsaturated Fat:
16
g
|
Trans Fat:
1
g
|
Sodium:
970
mg
|
Potassium:
301
mg
|
Fiber:
4
g
|
Sugar:
1
g
|
Vitamin A:
3222
IU
|
Vitamin C:
30
mg
|
Calcium:
76
mg
|
Iron:
2
mg