This 45 minute healthy and satisfying Sausage Curry recipe is easy to make and made in one pot! Serve your retro-style sausage curry with cauliflower and potatoes with a side of white rice and enjoy for a warm, hearty meal for weeknight dinners.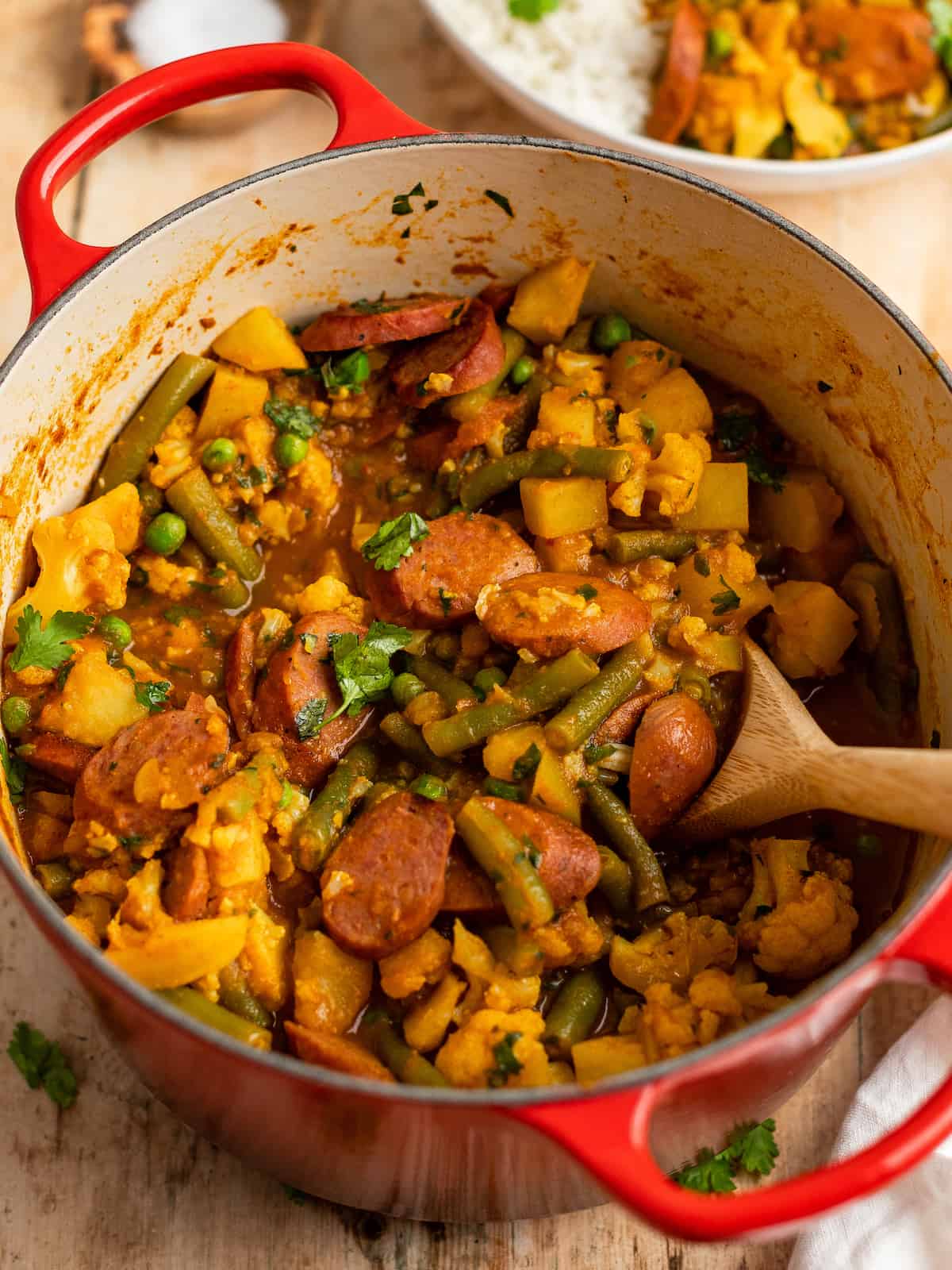 If you love comforting and flavorful one-pot meals, then this curry recipe is perfect for you! This dish begins with crisping sausages in the pot. Then a rich and creamy curry sauce is created with garlic, onions, spices, potatoes, cauliflower and green beans are simmered to perfection. Finally the sausages are added back to the pan along with cilantro and frozen peas; that's it!
If you love recipes using sausages, then these Sausage & Date Stuffed Mushrooms will be perfect for you too!
Jump to:
Why you'll love this recipe
Healthy & high protein - Filled with hearty vegetables & flavorful spices!
One pot meal - You won't believe how quick it is to make this recipe all in one pot. Super simple & delicious!
It is totally gluten-free and dairy free! Just be sure your sausages have a gluten free certification to be sure.
Rich & comforting - What's not to love about a warm filling bowl of sausage curry!
Makes an easy dinner for the entire family & kids will love it.
Budget Friendly - Using very simple affordable ingredients, this dish will be a go-to favorite!
Quick and easy to make in only 45 minutes!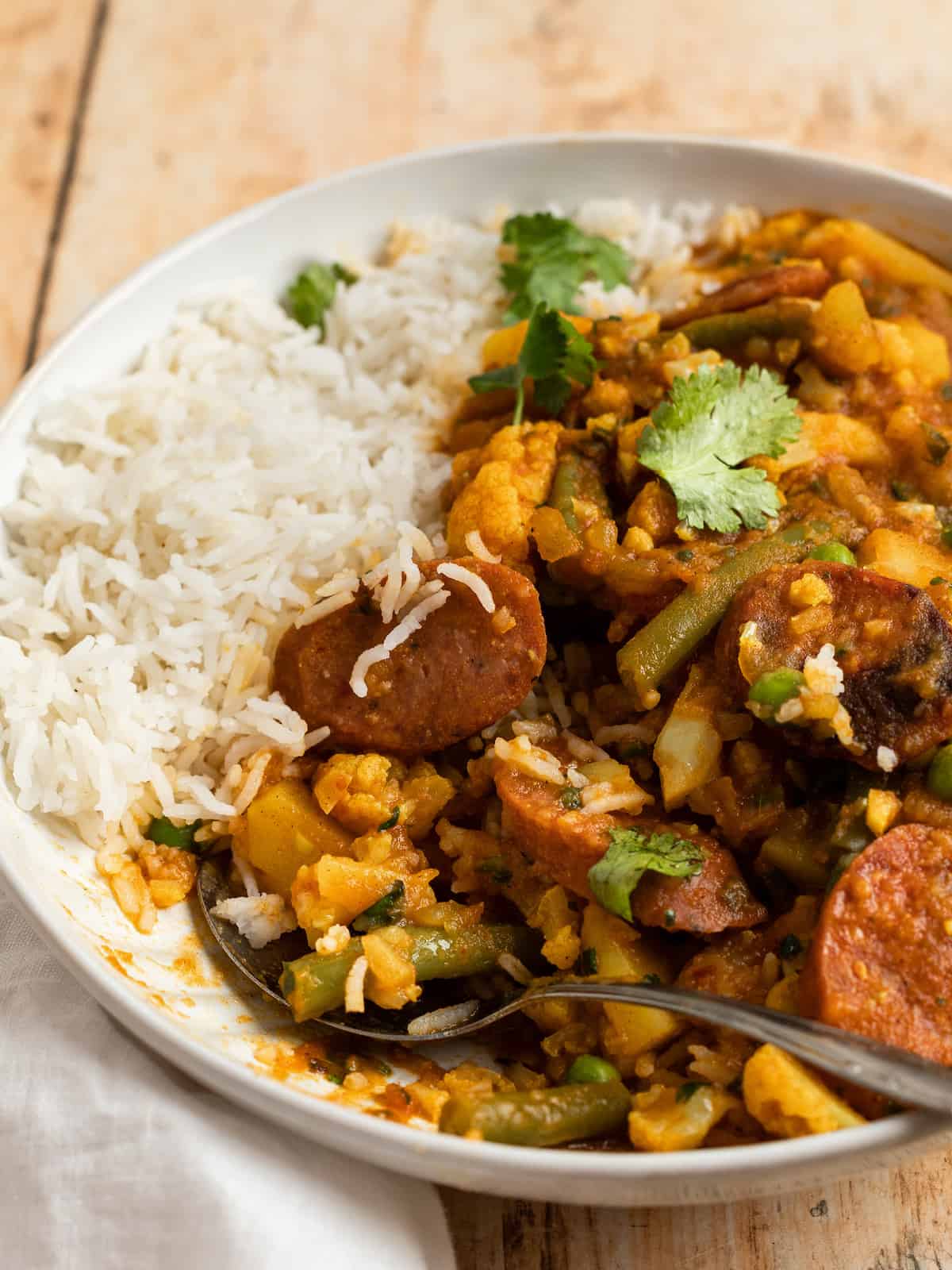 Recipe ingredients to make Sausage Curry
You'll need the following ingredients to make this warming Indian-inspired recipe for Sausage Curry:
Ingredient notes for curried sausages
Sausages: I use beef sausages to make this curry, but you can use any variation you like! I think a sweet Italian or hot Italian sausage works perfectly, but truly any flavored sausage will be a great fit for this dish.
Fresh garlic: Freshly minced garlic is key to making a flavorful sauce! To me, the more garlic the merrier.
Olive oil: A good quality extra virgin olive oil will make this sauce luscious with a hint of delicious olive oil flavor.
Onion: Onions add just a bit of sweet onion flavor to this dish! I like to chop mine small so they cook faster. Alternatively, you can use a shallot if you prefer.
Ginger - Using fresh ginger in this recipe is incredible but also optional! I know some people can be sensitive to the strong flavor of ginger, so it's completely up to you. I love it!
Potatoes: When the potatoes are cut into 1" cubes, they cook perfectly in 30-40 minutes, still holding their shape, while being buttery soft. Potatoes also help to naturally thicken the curry.
Cauliflower: Cauliflower is a great hearty ingredient that provides this recipe with incredible added flavor.
Green Beans: The green beans cook up to be al-dente, nearly fully cooked, which makes them the perfect texture alongside some softer mushier ingredients.
Peas: When you add frozen peas to a very hot dish, they will unfreeze nearly instantly and remain quite crisp. I like this texture since they're still very apparent in each bite but become just the slightly mushy.
Cilantro: Fresh herbs add much depth of flavor to every dish and cilantro is the perfect addition here. If you don't have cilantro at home, parsley will work well too!
Of course, kosher salt and red pepper flakes are added to balance out the flavors of the dish too. And a handful of delicious spices including ground coriander, turmeric, cumin & cinnamon are included as well.
Many other recipes for sausage curries use Keens curry powder to yield a more classic Aussie variation well known as "Keens Curried Sausages" that was served a lot in the 1980s and 1990s. But this recipe is far from the classic so I didn't include any curry powder here.
Tools & Equipment Needed
You barely need any items to prepare this easy curry sausage recipe! Only kitchen tools needed are a knife, cutting board, large dutch oven pot (or a soup pot) and a mixing spoon!
My favorite pot to make this recipe in is a Le Creuset Deep Round Dutch Oven, but I'd also very much recommend a cheaper Amazon Basics Dutch oven too!
How to make one-pan sausage curry step by step
Here are some quick visual instructions with a brief explanation for how to make a sausage curry. Be sure to read through the full instructions with exact ingredient measurements & steps in the recipe card below!
Step 1: Begin with sautéing the sliced sausage in some olive oil for about 10 minutes until most of the edges are crispy. Transfer the cooked sausage to a bowl and set aside for later!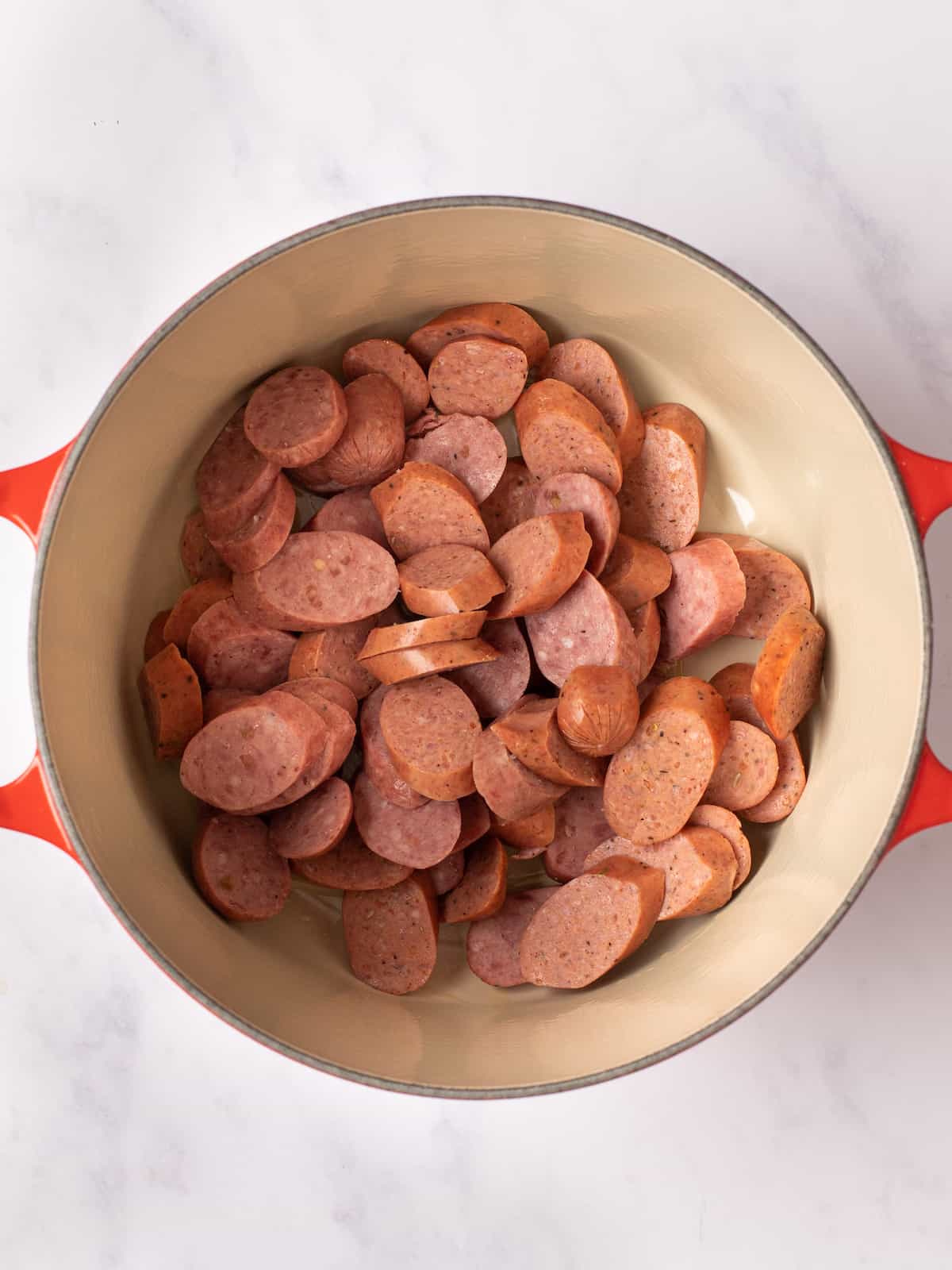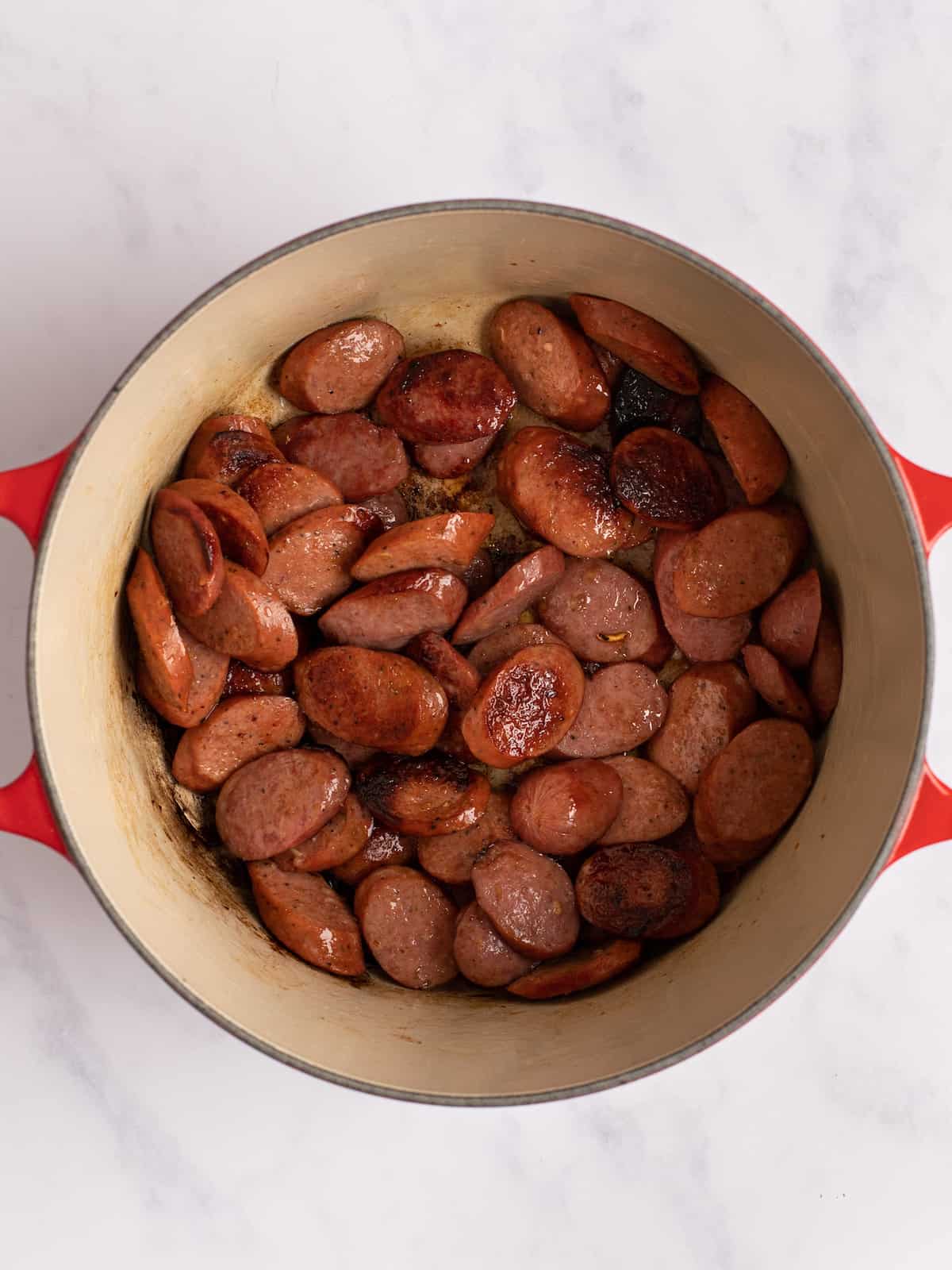 Quick tip: If sausages start to stick to the bottom of the pan, add 1-2 teaspoons of water to deglaze the pan and use your mixing spoon to scrape off any bits from the bottom of the pan, then mix everything together.
Step 2: Be sure there is enough oil left in the pan or add some more. Then, sauté the onions for 5 minutes just until they start to become translucent.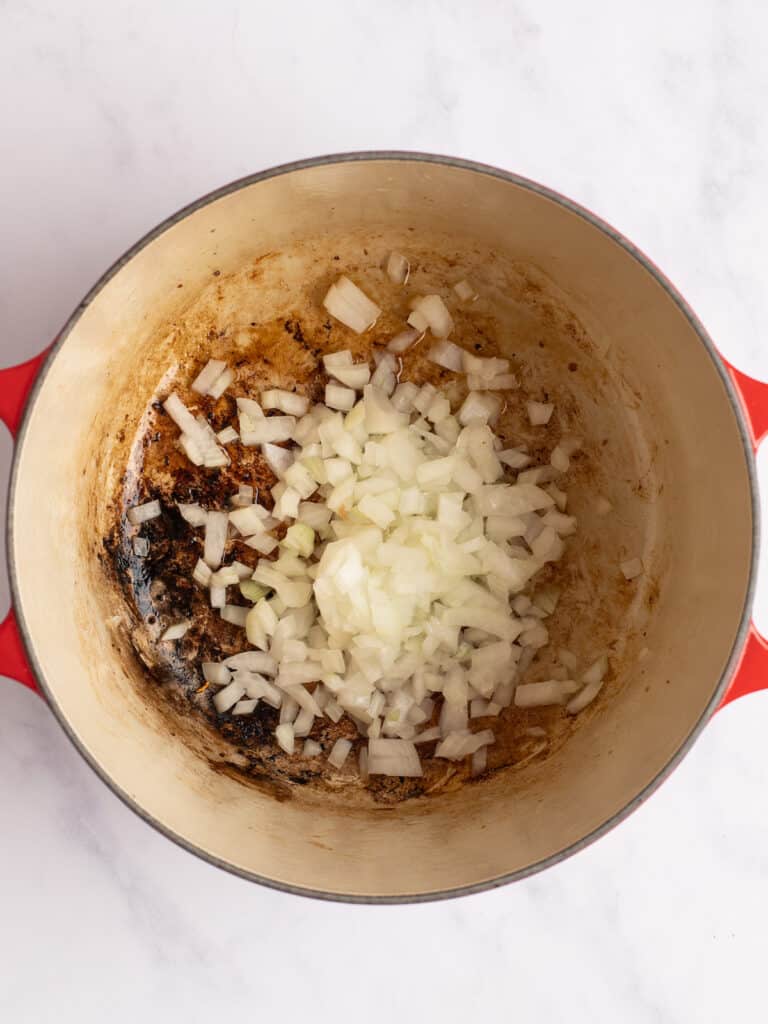 Step 3: Mix in the aromatics, including fresh garlic, salt, red pepper flakes, ginger, ground coriander, turmeric, cumin & cinnamon. Cook just until the garlic is cooked through, about 2 minutes. It will become very fragrant.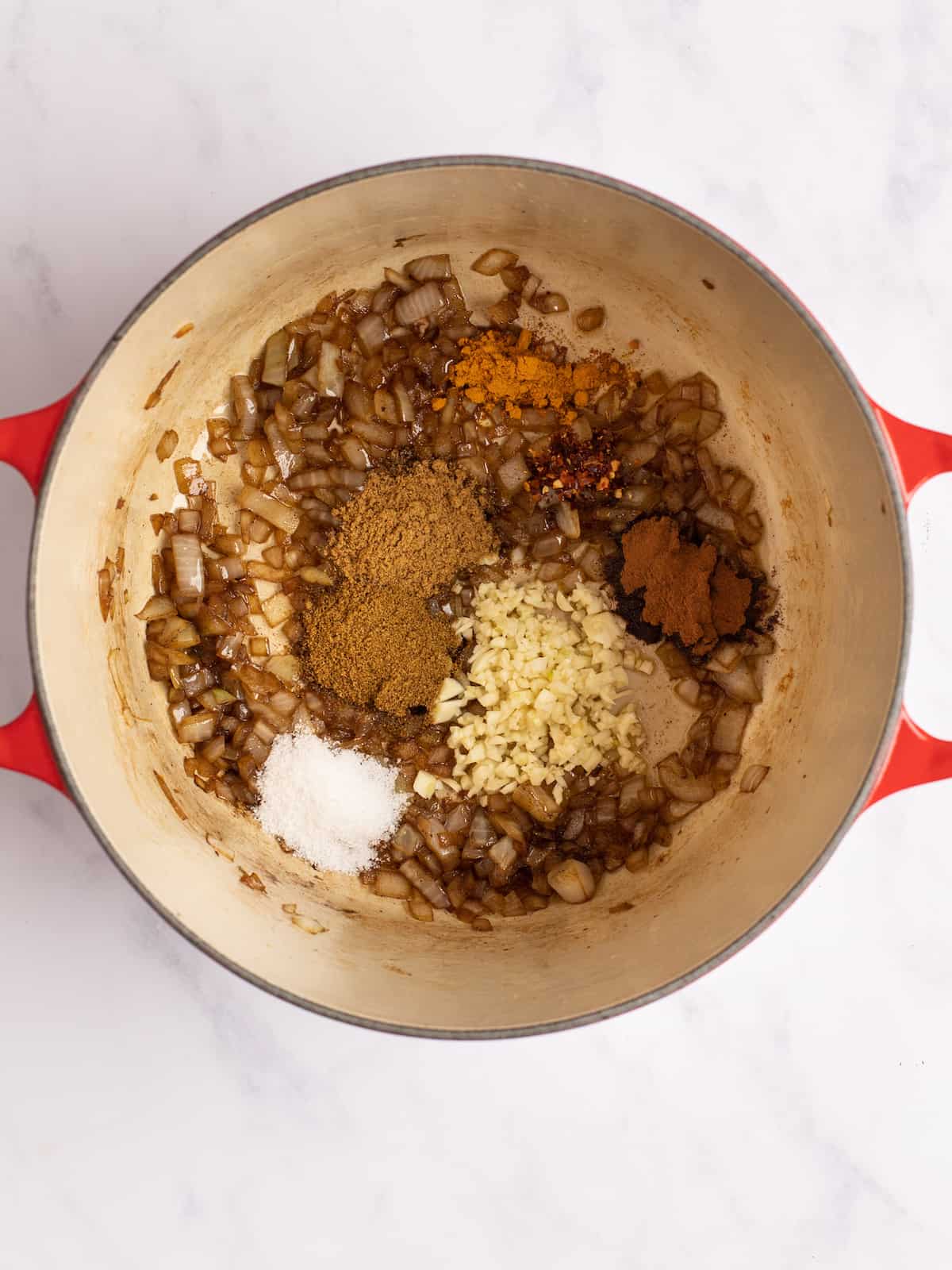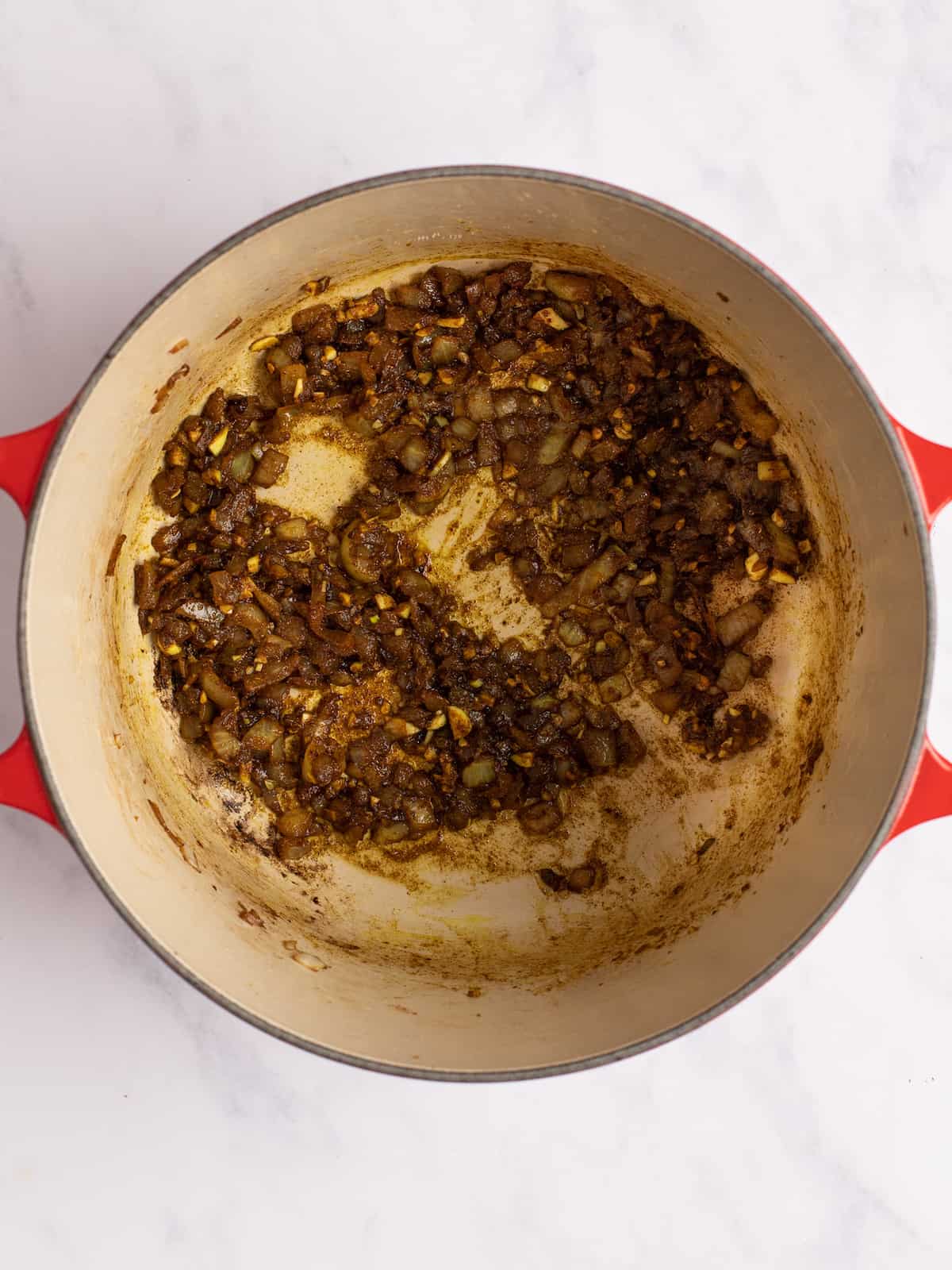 Step 4: Next, add in all the veggies including the cauliflower, potatoes and green beans followed by the crushed tomatoes and vegetable broth!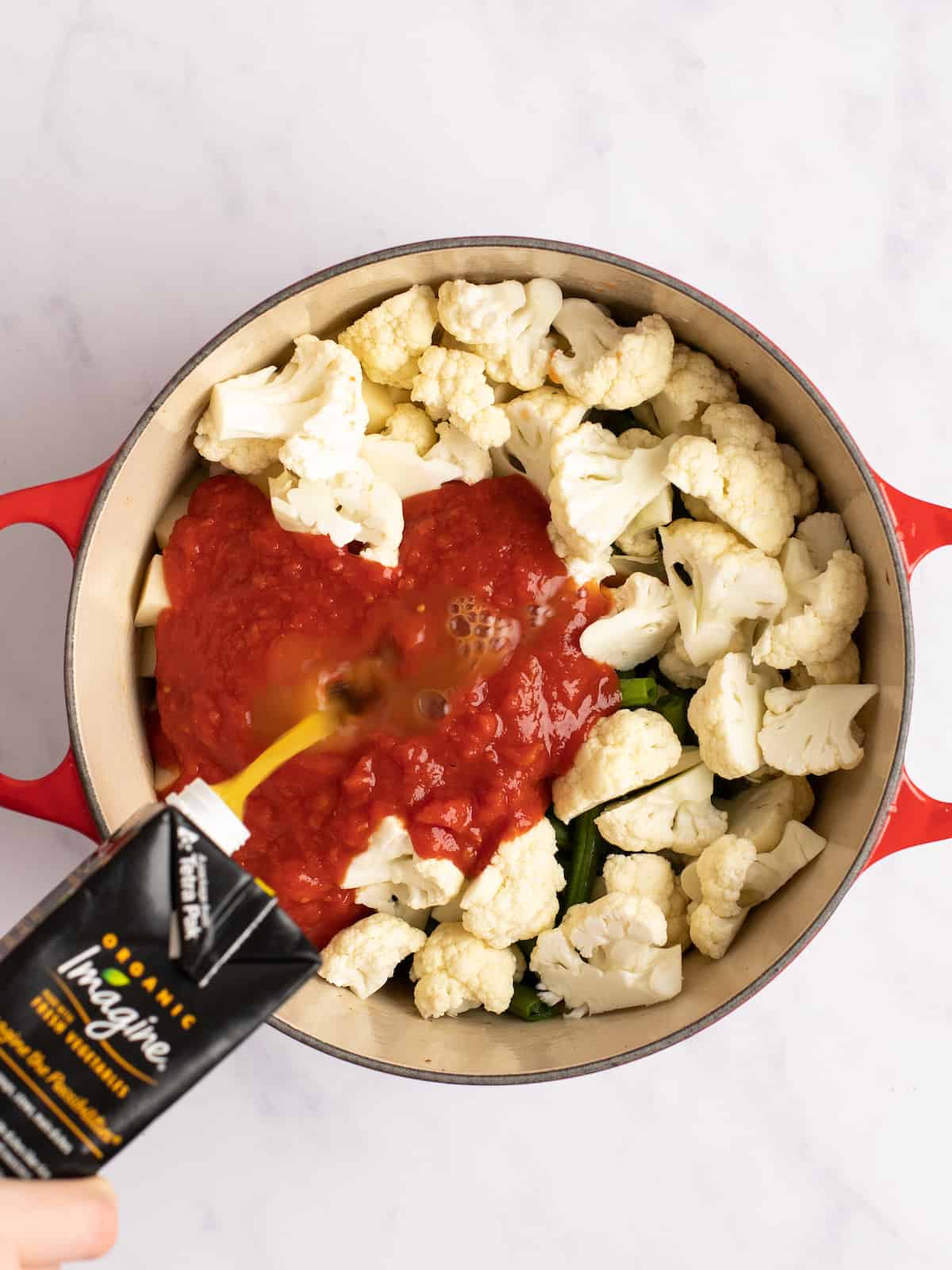 Step 5: Simmer all the ingredients in the pot for 30-40 minutes or until the potatoes are fully cooked through and the cauliflower becomes very soft.
Step 6: Finally, turn off the heat and add the cooked sausages, cilantro and frozen peas to the cooked curry and mix everything together. Cover the pot and let sit for 5 minutes before serving!
Expert tips for best results
Be sure to fully cook the potatoes before turning the heat off. Taste one potato and be sure that it is cooked to your liking before finishing up the dish! Nothing is worse than an undercooked potato.
Taste and add more salt if needed. I didn't add a lot of salt to this recipe, since sausages can be quite salty on their own. I chose to use Kosher salt in this recipe since the granules are larger, yet hollow, so it isn't as concentrated as fine sea salt or table salt.
Make it on Sunday and portion for the week! If you are into meal prep, this is the perfect dish to prep for 2-3 days of meals.
Before you begin making the curry, set another pot on the stove and cook white rice (I use Basmati) so it will be freshly made by the time your curry is ready.

Storing tips
Store sausage curry leftovers in a sealed container in the fridge for up to 4 days. If the curry has become a bit too thick, add 1-2 teaspoons of water per serving, mix together and microwave!
I have not personally tried it out, but I would recommend freezing the curry in a freezer-safe ziplock or container for up to 3 months.
Variations and substitutions
Sausage type: Use any sausage you love! I generally opt for a Sweet Italian or Hot Italian sausage, but try out an Apple-Sage sausage or other flavor. I also use beef sausages, but chicken sausages or turkey sausages would be excellent options too.
Swap the vegetables: My choice of vegetables are potatoes, cauliflower, green beans and peas, but you can swap either vegetable for something comparable. Maybe try half russet and half sweet potatoes. Swap cauliflower for broccoli!
Use whole cumin seeds if you like! I used ground cumin, but adding around ½ teaspoon of whole cumin seeds (in addition to the ground cumin) would be incredible added to this dish.
Swap the vegetable broth for chicken broth or mushroom broth.
If you want a thicker sauce, add a quick cornstarch slurry. Mix together 1 tablespoon cornstarch with 1 tablespoon water, then add it to the pot of curry, stir together and lightly simmer for 3-5 minutes until thickened.
How to serve
Rice - I generally serve this recipe with white basmati rice, but you can also use Jasmine rice or brown rice!
Mashed potatoes - Mashed russet, Yukon gold or even sweet potatoes would make a great side dish to this curry recipe.
Hearty bread - Serve with a nice slice of sourdough bread or any freshly baked bakery bread.
Noodles - It may not seem intuitive, but this sausage curry would be excellent on top of thin rice noodles!
Stir in some coconut milk - If you want to add an extra element of creaminess to the sauce, stir in ¾ cup of canned coconut milk right before simmering for 30 minutes.
Use vegan sausages instead of real meat - A vegan vienne-style sausage would work wonderfully here!
How to make slow cooker curried sausages
Although this recipe wasn't tested in a slow cooker, it can easily be adapted to be made in one to create the best slow cooker sausage curry:
Simply use an Instant Pot on the 'Sauté' setting to brown the sausages, then cook the onions, garlic and spices in the same fashion.
Add all the liquids to the recipe. Cover the Instant Pot and set to "Pressure Cook" on "High Heat" for 10 minutes. The instant pot sometimes takes 10 minutes before it comes up to pressure and begins cooking, so be patient and you MUST keep the lid secured on the pot. (*I haven't tested the time, but this should be pretty accurate).
Once the time is up, press the Quick Release button, to finish releasing the pressure. Turn off the pressure cooker. Leave the pot closed for 10 minutes. Do NOT open the pressure cooker lid if the float valve is up; it MUST be fully down to ensure safety.
Turn off the instant pot and mix in the sausages, peas and cilantro!
Frequently asked questions
What type and flavor of sausages should I use to make curry?
I recommend a lightly flavored Italian sausage, whether that be sweet or spicy! But truly any sausage flavor will work here.
Can I use curry powder to make sausage curry?
In this recipe, I use a combination of spices to provide the curry flavor rather than using curry powder. Feel free to add 1 teaspoon of curry powder to the recipe if you want to try it out!
Does sausage curry have gravy?
Generally yes! My recipe is a bit different than the typical recipes you'll find for sausage curry. Most sausage curry recipes are retro-inspired and are essentially sausages cooked in a thickened gravy with some veggies and peas.
What country is curried sausage from?
The classic curried sausage concept originated from Germany. The recipe shared here is not closely related to the German curried sausage, and is more like an Indian curry that just so happens to have sausages added!
Are curried sausages healthy?
The overall answer is yes, minus the nitrates in the sausages! You can find "nitrate free" sausages, which means no nitrates were added, but they usually sneak nitrates into the sausages regardless in a more natural way using celery or beet derivatives.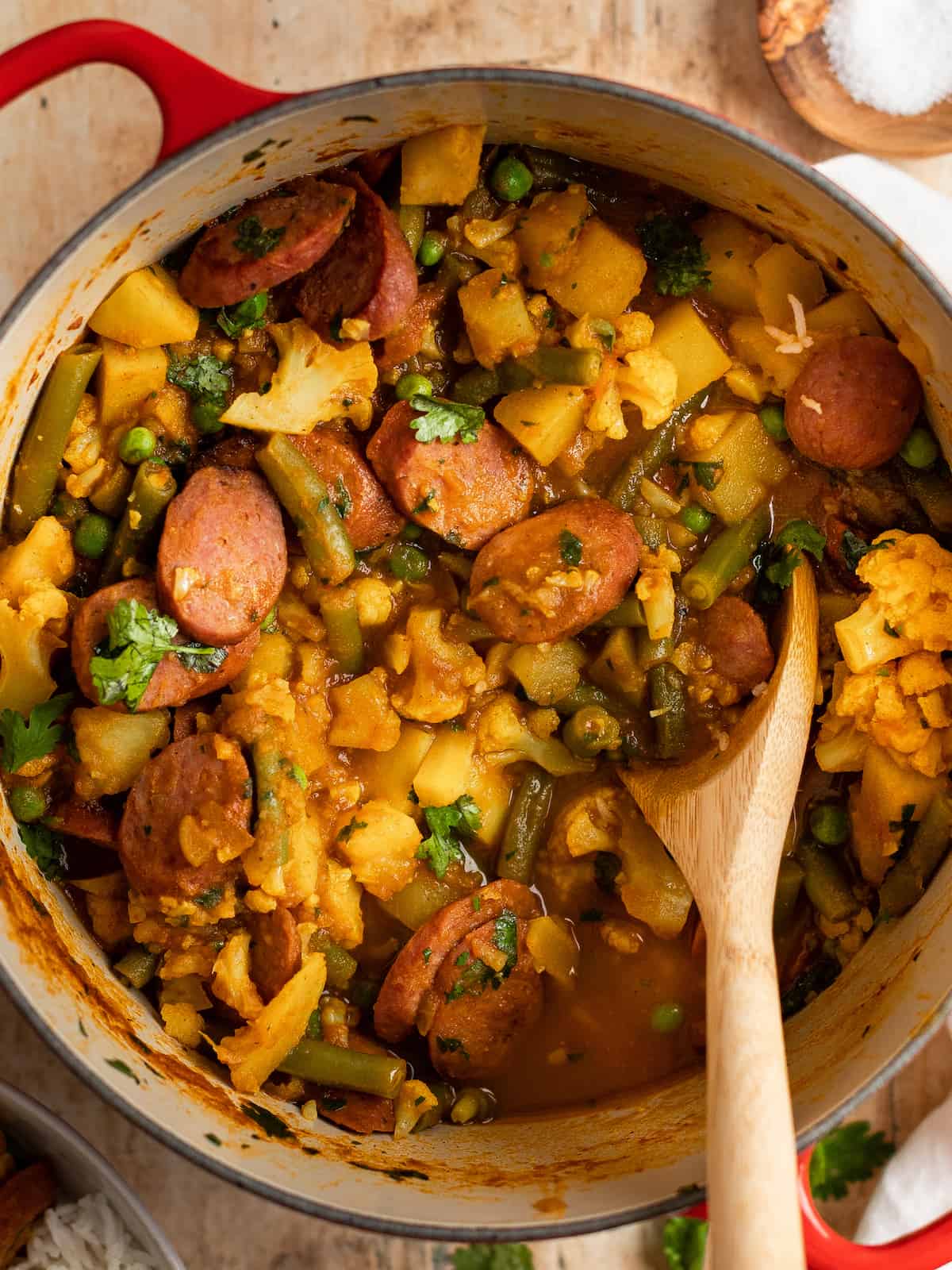 Other comforting recipes you'll love
Here are some more easy dinner recipes that I think you'll love!

Best Sausage Curry (with Cauliflower and Potatoes)
Easy and healthy Sausage Curry made in 45 minutes is the best 1 pot meal that is comforting and delicious!
Equipment
1 cutting board

1 knife

1 large dutch oven pot

1 mixing spoon
Ingredients
18

ounces

Sweet Italian sausages

(1 ½ (12-oz) packages or six 3-oz sausages), sliced into ½" rounds on a bias

1

teaspoon

extra virgin olive oil

1

medium

onion

diced small

4

cloves

garlic

minced

2

teaspoons

freshly grated ginger

optional but recommended

¼

teaspoon

red pepper flakes

1 ½

teaspoon

ground coriander

1 ½

teaspoon

ground cumin

½

teaspoon

ground turmeric

1

teaspoon

ground cinnamon

1 ½

teaspoon

Kosher salt

Diamond Crystals brand

2

pounds

Russet potatoes

peeled and cut into 1" cubes (about 4-5 medium potatoes)

1

head

cauliflower

(Approx. 2lb), cut into medium-small florets

2

cups

green beans cut into 1" pieces

(10 ounces)

15

ounce

can crushed tomatoes

4

cups

vegetable broth

¼

cup

chopped fresh cilantro

1

cup

frozen peas
Instructions
In a large Dutch oven pot or soup pot, add the sausage with 1 teaspoon of oil. Saute over medium-high heat, for about 10 minutes, until the sausage has crisped a bit. Remove from the pan and set aside.

Pour off all but 2 tablespoons of oil from the sausage left in the pot. If no oil remains in the pot from the sausage, add 2 tablespoon oil.

With the heat on a medium flame, add the onion. Saute over medium-low heat for 5 minutes until softened and translucent.

Mix in the garlic, ginger, red pepper flakes, coriander, cumin, turmeric, cinnamon and salt. Cook for 2 minutes until fragrant.

Mix in the potatoes, cauliflower, green beans, crushed tomatoes and vegetable broth. Bring to a boil over high heat, then reduce to a simmer and cook covered, with the lid slightly ajar, until the potatoes have softened, about 30-40 minutes.

Turn off the heat and mix in the cooked sausage, cilantro and peas. Cover the pot and let sit for 5 minutes before serving!
Notes
Easily swap the cilantro for herbs of their choice such as parsley.
Russet potatoes are ideal for this recipe since their starches help thicken the saucy mixture!
Using vegetable broth is ideal, but you can also use a Mushroom Broth or Chicken Broth if you have it on hand.
Nutrition
Calories:
361
kcal
|
Carbohydrates:
53
g
|
Protein:
22
g
|
Fat:
9
g
|
Saturated Fat:
3
g
|
Polyunsaturated Fat:
2
g
|
Monounsaturated Fat:
3
g
|
Cholesterol:
45
mg
|
Sodium:
2135
mg
|
Potassium:
1492
mg
|
Fiber:
9
g
|
Sugar:
13
g
|
Vitamin A:
1126
IU
|
Vitamin C:
104
mg
|
Calcium:
123
mg
|
Iron:
12
mg
Have you tried this recipe? Consider leaving a ⭐️⭐️⭐️⭐️⭐️ rating in the recipe card right below and/or a review in the comment section further down the page. Or, consider following me on Facebook or Instagram! Thanks for visiting.