Summer Eggplant Tomato Onion Pie is my new favorite savory galette for the season!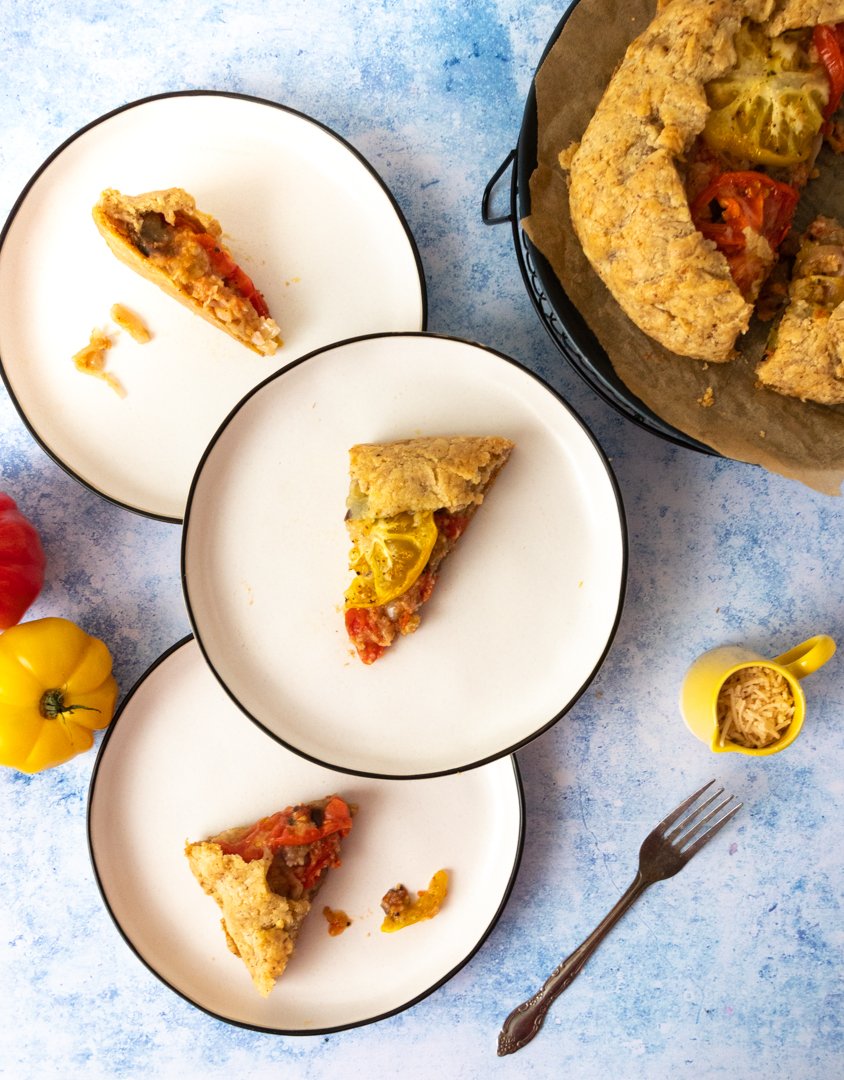 Jump to:
What is a galette?
A galette is a free-form pie, that isn't shaped in a pie pan. Rather, the dough is rolled out and shaped around a filling on a cookie sheet tray (pan) and baked as is - no pie pan enclosing the pie.
Ingredients in a pie and galette are essentially the same; no huge difference there.
Let's clarify: A galette can be considered a pie, but a pie (in a pie pan) is not a galette. Awesome!
All About the Dough
I opted for a pretty flakey pie crust dough, one of my favorites! I've used it for sweet & savory pies. You can add in a bit of sugar to the pie dough for a sweeter galette. When making a savory galette, I leave out the sugar and try to keep the flavor more neutral with loads of crispiness!
Key Components to Make this Summer Eggplant Tomato Onion Pie (Galette)
Pie Crust - The pie crust is made up of a combination of 3 kinds of gluten-free flour, for optimal flavor and texture. Then, salt, vegan butter and ice water are incorporated into the dough!
Vegetable Filling - The filling is a combination of roasted and sautéed veggies, which makes for such a fun variety of flavors and textures. Gluten free breadcrumbs and vegan cheese are also mixed into the filling.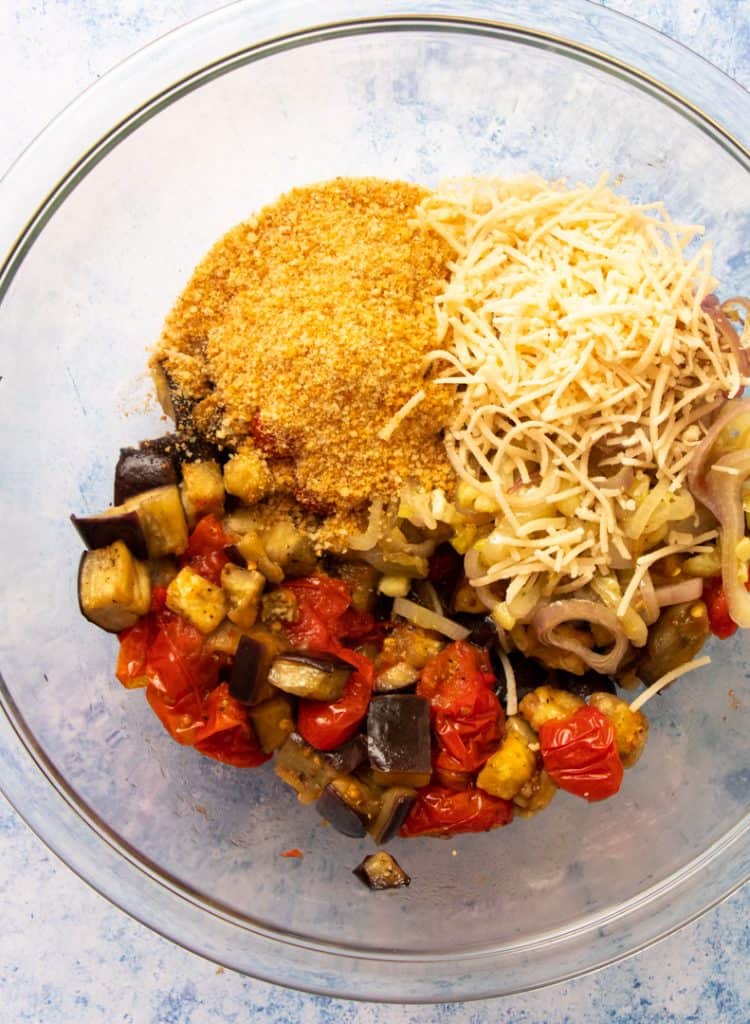 Decoration - I love to decorate the top of this galette/pie with slices of beautiful heirloom tomatoes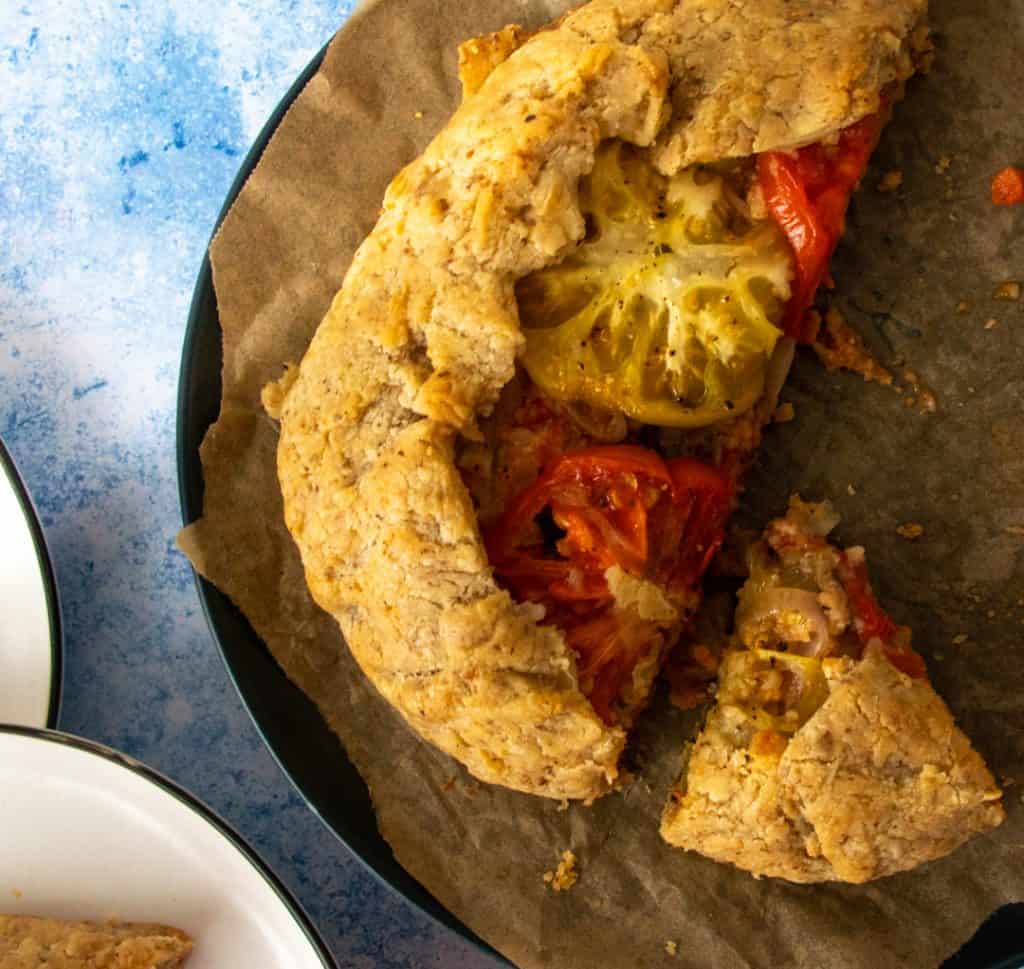 Keys to Making The Perfect Galette Dough:
Keep the butter COLD! This doesn't mean frozen, but I mean chilled from the fridge.
Make sure the water is ice cold. Add a couple ice cube to water and let it sit for 1 minute, then measure out the water needed. This works perfectly and will help keep the butter cold in the process.
Shingle the butter with the flour! We are not mixing or beat or whisking the butter into the gluten free flour blend. I recommend using your thumb and pointer finger to squash each piece of flour-coated butter and then repeat to another piece of butter, and so on.
Bake until crisp! The galette will be firm and moveable once it's is baked, not flimsy. Look out for a stirdy exterior when checking on your galette.
Other Recipes You'll Love!
Summer Eggplant Tomato Onion Pie (Galette)
Ingredients
For the Pie Dough: 
¾

cup

Gluten Free 1-to-1 Baking Flour

¼

cup

Almond Flour

¼

cup

Tapioca Flour

¼

teaspoon

Salt

omit if butter contains salt

8

tablespoon

Vegan Butter or Unsalted Butter

cut into ½ inch cubes, cold

¼-⅓

cup

Ice Water
For the Filling: 
½

eggplant

1" cubes

1

cup

cherry tomatoes

halved

3

garlic cloves

peeled & chopped

1

large shallot or 2 smaller shallots

sliced

2

tablespoons

extra virgin olive oil

additional needed for garnish

¼

cup

+ 3 Tablespoons gluten free breadcrumbs

divided

¼

cup

parmesan shreds or vegan parmesan shreds

1

Heirloom tomato

optional, but recommended, sliced

Sea salt

Ground black pepper
Instructions
For the Dough:
Sift together flours and salt in a medium bowl.

Add cubed cold butter. Use fingers to lightly toss the butter cubes in the flour until they're lightly coated. No mixing!

Next, use your thumb and pointer finger to squash each piece of butter so it becomes flat, pushing in the flour as you "shingle it." You're looking to create flattened pieces of butter that are getting a bit of flour pressed into it. Make sure all your butter is "shingled."

Slowly drizzle ¼ cup ice water into the bowl and use your hands to toss everything together. Don't mush the butter or mix with a spoon or stand mixer. Add more water and toss the bowl contents together until there is no more floury mixture at the bottom of the bowl and you are left with big and small chunks of dough. Don't overwork your mixture, be very light with it.

Transfer dough chunks to a large piece of plastic wrap or parchment paper and use your hands to press it into a rectangle, about ½-inch high. Wrap in the plastic/parchment and refrigerate for 1 hour.
For the Filling: 
Preheat the oven to 350°F.

Place chopped eggplant into a medium bowl and sprinkle 1 tablespoon of salt over it. Mix with your hands and allow to sit for 20 minutes. This process will allow the eggplant to soften and become less bitter. Then, rinse off all the salt under water, drain any excess water & pat the eggplant cubes dry.

Line a cookie sheet with parchment paper and place the halved cherry tomatoes & eggplant cubes onto it. Drizzle with 1 tablespoon olive oil, ¾ teaspoon salt & ¼ teaspoon pepper.

Bake for 25 minutes, until softened. 

Meanwhile, saute chopped garlic & shallots in a fry pan with 1 tablespoon olive oil. Cook until golden, about 5 minutes. 

Combine the cooked eggplant-tomato mixture, sauteed garlic & shallots along with ¼ cup gluten free breadcrumbs and plant based parmesan in a large bowl. Mix until well combined. 
Assemble the Galette: 
On a large piece of parchment paper, roll the dough into a large circle, about ⅛-inch thick.

Sprinkle 3 tablespoons of breadcrumbs over most of the dough circle, leaving 2 inches without along the perimeter.

Add all of the filling mixture into the center of the dough, leaving the 2-inch perimeter empty. 

Decorate the top of the filling section with sliced heirloom tomatoes. I used 4 slices total.

Once the center of the dough is filled, brush the 2-inch empty perimeter with water.

Use the parchment paper to help fold the sides of the dough in towards the center and secure by pinching the connected areas together. Do this around the circle of dough.

Refrigerate for at least 30 minutes while the oven preheats to 400°F.

Before baking, brush the dough rim with egg wash. 

Bake for 35-45 minutes. *If the dough looks dry, brush it with melted butter at the 35 minute mark.

After about 30 minutes, remove the galette from the oven and drizzle with more olive oil for added shine. Bake for an additional 5-10 minutes.

Allow to cool for 10 minutes before serving!
Nutrition
Serving:
1
Serving
|
Calories:
320
kcal
|
Carbohydrates:
26
g
|
Protein:
4
g
|
Fat:
24
g
|
Saturated Fat:
4
g
|
Polyunsaturated Fat:
5
g
|
Monounsaturated Fat:
11
g
|
Trans Fat:
3
g
|
Sodium:
272
mg
|
Potassium:
214
mg
|
Fiber:
4
g
|
Sugar:
4
g
|
Vitamin A:
301
IU
|
Vitamin C:
10
mg
|
Calcium:
37
mg
|
Iron:
1
mg
Other Gluten Free Recipes you may love!