Get ready for these crispy and irresistibly delicious Soy Garlic Chicken Wings. Baked to crispy perfection and coated in a heavenly soy-garlic sauce, this easy recipe with simple ingredients will have you hooked from the first bite.
Pair these mouthwatering Soy Garlic Chicken Wings with a side of Hearts of Palm Quinoa Salad, or make a refreshing Summer Fennel Salad with Melon for a fruity and vibrant flavor. Make these delicious recipe pairings for your next party as a flavorful appetizer or main course for your whole family!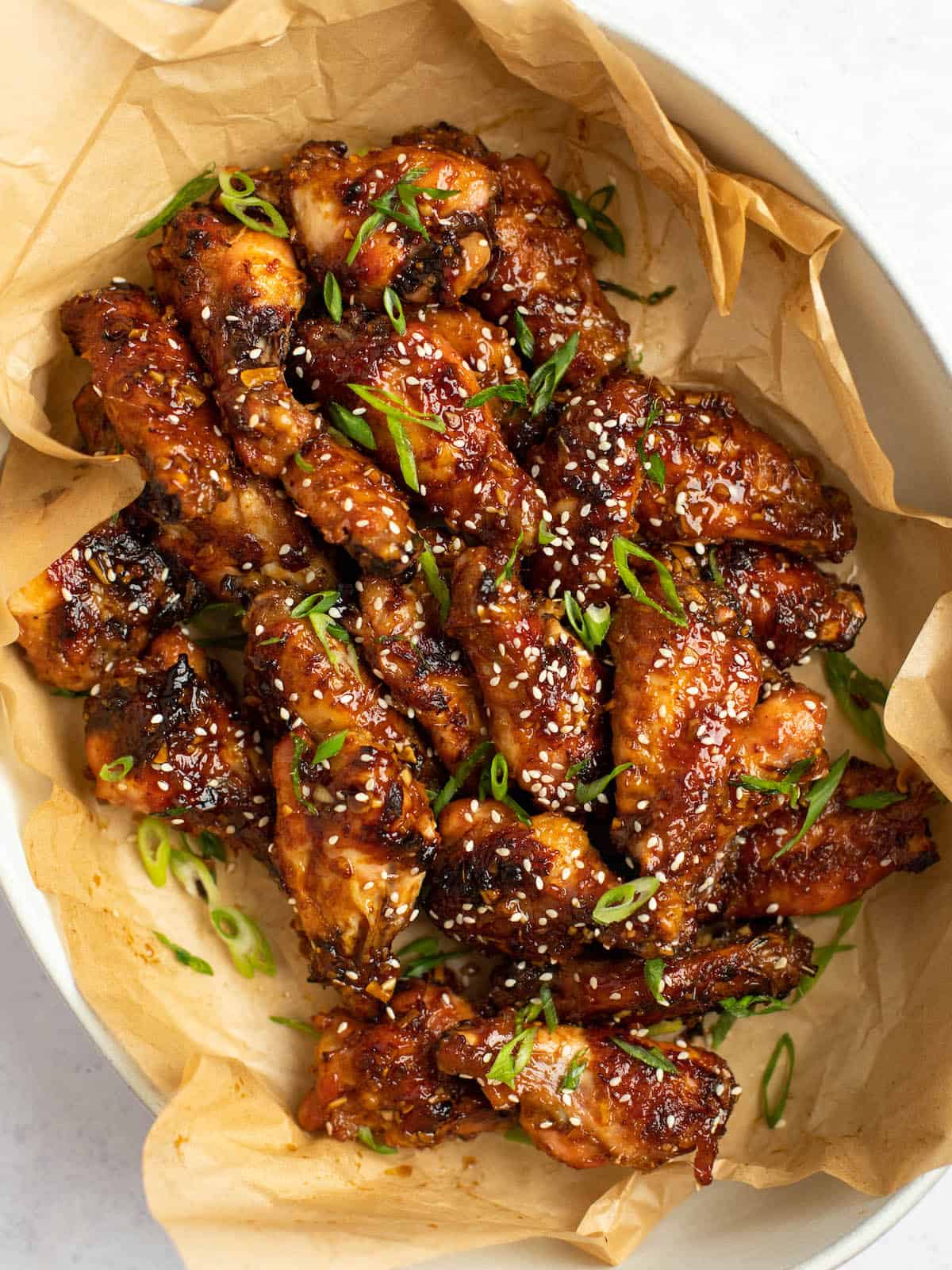 Jump to:
Why you'll love this recipe
These Soy Garlic Chicken Wings are very impressive to serve a crowd and taste almost fried, when in-fact they're baked in the oven. No regular oven or air fryer necessary!
These wings are flavor-packed and quite simple to make.
Uses 13 ingredients making it
A hint of honey balances the sauce perfectly.
Reheat perfectly in the oven, staying crisp and moist.
Pairs well with a bright salad or white rice.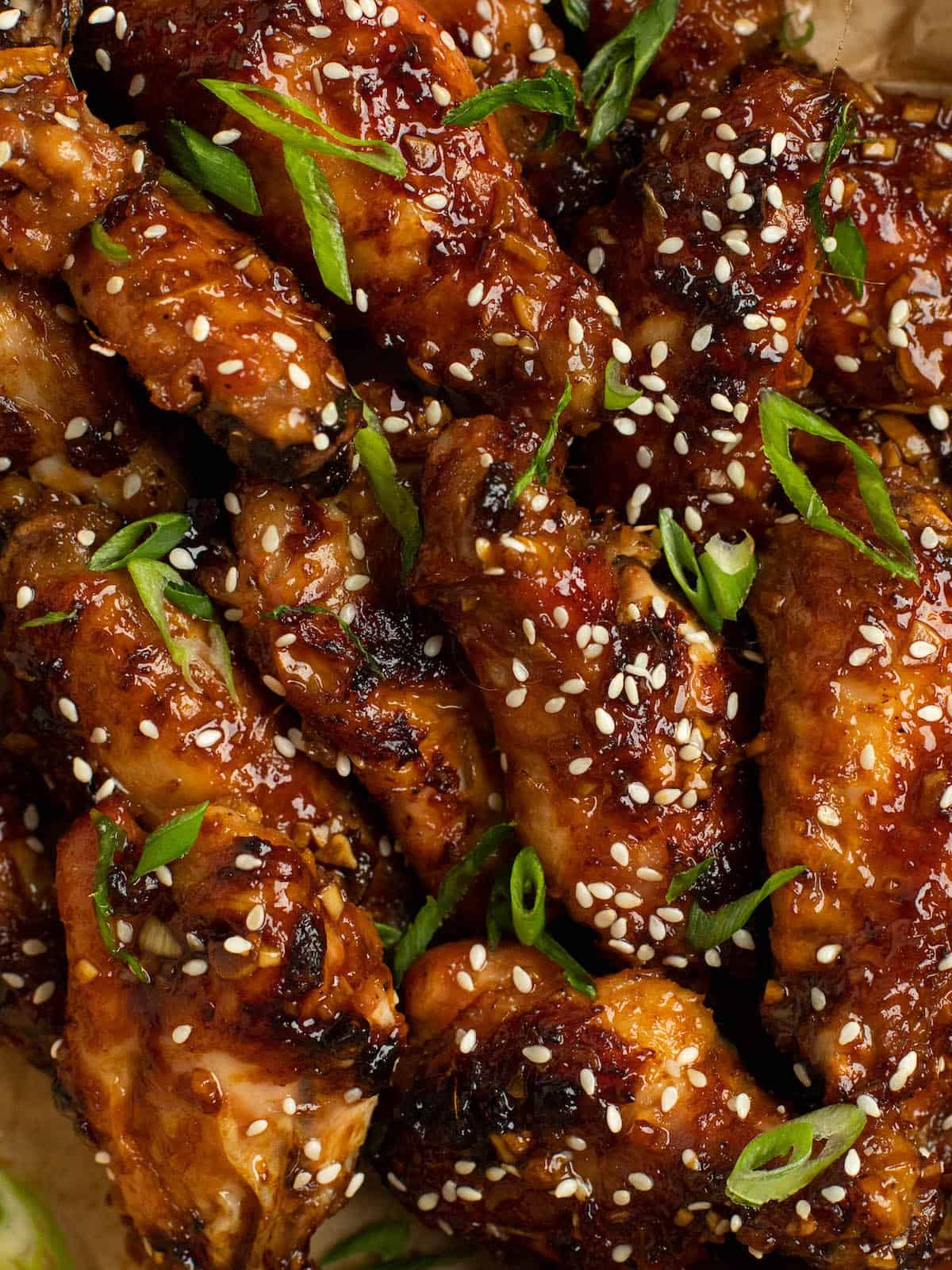 Recipe ingredients
You'll need the following ingredients to make this delicious soy garlic glaze wings the best way possible:
Ingredient notes

There are a few key ingredients to yield best results for these crispy chicken wings time!
Chicken wings: Try to find very fresh and clean chicken wings at your grocery store that don't have many feathers, since it can be annoying to clean on your own. I like to split my chicken wings so there is the drumstick and the wing part so it's easier to eat. Feel free to trim off excess fat too.
Garlic: This recipe is loaded with garlic! We use a full 10 cloves of garlic to really intensify the flavor. Fresh garlic is much preferred over pre-chopped garlic from a jar. If you don't want to chop all the garlic, simply peel them and blitz in a mini food processor or use a garlic press.
Tamari Sauce or soy sauce (gluten free): Soy sauce and tamari sauce are interchangeable in my kitchen. I always opt for a gluten free soy sauce since I have a gluten sensitivity. This ingredient lends the perfect saltiness to the sauce! If you choose to use light soy sauce or low sodium soy sauce you may need to add salt to the recipe.
Honey: Honey is the perfect sweetener to balance out the flavors in this chicken wing recipe. It doesn't make the recipe overly sweet. It pairs very well with the garlic and soy sauce.
Green Onions: Scallions, also known as Green Onions, make the perfect garnish to this dish, adding a bright pop of color.
Of course, salt and black pepper are always necessary in nearly every recipe!
How to make Soy Garlic Chicken Wings step by step
Here are some quick visual instructions with a brief explanation. Be sure to read through the full instructions with exact ingredient measurements & steps in the recipe card below!
Step 1: Begin with whisking all the sauce ingredients in a medium pot. Heat over medium-low heat, just until the butter is melted. Then, turn off the heat.
Step 2: In a large mixing bowl, mix together a bit of the sauce mixture, onion powder, garlic powder, salt, pepper and cornstarch. The cornstarch will help the chicken skin become crispy and make such tasty wings.
Step 3: Clean and pat chicken wings dry with paper towels. Add to the marinade and toss everything together. I like to use my hands for this and wear gloves for easy clean up.
Step 4: Arrange the wings on a greased foil lined baking sheet in a single layer, and make sure they don't overlap. I don't recommend using parchment paper here since it can burn. Bake the wings for about 40 minutes until crisp and golden and reaches an internal temperature of 165 degrees F or higher on a meat thermometer.
Step 5: You'll want to thicken the sauce while the wings cook, by simmering it for a while and then adding a cornstarch slurry and cooking until thickened. This sauce is phenomenal!
Step 6: Set pan on a wire rack. Baste the cooked wings with the thickened sauce, but be sure to reserve some sauce for later. Bake the wings for another 8 minutes to crisp them even further.
Step 7: Place the cooked wings into a bowl and pour over the remaining sauce and toss to coat.
Step 8: Garnish the wings with sesame seeds and scallions. How delicious does this look?!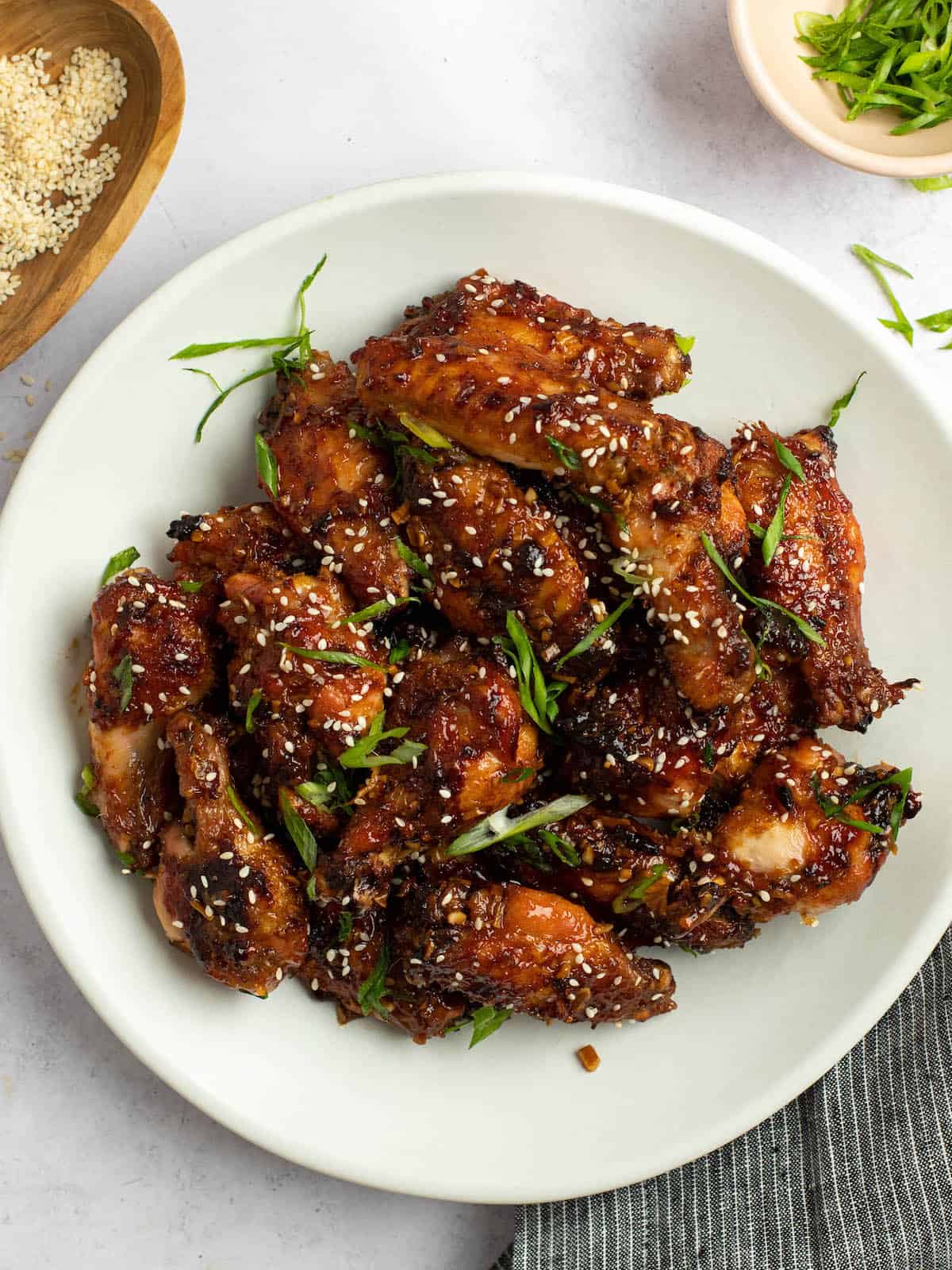 Recipe tips and tricks
It's super easy to clean and prepare the chicken wings earlier in the day, let sit in the marinade and cook closer to dinner time!
Feel free to double the sauce recipe so you can have extra sauce to spoon over your rice or pasta.
Chicken wings are an excellent food that can be stored in the fridge overnight and reheated. Feel free to prepare them in advance.
Storage and reheating
Storage: These wings are best stored in an airtight container in the fridge for up to 3 days. Feel free to store leftover wings for a snack the next day!
Reheating: To reheat the wings, place in an even layer on a pan in a 350°F oven and cook for 10 minutes. Then, increase the temperature to 425°F and cook for 5 minutes to help crisp them again.
Freezing: I have not tried freezing these wings, or wings in general, and am not sure I would recommend it. If you give it a go, let me know!
Additions and substitutions
Use tamari sauce or soy sauce: Either ingredient will work! If you have a gluten intolerance, definitely make sure yours is certified gluten free.
Swap the honey: If you don't have honey on-hand, feel free to use maple syrup, agave or even granulated sugar. Any sweetener will do!
Swap the scallions: You can use any nice green herb or even chives as the garnish instead of scallions. Just chop small and sprinkle over the final dish.
​Use vegetable oil instead of olive oil: I generally prefer cooking with olive oil, but this recipe will work just as well with any other oil.
Frequently asked questions
What to serve with soy garlic chicken wings?
These sticky wings can be served with a variety of side dishes that compliment this delicious dish. You can pair it with steamed veggies, a heart salad such as my Broccoli Crunch Salad, or even Chimichurri Sweet Potatoes.
What do soy garlic wings taste like?
Soy garlic chicken wings are packed with umami and subtly sweet flavors from the garlic, soy sauce, spices and honey. The wings are also tossed in corn starch which provides it a crispy coating, making it taste as if it was deep fried or cooked in air air fryer. The sticky soy-garlic sauce that coats the chicken wings is fabulous and is such an essential part to the delicious taste of this recipe.
How to make chicken soy garlic sauce?
This sauce is incredibly simple! I combine all the ingredients in a small pot, mix, simmer to thicken, then add a cornstarch slurry and simmer until thickened. Super simple!
What are soy wings made of?
Essentially they are made of soy sauce (or tamari sauce), olive oil, garlic, spices, honey and whatever additions make sense to you. There is no one way to make this recipe!
Should you marinate the chicken wings in a soy sauce mixture?
Yes! You don't need to marinade the wings for a while, but it does help to let them sit in the marinade mixture for about 15 minutes to soak in the flavors.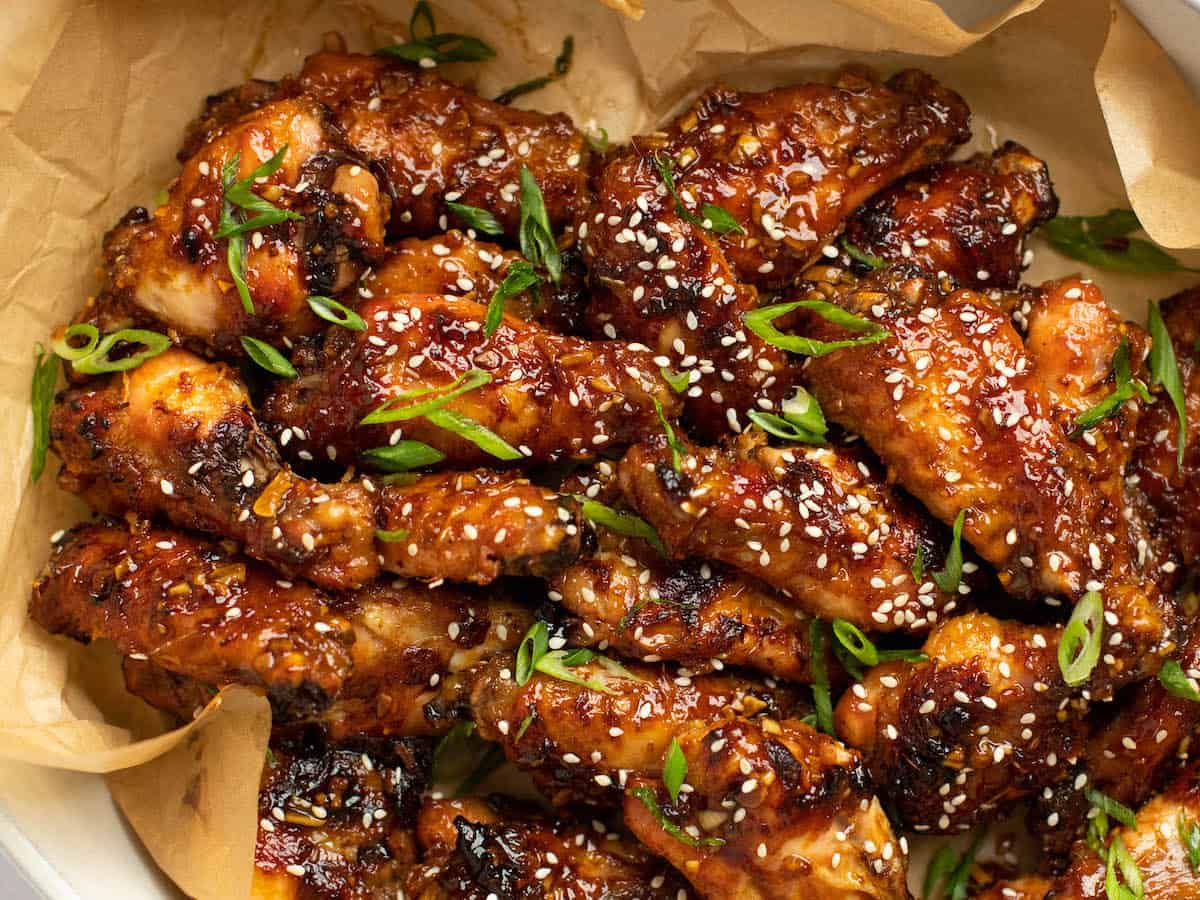 Related recipes you may love
Here are some more easy dinner and chicken recipes that I think you'll love.

Soy Garlic Chicken Wings
These Soy Garlic Chicken Wings have the most delicious and easy sauce, made with only a few simple pantry ingredients. No need for a fryer, these are simply baked in the oven and yield super crispy wings!
Equipment
1 sheet tray

1 small pot

1 large mixing bowl

1 pastry brush

Aluminum foil
Ingredients
For the Chicken Wings
2

pounds

chicken wings

about 18-24 pieces

½

teaspoon

onion powder

½

teaspoon

garlic powder

1

teaspoon

kosher salt

preferably Diamond Crystals brand

2

tablespoon

corn starch
For the Sauce
1

tablespoon

extra virgin olive oil

or other oil of choice

3

tablespoon

unsalted vegan butter

1

teaspoon

sesame oil

toasted is preferable

¼

cup

tamari sauce

or soy sauce (gluten free)

¼

cup

water

2

teaspoon

unseasoned rice vinegar

10

cloves

garlic

minced

2

tablespoon

honey

1

teaspoon

cornstarch

mixed with 2 teaspoons water
For the Garnish
1

teaspoon

sesame seeds

3

green onions (scallions)

thinly sliced
Instructions
Line a rimmed baking sheet with foil and grease well with cooking spray.

Add sauce ingredients (except cornstarch) to a small pot and whisk together. Cook on the stove over medium heat just until the butter is melted. Turn off the heat.

Separate the wing's drumstick from the thinner parts of the wings using kitchen shears (if applicable). Remove any excess feathers. Pat chicken wings dry with a paper towel.

To a large bowl add 3 tablespoons of the sauce, onion powder, garlic powder, salt, pepper and cornstarch. Mix together until the cornstarch has dissolved.

Add the chicken wings into the bowl. Massage the wings with the sauce mixture until well coated.

Let wings marinade for 15 minutes at room temperature, as you preheat the oven to 400°F. Be sure the oven rack is in the center position in the oven.

Place wings on the greased pan, in a single layer, and bake for 40 minutes until the chicken is crispy and reaches an internal temperature of at least 165°F (it's ok if it's higher).

While the wings bake, continue to simmer the sauce on medium-low heat, for 15 minutes. Mix in the cornstarch slurry and cook on medium-high for 30-60 seconds, stirring frequently, until thickened. Immediately, turn off the heat once it begins to thicken. Set aside to cool.

Once the wings are taken out of the oven, increase the oven temperature to 425°F.

Set aside ⅓ cup of sauce for later. Using the remaining sauce, brush it over the cooked wing. Return to the oven for 8 minutes to become more crispy.

When the wings are finished cooking, allow to cool for 10 minutes. Transfer to a bowl and toss with the ⅓ cup sauce that was set aside.

Garnish with a sprinkle of sesame seeds and sliced scallions.
Notes
Reheat the wings: You can technically microwave the wings for 1-2 minutes. But ideally, they should be reheated in the oven. Bake at 350°F for 10 minutes, then. 425°F for 5 minutes. They will get crispy again!
Make more sauce: If you love having extra sauce, you can double the sauce recipe and spoon it over rice or steamed veggies.
Gluten free: Be sure to use a gluten free certified soy sauce or tamari sauce in this recipe.
Dairy free: I use vegan butter in this recipe since I keep kosher. If you don't keep kosher, you can use real butter.
Nutrition
Serving:
3
wings
|
Calories:
309
kcal
|
Carbohydrates:
12
g
|
Protein:
17
g
|
Fat:
22
g
|
Saturated Fat:
5
g
|
Polyunsaturated Fat:
5
g
|
Monounsaturated Fat:
10
g
|
Trans Fat:
1
g
|
Cholesterol:
63
mg
|
Sodium:
1036
mg
|
Potassium:
196
mg
|
Fiber:
0.5
g
|
Sugar:
6
g
|
Vitamin A:
180
IU
|
Vitamin C:
3
mg
|
Calcium:
31
mg
|
Iron:
1
mg
Have you tried this recipe? Consider leaving a ⭐️⭐️⭐️⭐️⭐️ rating in the recipe card right below and/or a review in the comment section further down the page. Or, consider following me on Facebook or Instagram! Thanks for visiting.