Fresh and vibrant Summer Fennel Salad with Melon and crispy garlic and capers is packed with delicious flavor & texture, perfect for your summer gatherings or dinner for two. This salad can be made in less than 10 minutes, simply by slicing up the fruits and veggies, mixing your lemon-olive oil & honey dressing and frying up some garlic and capers. Doesn't that sound incredible?!?
Thank you to Pure Flavor® for sponsoring this recipe post! I absolutely love how fresh their produce is, especially their Pure Flavor® Solara™ Melon during this season. They make such a perfect colorful and flavorful addition to this salad that I love!
Jump to:
Why you'll love this recipe
This is honestly the one and only recipe I enjoy with melon! I kid you not. When Pure Flavor® first approached me about creating a recipe with their new mini Solara™ Melons, I was a bit nervous because I don't typically enjoy most melon on their own. Once I decided to pair the sweet melon with some savory flavors and fried garlic & capers, I knew I could fall in love. And that is what happened!
The combination of softer melon with crunchy fennel, a delicious sweet/spicy/sour dressing is so perfect, I promise you will love it.
Here are my key favorite things about this recipe:
Easy to make. This fennel salad recipe is literally assembled right on your serving plate, the dressing is easily mixed in a bowl and the crispy toppings fry up in 3 minutes. It requires very minimal effort!
Only takes 10 minutes (or less!). The prep time is very limited. I have made this salad recipe in ten minutes working leisurely, but have also put it together in 5-6 minutes, I kid you not. It's that quick to make!
Uses simple ingredients. I won't be asking you to search for ingredients that are hard to find! This salad uses mostly pantry staples and then you may need to pickup the fresh ingredients at your local grocery store.
Super delicious! Even though it's so easy to make, this fennel salad is incredibly delicious!!
Naturally gluten free. This recipe is naturally gluten free since all the ingredients used don't generally contain gluten.
Why this recipe works
This recipe works because it balances the sweet, salty and spicy flavors perfectly. You don't need to include the red pepper flakes and hot sauce if you prefer to not make this spicy and it will still be just as tasty!
Ingredients for the salad
For this salad, it uses very minimal ingredients, that are so crisp and delicious for any summer salad:
Fennel - The fennel in this recipe is such a huge part because it lends such a beautiful flavor and crispy texture to the salad. It is healthy and something that you may not gravitate towards in your salads regularly, but I promise it will be fantastic! You can use thinly sliced fennel or shaved fennel in this recipe; both cuts would be great.
Honeydew or Cantaloupe melon or Pure Flavor® Solara™ Melon (as used here) - I used the Solara™ Melon in this recipe and I find it tastes like a cross between a cantaloupe and honeydew. So either of these melons will work! We are looking for sweet and bright flavor with a delicious creamy texture.
Red Onion - Red onions are my go-to salad onion because they are beautiful and taste delicious. I always like to soak my sliced red onions in ice water for 30-60 minutes before adding to a salad so that it removes some of the bitterness. Pat it dry before adding to your recipe.
Capers - I have a love affair with capers! They are one of my most used ingredients in my kitchen that I am always trying to use in new ways. In this recipe, we fry them in just a bit of oil and they're phenomenal!
Garlic - You can never go wrong with garlic and this recipe uses a ton of fresh garlic, fried that is!
Oil - Olive oil is my go-to oil for salad dressings and honestly most of my cooking. Try to use a good quality extra virgin olive oil if you can.
Honey - Honey used to make dressing is always a winner! I use the honey in this dressing to add sweetness and thicken it a bit.
Lime juice - Lime is one of the most incredibly acidic ingredients and it works perfectly in this recipe.
Spices - I add salt, pepper and red pepper flakes to the dressing to balance out the flavors adding some saltiness and spiciness!
Hot sauce - Hot sauce is such a wonderful condiment to add to anything and this recipe is no exception! It's optional, but I promise if you like just a bit of spice this is a winner.
Ingredient swaps and substitutions
Although I am very attached to this list of ingredients, you can definitely swap a few to make it your own and to your liking.
Use a white onion or scallions instead of red onion. Sliced white onion soaked in cold water or simply thinly sliced scallions would work really well in this recipe!
Swap honey for maple syrup. If you don't have honey at home, don't worry, you can use maple syrup instead.
Swap lime juice with fresh lemon juice. Sometimes you only have lemons on-hand and that is ok, feel free to use them in this recipe.
Don't have lime or lemon at home, swap it for sherry vinegar. Only add 1 tablespoon of vinegar to start and taste to see if you want more.
Want to elevate this dish to include cheese? Shave parmesan cheese right over the top of this salad with a new variation you may love.
Swap fresh mint for any other fresh herb such as cilantro, parsley or dill. Choose whichever herb you like the most!
Swap melon for oranges! If you can't get your hands on a ripe melon, feel free to make a fennel and orange salad, it would be lovely. You can make your fennel salad Barefoot Contessa style!
Turn this into a shaved fennel salad. Instead of cutting the fennel into large chunks, use a grater or mandolin to shave the fennel. This will result in a different texture of salad.
Add chopped nuts as a garnish. Toasting nuts and sprinkling them onto your fennel salad can be super delicious! Try out pistachios or walnuts in this salad and let me know what you think.
How to cut a melon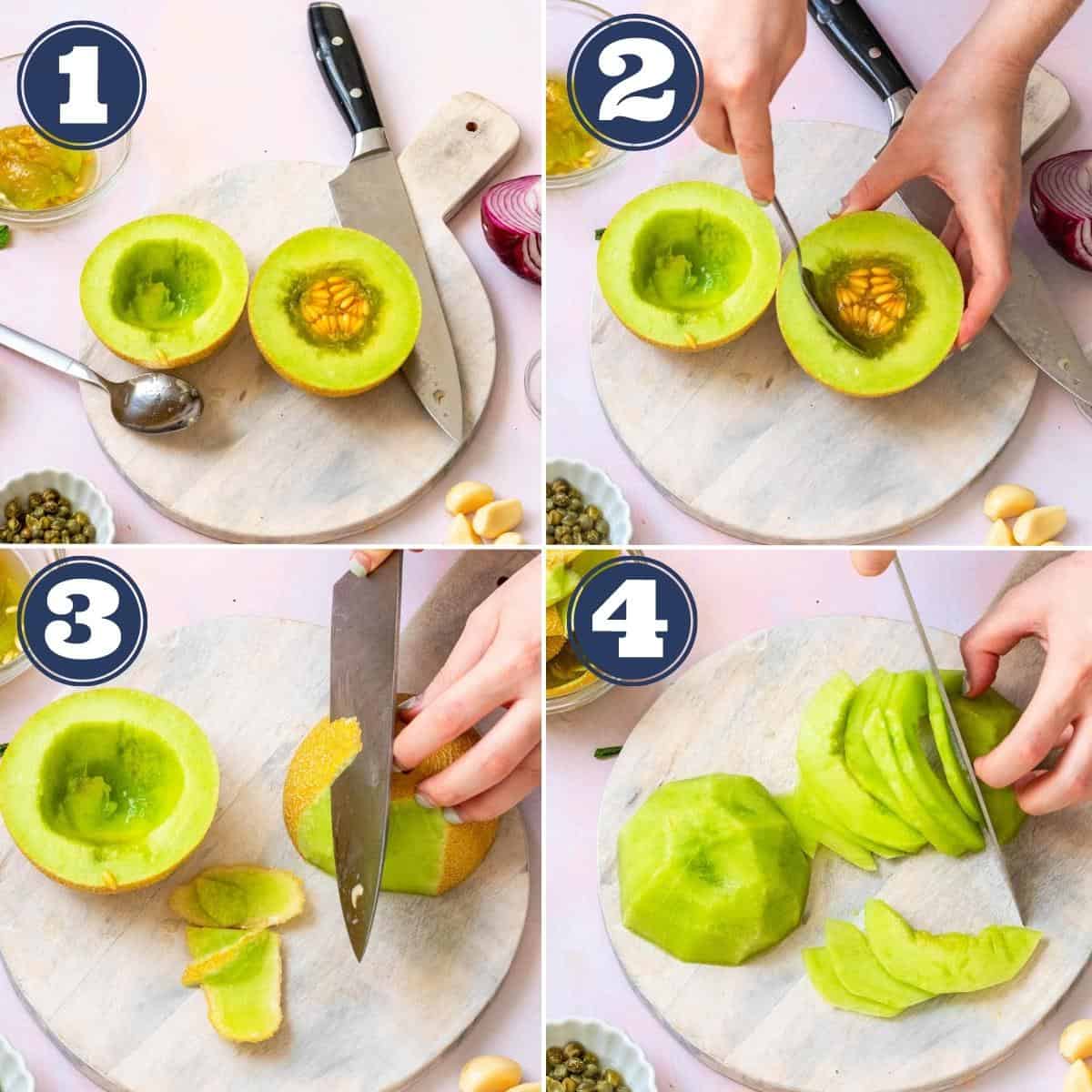 Mastering cutting a melon is really a wonderful and helpful skill so that you won't ever feel the need to buy a pre-cut cup of melon (we're all guilty of it!)
With this small melon, I like to start with cutting the melon in half.
Then, use a spoon to scoop out the seeds in the center.
Turn your melon half so it's sitting on a flat surface and use your knife to carefully cut away just the outer layer of the peel.
Once the melon is peeled, you can slice or cube your melon as you like. Repeat these steps with the other half of your melon!
Step by step recipe
Making this summer fennel salad is super straight forward. Let's learn how to make it!
Start with slicing your fennel super thin (or shaving it), slice melon thinly, and same with the onion. Soak your onion in cold water to remove any of the spiciness if time allows. Arrange all of your sliced items onto a large serving plate.
Next, in a small fry pan, add 2 tablespoons of oil and fry up your sliced garlic and capers. I like to start frying the garlic for a minute before adding the capers since the capers will cook a bit faster. Once ready, use cooking tongs or a slotted spoon to remove your fried garlic & capers and place them onto a paper-towel lined plate. Set aside.
Mix together all of your dressing ingredients in a small bowl just until well combined. This dressing only uses 3 ingredients and then some spices!
Sprinkle fried capers and garlic over the salad along with dressing, torn mint and a drizzle of hot sauce!
Recipe FAQ's
Can you eat fennel raw in a salad?
Yes! Fennel is wonderful eaten raw in salads and cooked whether roasted or grilled!
Should you wash fennel?
It isn't always necessary to wash in between all the layers since they're so compact, but it is definitely important to rinse the outside of your fennel bulb very well and remove any outer layers that look brown or too bruised. You will most likely also need to remove the core which is too tough to eat.
How long will fennel last in the fridge?
A whole fennel bulb should last in your fridge for at least 5-7 days. If you want to pre-chop your fennel, you can chop it, rinse it and then pat it dry. Place the chopped fennel into a container with a piece of paper towel and replace the paper towel every day or two to collect any excess moisture. It will keep freshly sliced for 3-4 days.
What mixes well with fennel?
Fennel pairs well so perfectly with sweet and savory foods. So in our case, I paired it with a sweet melon with savory fried capers and garlic. You can also make a fennel apple salad or other fun variation.
Is it worth to buy a mandolin to make a fennel salad?
For this recipe, not really! There are some recipes where you need the fennel super thin, but I happen to like my fennel cut into large chunks anyways, so a mandolin is definitely not necessary here.
How can I thinly slice fennel?
If you prefer to chop your fennel super thin, you can use a box grater or simply use a very sharp knife and carefully cut thin slices. A mandolin will also work, but as I mentioned before, it's not necessary for this recipe.
Does fennel sage and basil go together?
This is such a wonderful pairing so I had to mention it! If the recipe outlined isn't completely your style, add fried sage and substitute the mint with basil for a cozy fall version. Wow, that would be a wonderful combination as well.
Is this fennel salad authentic in any way?
This salad is definitely not that I know of, rather it's just a product of my imagination! There are some awesome recipes online for mediterranean fennel salad, french fennel salad and Italian fennel salad recipes you can check out for a more authentic vibe.
What goes well with fennel salad
This sweet and savory fennel salad makes the perfect light side dish to breakfast or lunch and can be paired with an array of dishes to make the perfect pairing. Raw fennel salad is one of my favorite things to serve to a crowd in the summer, especially when you want one less recipe that doesn't require an oven.
Serve this fennel salad with any of these recipes for the perfect filling meal:
Top tips
Thankfully, cooking is not a science so it's much easier to fix mistakes in your cooking recipes. I still want to set you up for success in this recipe though, so here are my top tips for making the perfect Summer Fennel Salad with Melon.
Make the dressing in advance. You can store the dressing in a container in the fridge for up to a week, but make sure to allow it to thaw for an hour if using olive oil since it may solidify in the fridge.
Assemble the salad right before serving. Nothing is worse than a soggy salad, so be sure to dress the salad right before you serve it!
Be creative with your salad. Feel free to swap out or add any salad veggies you like. The more you practice cooking with creativity, the easier it will become.
Don't forget your fried garlic and capers, in my opinion it truly makes the dish unique.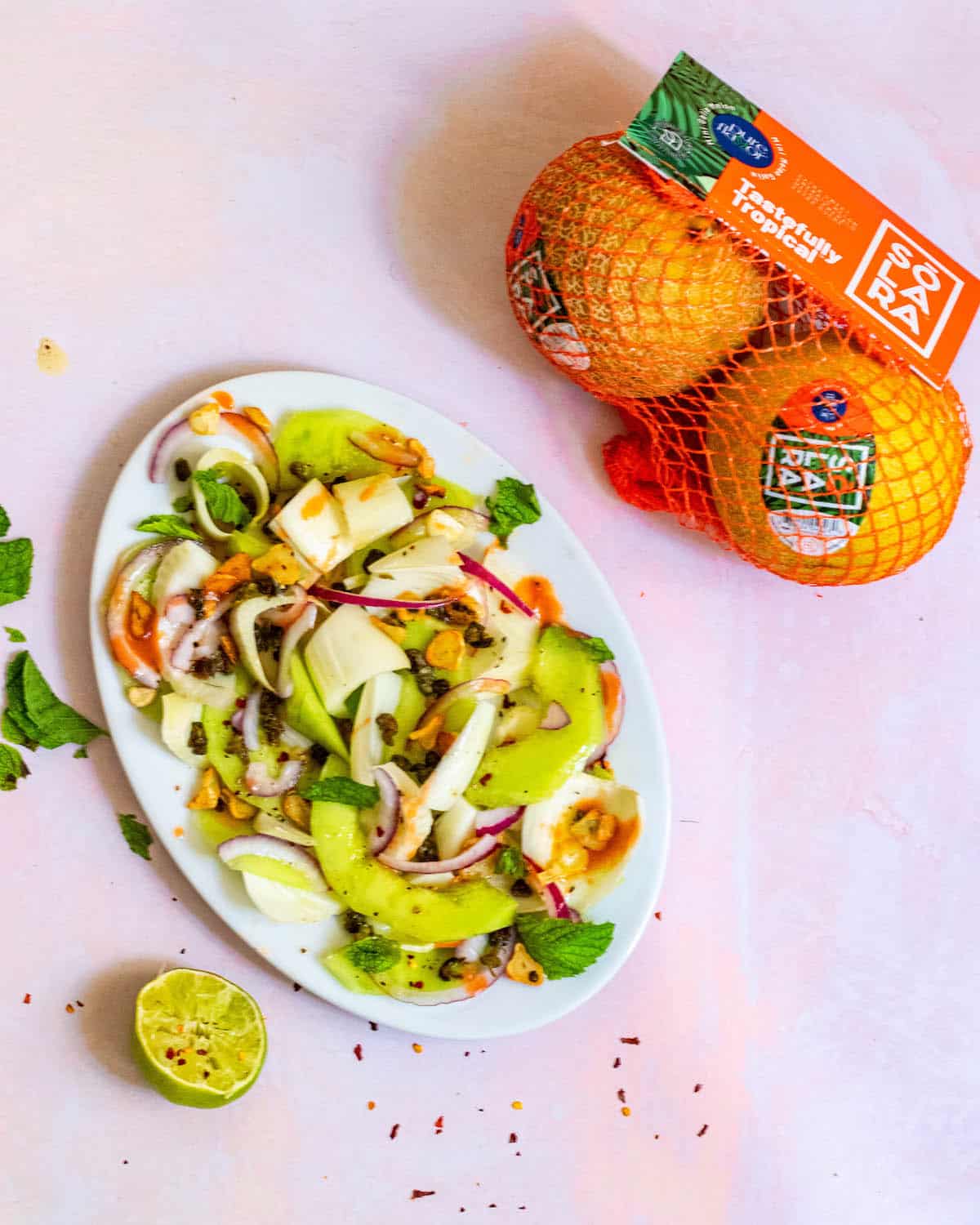 Related recipes you may love
Here are four delicious salad recipes that I thought you'd like. You can pair them with this summer fennel salad or make them another day to continue on with your healthy salad week!
Have you tried this recipe? Consider leaving a ⭐️⭐️⭐️⭐️⭐️ rating in the recipe card right below and/or a review in the comment section further down the page. Or, consider following me on Facebook or Instagram! Thanks for visiting.
Summer Fennel Salad with Melon
This Summer Fennel Salad with Melon and crispy garlic and capers is the perfect refreshing summer salad that can be made in less than 10 minutes, with mostly simple pantry ingredients and fresh summery fruits & veggies. This is the best fennel salad you will make this summer!
Ingredients
For the Salad
2

bulbs

fennel

chopped into large chunks

½

small

Honeydew or Cantaloupe melon or Pure Flavor® Solara™ Melon (as used here)

peeled and sliced into semi-circles 

½

medium

purple onion

sliced thin and soaked in cold water

2

tablespoons

capers

6

cloves

fresh garlic

thinly sliced

4

sprigs

fresh mint

Hot sauce of choice

to drizzle (optional)

2

tablespoons

olive oil

to fry the capers and garlic
For the Dressing
1

tablespoon

honey

2

tablespoon

lime juice

2

tablespoon

avocado oil

½

teaspoon

fine sea salt

¼

teaspoon

freshly cracked black pepper

¼

teaspoon

red pepper flakes

optional
Instructions
Arrange chopped fennel, melon and red onion slices on a large serving plate. Set aside.

In a small pan on the stove, add the 2 tablespoons oil along with garlic slices. Cook on a medium-low flame so that the garlic starts to make sizzle sounds and turn golden. Flip garlic pieces once one side is golden. As garlics are halfway cooked, add the capers into the pan and cook another 1-2 minutes until crispy. Use kitchen tongs or a slotted spoon to transfer the crispy garlic and capers onto a paper towel lined plate. Allow to cool & turn off the heat. Set aside.

In a medium bowl, whisk together all of the dressing ingredients: honey, oil, lime juice, salt, pepper, red pepper flakes.

Before serving, sprinkle the fried garlic and capers onto the serving plate of salad and drizzle with the dressing. Garnish with broken up pieces of mint and a drizzle of your favorite hot sauce.
Notes
Sometimes fennel bulbs can be really small. Use 3 bulbs of fennel in this recipe if yours are tiny! 
I find that using half of a small melon goes a long way, so you can save the other half for weekday snacking. Yum!
I love adding a drizzle of hot sauce to this salad right before serving. Frank's Hot Sauce is my favorite because it's very mild and flavorful!
For the dressing, you may prefer 1 teaspoon of salt, but first start with ½ teaspoon and taste to see what you think.
Storage: This salad is best served the day of creation. Everything can generally be prepared ahead of time stored in separate containers. I wouldn't cut the melon until the day of though since it can get soft and mushy in the fridge overnight if it's a bit overripe. 
Nutrition
Serving:
1
serving
|
Calories:
428
kcal
|
Carbohydrates:
46
g
|
Protein:
3
g
|
Fat:
29
g
|
Saturated Fat:
4
g
|
Polyunsaturated Fat:
4
g
|
Monounsaturated Fat:
20
g
|
Sodium:
869
mg
|
Potassium:
856
mg
|
Fiber:
4
g
|
Sugar:
36
g
|
Vitamin A:
342
IU
|
Vitamin C:
68
mg
|
Calcium:
56
mg
|
Iron:
1
mg