This 3 ingredient Blackberry Compote is bursting with flavor super, versatile and can be made in 15 minutes! Spread over bread, top off pancakes, or swirl through a cake batter; the options are endless!
I love sauces, and this blackberry compote-like sauce is no exception! Compote is an excellent and healthier substitute for jam and can be used as a replacement in so many of its uses.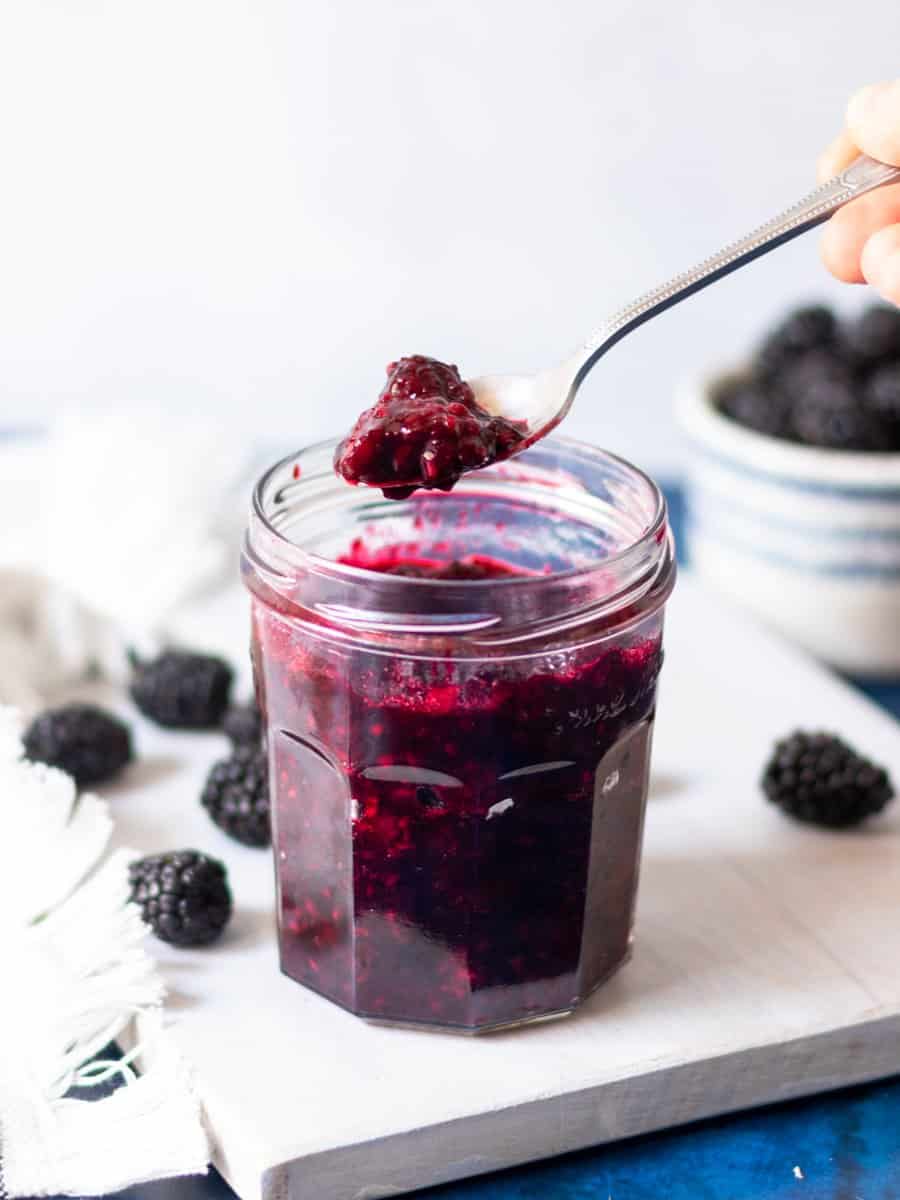 Jump to:
Why you'll love this recipe
Healthy - It is always the best when you can make a recipe homemade, knowing exactly what ingredients are used. This recipe consists of blackberries, honey and lemon juice.
Made in one pot, easy clean up - You won't believe how quick it is to make this recipe all in one pot. Super simple & delicious!
It is naturally gluten-free and dairy free!
Quick and easy to make in only 15 minutes!
Makes the perfect topping for cheesecake, pancakes, waffles or even between cake layers atop buttercream.
Perfect way to use up leftover blackberries so they don't go to waste.
What Is A Blackberry Compote?
It is essentially cooked down fresh or frozen blackberries, typically cooked with sugar and lemon juice to balance out the sweet & tart flavors. I like to use honey in my recipe instead of sugar though! You can use Blueberry Compote in place of a jam or preserves.
Recipe ingredients to make Blackberry Compote
You only need 3 simple ingredients to make this perfect breakfast or dessert berry compote:
Blackberries - I always opt to use fresh blackberries, but you can easily make this recipe with frozen blackberries too!
Honey - Honey adds just a bit of sweetness to this recipe to balance out the tartness of the blackberries. You can substitute with sugar if you prefer.
Fresh lemon juice - Lemon juice also helps round out the flavor and is perfectly balanced with the honey.
How To Make Blackberry Compote step by step
Here are some quick visual instructions with a brief explanation for how to make blackberry compote. Be sure to read through the full instructions with exact ingredient measurements & steps in the recipe card below!
Step 1: Begin with combining all the ingredients (blackberries, honey and lemon juice) in a medium sized pot. Stir together just to disperse all the ingredients among each other.
Step 2: Once ingredients are mixed in the pot, set the pot on the stovetop and bring the mixture to a simmer (over medium or medium-low heat).
Step 3: Once the berries have cooked and thickened, it's time to remove from the pot to allow to cool slightly before using right away or storing away in the fridge once cooled.
Expert tips for best results
Double this recipe if you're feeding a crowd or know it will all be eaten at once! It's super quick to make, so why not just double up on the ingredients.
I personally prefer fresh blackberries in this recipe, since the water content feels a bit more controlled. But you can still opt for frozen if you prefer!
Storage tips
I like to store the cooled blackberry compote in a jar or container in the fridge for around 1 week. You can also freeze the compote in a sealed freezer safe ziplock bag for up to 3 months.
Variations and substitutions
Swap the berries? I wouldn't necessarily recommend swapping the blackberries for another berry since the honey and lemon juice amounts will vary based on the sweetness of each berry. If you're confident though with adjusting a recipe on-a-whim, you can try this out with raspberries and taste it throughout the cooking process to adjust any sweetness or acidity needed.
Swap the honey: You can use granulate sugar, maple syrup or even coconut sugar instead of honey.
What to serve blackberry compote with
Blackberry compote can be served alongside so many different breakfast and dessert foods. Here are some ideas:
Serve on top of toasted bread
Drizzle over pancakes or waffles
Swirl into your favorite yogurt
Dallop on top of oatmeal
Swirl into chia seed pudding
Use as a French toast garnish
Fill blintzes (crepes)
Spread on top of cheesecake or in between cake layers (above the buttercream)
Serve on top of a Gluten Free Dutch Baby pancake!
Pair with something savory, like these Potato Pancakes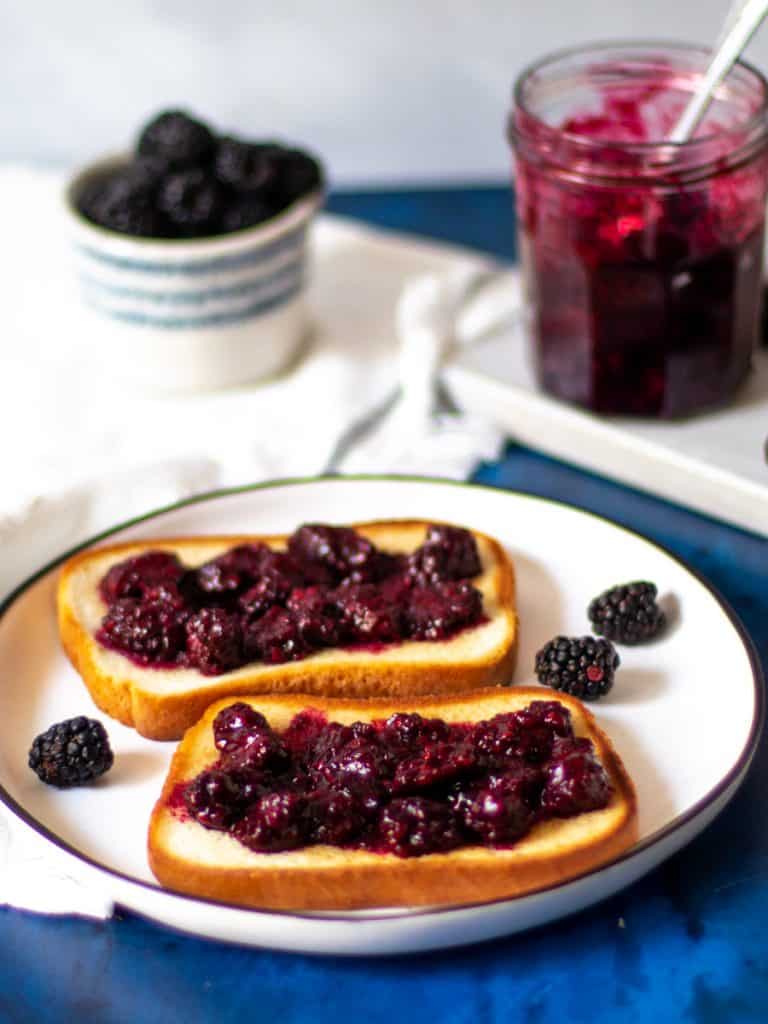 Frequently asked questions
How can I store the blackberry compote in the freezer?
Easily pour the compote into a freezer safe ziplock, seal it and store in the freezer for up to 3 months. I love the Stashers ziplocks for freezing.
How many blackberries are in a cup?
There are approximately 40 medium-normal sized blackberries in 1 cup. This cup will likely be a bit heaping which is ok!
What is the purpose of compote?
Compote is used as an all purpose topping recipe that can be served alongside many different foods to add a punch of bold flavor. Some compote recipes can be eaten cold and on their own like a soup, but I wouldn't recommend eating the blackberry compote in this way.
What is compote made of?
Compote can be made out of nearly any fruit! The goal of compote is to have as few ingredients possible, focus on fresh fruits and balance out with sugar and lemon juice, and add a bit of water usually to thin out the mixture. Some compote recipes are made of berries, while others are made of stone fruit.
What spices go well with blackberries?
It happens to be that many spices pair well with blackberries, many of which would be lovely to add into the compote recipe. Just add a pinch of cinnamon, nutmeg or allspice!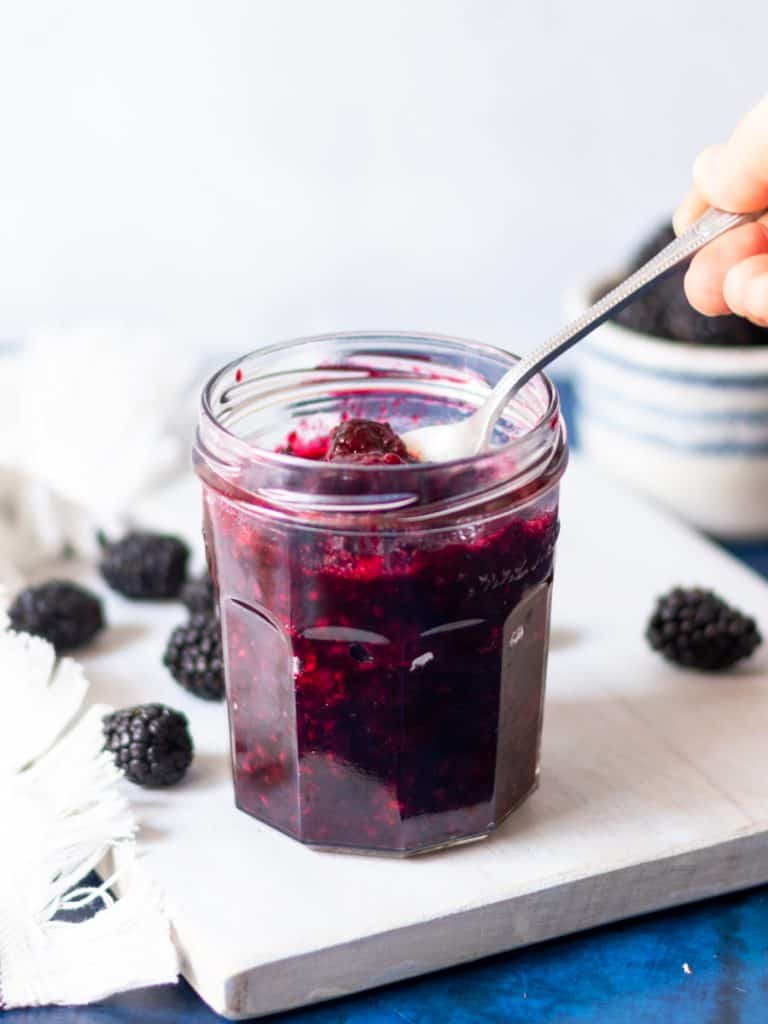 Delicious breakfast recipes you'll love
Here are some delicious breakfast recipes that would make a perfect berry compote pairing!

Blackberry Compote
This 3 ingredient Blackberry Compote recipe is the perfect topping for breakfast and desserts and can be made in 15 minutes!
Equipment
1 Medium pot

1 mixing spoon

1 jar, bowl or container
Ingredients
2

cups

blackberries

rinsed

2

tablespoons

honey

or maple syrup or granulated sugar

1

tablespoon

lemon juice

1

tablespoon

water
Instructions
Combine all ingredients in a medium saucepan over medium heat.

Cook 12-15 minutes until bubbly and thickened. Stir every 2 minutes to ensure the compote doesn't stick to the pot. If the compote starts to boil at any point, turn the heat down to low so it is simmering.

Once fully cooked, allow to cool in a bowl, jar or container on the counter. Then, use warm or store away for future use.
Notes
Blueberry Compote will stay fresh for up to 1 week

Double this recipe if you're feeding a crowd or know it will all be eaten at once! It's super quick to make, so why not just double up on the ingredients.
I personally prefer fresh blackberries in this recipe, since the water content feels a bit more controlled. But you can still opt for frozen if you prefer!
Nutrition
Serving:
1
cup
|
Calories:
255
kcal
|
Carbohydrates:
63
g
|
Protein:
4
g
|
Fat:
1
g
|
Saturated Fat:
0.1
g
|
Polyunsaturated Fat:
1
g
|
Monounsaturated Fat:
0.1
g
|
Sodium:
5
mg
|
Potassium:
504
mg
|
Fiber:
15
g
|
Sugar:
49
g
|
Vitamin A:
617
IU
|
Vitamin C:
66
mg
|
Calcium:
87
mg
|
Iron:
2
mg
Have you tried this recipe? Consider leaving a ⭐️⭐️⭐️⭐️⭐️ rating in the recipe card right below and/or a review in the comment section further down the page. Or, consider following me on Facebook or Instagram! Thanks for visiting.