Kabocha Squash Salad with Chicken & Parsley Lime Dressing is a super quick dinner to throw together on a whim!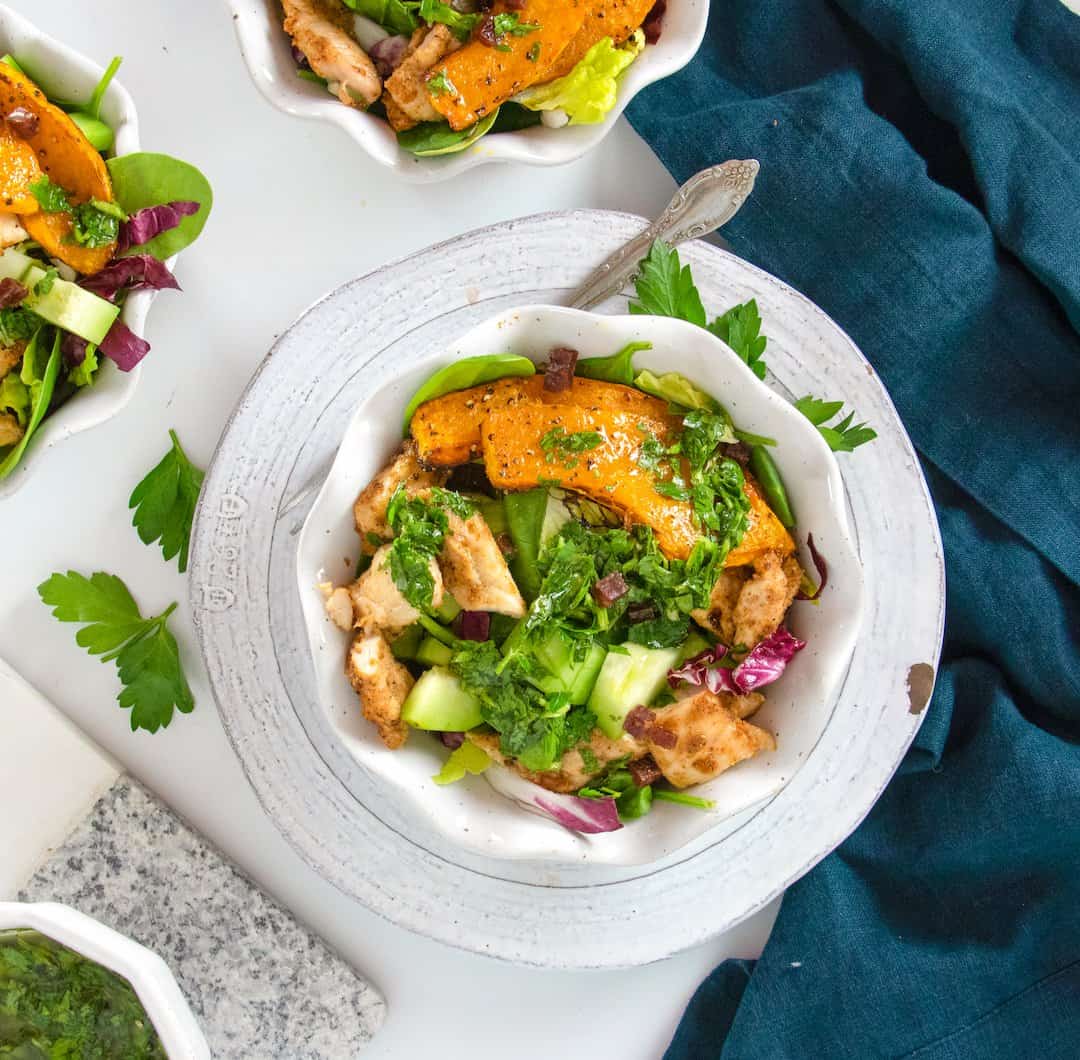 I imagine you're reading this recipe and thinking, Dalya, there are just too many steps and ingredients to make this Kabocha Squash Salad. Dare I say, don't follow the recipe! This "recipe" is not a recipe at all in fact.
Jump to:
My mentality towards cooking is to use every recipe as a guideline unless trying to create a dessert or authentic cultural cuisine.
Otherwise, use/buy the ingredients you find necessary to have in your house that you know won't go to waste and cook from there!
This not-recipe, Chicken Kobucha Squash Salad, came about because I went shopping at Key Food and decided I was going to make me & my boyfriend a dinner containing chicken. Then, I went to the vegetable section and chose kabocha squash & radicchio to have fun added color & taste to whatever dish I was making. Lastly, I was super intrigued by the Aufschnitt Jerky Bites, so I decided it would be a garnish for whatever meal I made. The rest of the ingredients found in the meal are all ones I had on hand!
Definitely, give this salad a go and substitute whatever ingredients you like best!
Use cilantro instead of parsley, substitute kabocha squash with acorn squash. The world is your oyster & as long as you cook with ingredients you find tasty, you're sure to create a delicious dish.
Key components to this Kabocha Squash Salad:
Oven Roasted Chicken Strips - The key is to add spices you love to this chicken & not over bake it!
Roasted Kabocha Squash - Kabocha Squash is one of my favorite squashes, but feel free to use any that you love. For me, the less spices the better so that the sweet squash flavors can shine through. Keep you spice mix to a maximum of 3-4 spices!
Salad Mix - Add your favorite greens to be the base of the salad. I chose romaine lettuce, baby spinach & radicchio. Keep it fresh! I also threw in cucumber & Jerkey Bites for added flavor. Add nuts or seeds to add texture if you like.
Dressing - The dressing recipe I included is quite simple. Feel free to use the recipe or add any citrus dressing to this salad. Citrus dressings work wonders!
Kabocha Squash Salad with Chicken & Parsley Lime Dressing
Chicken Kabocha Squash Salad with Parsley Lime Dressing is a super quick & easy dinner or side to throw together on a whim!
Servings
2
-3 as a main dish or 4 as a side salad
Ingredients
For the Chicken-
2-3

boneless skinless chicken breasts

cut in half lengthwise & into strips

2

tablespoons

olive oil

1

teaspoon

chili powder

1

teaspoon

garlic powder

1

teaspoon

onion powder

1

teaspoon

coriander

1

teaspoon

sea salt

½

teaspoon

black pepper
 For the Squash-
¼

or ½ kabocha squash

peeled & cut into ½-inch strips

1-2

tablespoons

olive oil or oil of choice

Sea salt

to taste

Pepper

to taste
For the Salad-
1

head romaine lettuce

chopped

½

radicchio cabbage

chopped

2

cups

baby spinach

1

cucumber

peeled & cubed

Aufschnitt Jerky Bites Bacon Flavor

as garnish (optional)
For the Dressing-
About 1 cup parsley

rinsed & chopped finely

¼ to ½

cup

olive oil

1-2

teaspoons

sea salt

Black pepper

to taste

2-4

tablespoons

red wine vinegar

Juice of 2-3 limes
Instructions
Bake the Chicken: 
Preheat the oven to 350°F and line a baking sheet pan with parchment paper.

Place patted dry chicken strips onto the prepared pan and drizzle with olive oil & spices. 

Use your hands to mix everything together in the center of the baking sheet. 

Once all chicken is coated in spices, arrange evenly spread out in the pan so that no chicken is overlapping. 

Bake at 350°F for 15 minutes, then up the temperature to 425°F and bake for an additional 8-10 minutes. Baking time will vary depending on the thickness of your chicken strips. Test chicken cut into 1-2 pieces of chicken and see if they're fully cooked through.

After baking, allow to cool slightly, then slice the sticks into 2-3 inch pieces for the salad later. Set aside.
Kombucha Squash: 
Line a baking sheet pan with parchment paper. 

Place kombucha squash strips on the parchment paper, in an even layer, not to overlap. 

Drizzle squash with half the olive oil, sprinkle with salt and pepper. Use a pastry brush or your hands to lightly spread the oil to cover the top of each squash piece. 

Flip over each of the squash pieces and repeat step #3. 

Bake at 350°F with the chicken for about 15 minutes. Then once the heat is turned up to 425°F, flip squash pieces and cook for another 20-30 minutes until soft and golden.  
Assemble the Salad: 
Combine all salad ingredients in a bowl and toss to combine. 

Add the slightly cooled & chopped chicken & kombucha squash to the salad. Feel free to cut the kombucha squash into smaller pieces if you prefer. 

Shake dressing ingredients in a container until combined. Taste and add more of any ingredient if you feel necessary. 

Pour half the dressing over the salad, toss. Check if your salad needs more dressing or you simply want to add more lime/salt. Enjoy! 
Nutrition
Serving:
1
Serving
|
Calories:
535
kcal
|
Carbohydrates:
40
g
|
Protein:
58
g
|
Fat:
18
g
|
Saturated Fat:
3
g
|
Polyunsaturated Fat:
2
g
|
Monounsaturated Fat:
10
g
|
Trans Fat:
1
g
|
Cholesterol:
151
mg
|
Sodium:
3098
mg
|
Potassium:
2364
mg
|
Fiber:
14
g
|
Sugar:
14
g
|
Vitamin A:
8933
IU
|
Vitamin C:
173
mg
|
Calcium:
279
mg
|
Iron:
7
mg
Other Gluten Free Recipes you may love!