Gluten Free Peach Cobbler is the coziest dessert to make during the summer season & is such a perfect fall recipe as well! This recipe doesn't rely on in-season peaches because it uses frozen bagged peaches; so easy & minimal effort.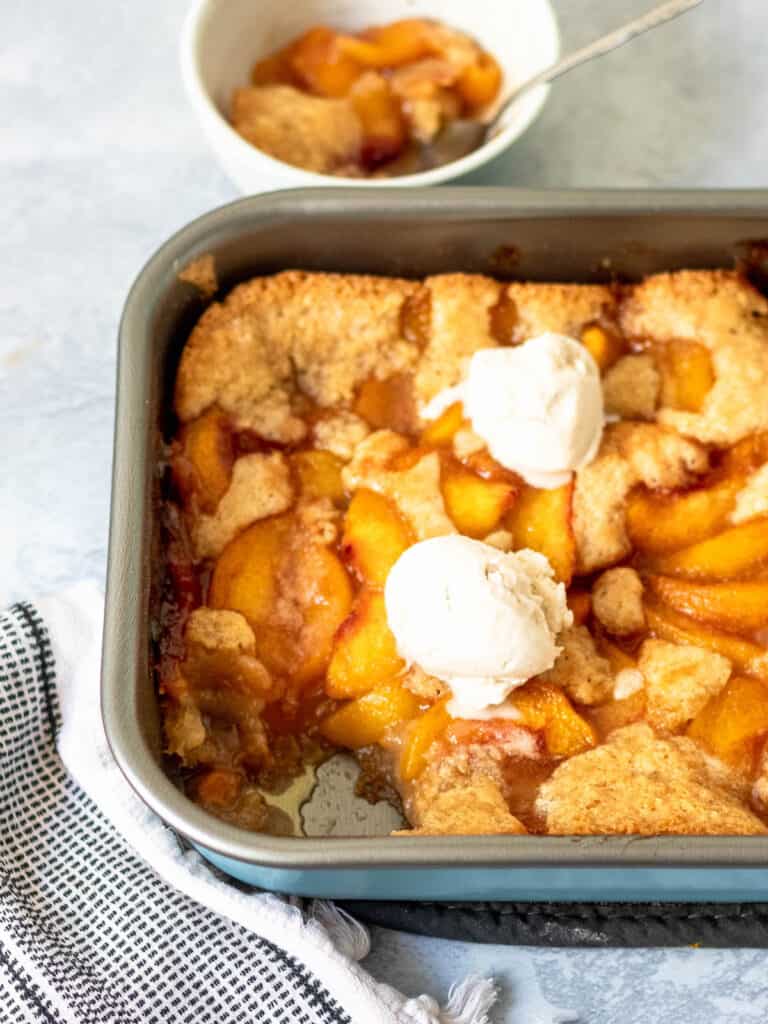 I've always been a big peach fan. Honestly, I like nectarines better, but peaches are my go-to option when choosing which to bake with. They have a super and thin peel and delicious, butter-like interior when cooked. I felt inspired to make this recipe because it's quite different than my usual dessert go-to recipes & it seemed like an exciting new adventure!
Some Cobblers are made by making a peach layer & crumble, while other cobblers (such as my version) are made by layered melted butter with a cake-like batter & cooked peaches into a pan -- both are then baked. Both recipe variations are delicious in their own unique way!
Jump to:
WHAT YOU'LL NEED TO MAKE THIS RECIPE
There are three components to this recipe: the butter, the batter & the peaches! Let's run through a bit about each of these layers to the cobbler.
The Butter: Rather than greasing the baking dish with a baking spray, this recipe opts for loads of butter that is carefully melted in the oven before adding the batter. This butter will end up seeping into the filling & creating a super luscious texture.
The Batter: Because there is a ton of butter in the pan, there is no need for any oil in the batter. The batter simply consists of Bob's Red Mill 1 to 1 Baking Flour, granulated sugar, vanilla, baking powder, salt and oat milk. It's that simple! Everything gets whisked in a bowl until thickened.
The Peaches: When I bake lately, I like to cut corners when possible. In this case, I've made both our lives easier by using frozen peaches. Of course, you can use fresh peaches as well, but by using frozen peaches there is no worrying about whether they're in season if you'd like to make this recipe all year round plus there is no need to chop the peaches. Don't get me wrong, if I have extra time & peaches are decently affordable one week, I'd gladly make this recipe using fresh fruit!
HOW TO MAKE THIS GLUTEN FREE PEACH COBBLER
Step 1: Cook the peaches with sugar, cinnamon and lemon juice until softened. Then, mix in the arrowroot starch and cook until thickened.
Step 2: Next, place butter cubes into a pan and melt in the oven about 4 minutes. Then, remove from the oven and allow to cool slightly.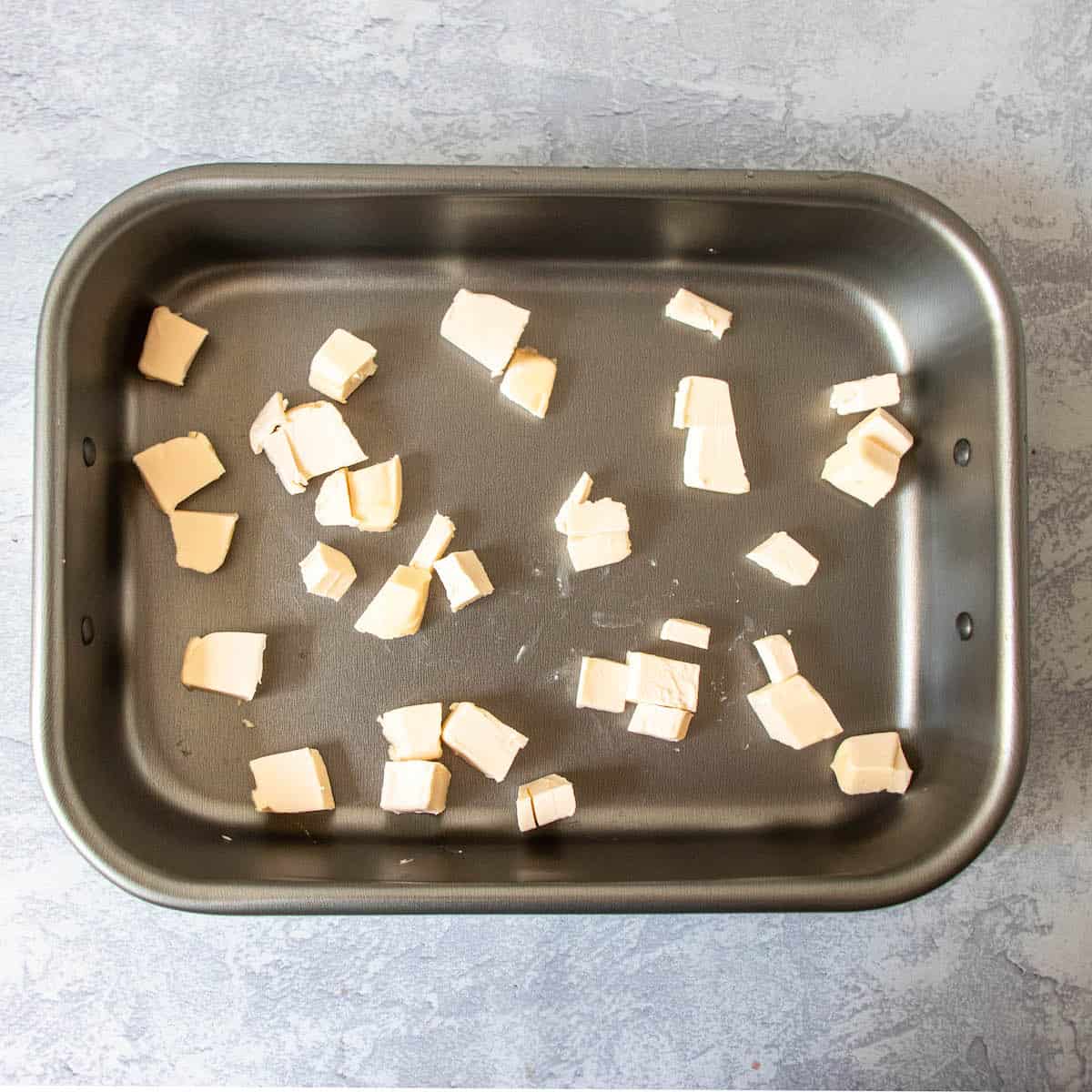 Step 3: Whisk together the batter ingredients and then pour over the melted butter.
Step 4: Top with the cooked peaches and then bake until golden and batter has puffed up and looks somewhat cake-like.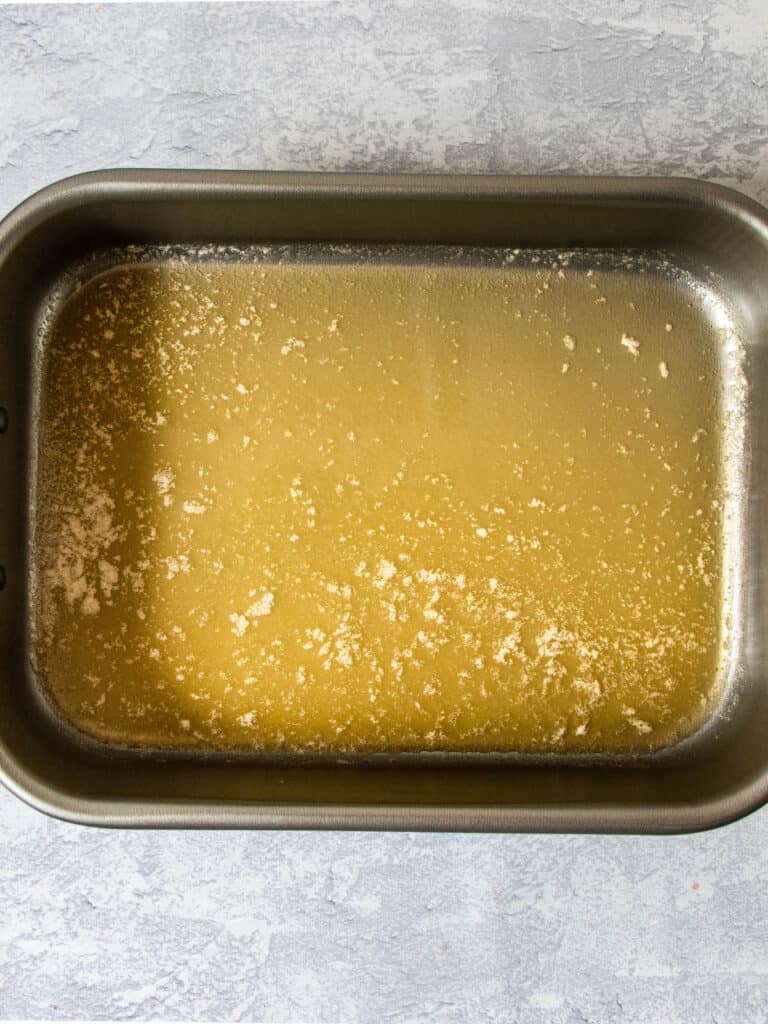 COMMON QUESTIONS ABOUT GLUTEN FREE PEACH COBBLER
Can I use frozen or fresh peaches?
Both work well! I typically make this recipe with frozen peaches, but fresh peaches will work just as perfectly!
Which gluten free flour is the best for this recipe?
My go-to gluten free flour is always Bob's Red Mill 1 to 1 Cup Baking Flour! Yes, this post is sponsored by Bob's Red Mill, but I've sworn by this flour for 4+ years before ever working with their brand. It's a keeper!
Can I use dairy butter in this recipe or vegan butter?
I always use a vegan, plant-based butter because I adhere to a strict dairy-free lifestyle. That being said, use the butter variation of your choose!
What is the best way to serve this peach cobbler?
I highly recommend every serving to have a scoop of vanilla ice cream alongside it! The contrast of a warm cobbler with vanilla ice cream is the perfect combination!
Is peach cobbler best eaten warm or cold?
This is definitely a personal preference situation! Always allow the cobbler to cool at least 30 minutes after baking so that the ingredients set properly. If you eat the cobbler too fast you may taste too much butter. After 30 minutes, the cobbler will be perfectly set. From there, feel free to at warm as is, rewarm in the oven or microwave or even eat chilled from the fridge!
YOU MAY ALSO LIKE: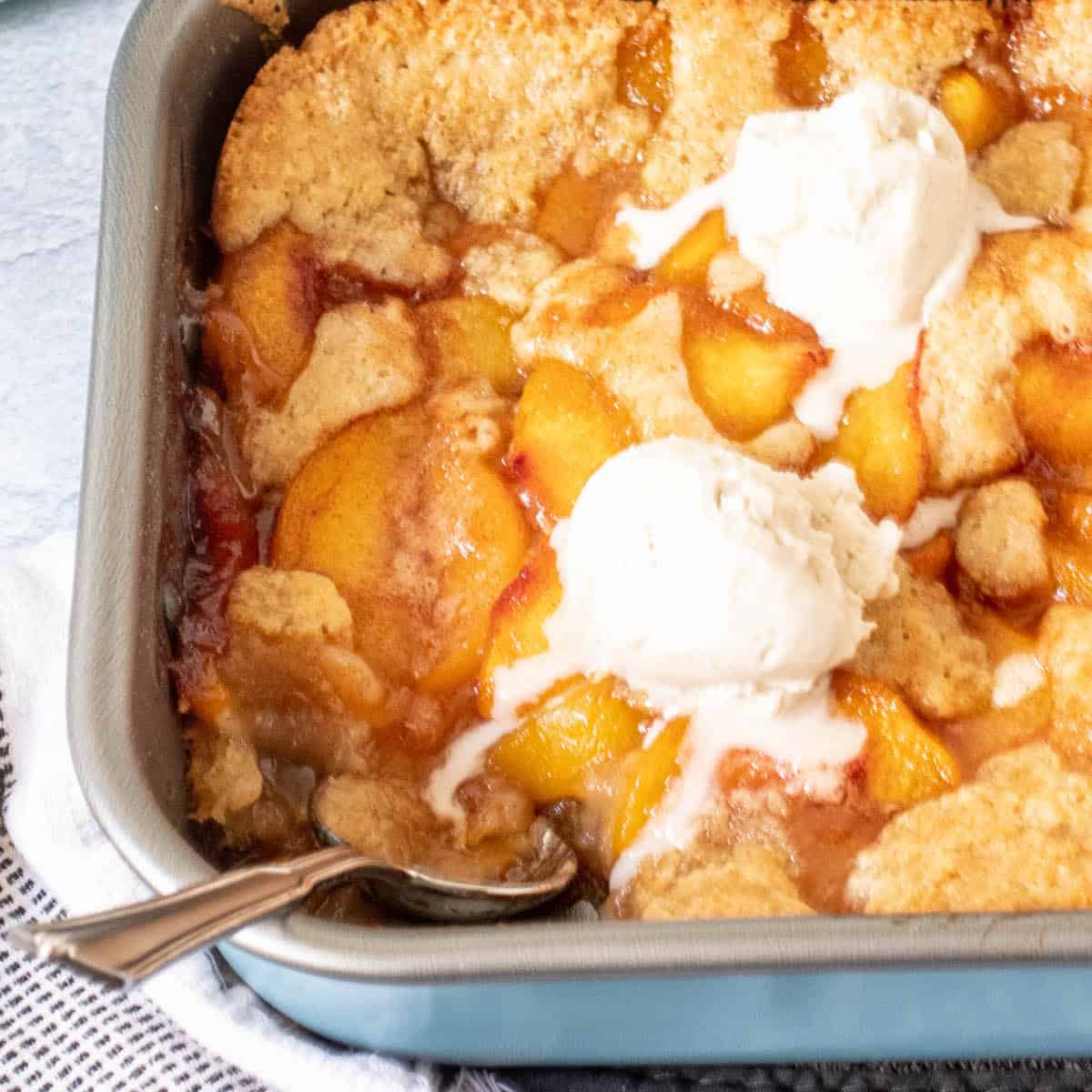 Gluten Free Peach Cobbler
Ingredients
Peaches:
3, 10

ounce

bags frozen peaches

¼

cup

granulated sugar

1

teaspoon

ground cinnamon

2

teaspoons

fresh lemon juice

1

tablespoon

arrowroot starch or cornstarch
Batter & Butter: 
6

tablespoons

plant-based butter

sliced into cubes

1

cup

granulated sugar

½

tablespoon

vanilla extract

2

teaspoons

baking powder

¼

teaspoon

salt

¾

cup

oat milk or other plant based milk
Instructions
Preheat the oven to 350°F and prepare a 9x13 baking dish. Set aside. 

Combine frozen peaches, sugar and lemon juice in a medium saucepan. Cook on medium-low heat, stirring often, about 8 minutes, until peaches have softened.

Mix the arrowroot or cornstarch into the peaches and cook for another 3-5 minutes, bringing to a simmer. Then, turn off the heat & set aside.

Place the butter cubes into the baking dish and place in the oven for 2-4 minutes or until butter is completely melted. Remove from and allow to cool slightly. 

Meanwhile, in a large bowl whisk together the sugar, vanilla, gluten free flour, baking powder, and salt. Then, whisk in the oat milk until a thick batter is formed.

Pour the batter into the pan of melted butter and carefully spread into an even layer. Don't stir the batter with the butter!

Use a spoon to carefully place the cooked peaches over the batter so they're spread out evenly across the pan. 

Bake for 35-40 minutes or until golden brown. Allow to cool at least 30 minutes to allow the butter to soak into the cakey parts of the cobbler. 

Serve with vanilla ice cream & enjoy!

 
Notes
Serve cobbler with vanilla ice cream or your favorite ice cream flavor of choice!
I recommend letting the cobbler cook at least 30 minutes otherwise it can taste too buttery. The butter needs time to set and sink into the peaches/batter areas as it cools. It sounds funny, but trust me that it makes a huge difference!
Nutrition
Serving:
1
Serving
|
Calories:
227
kcal
|
Carbohydrates:
40
g
|
Protein:
2
g
|
Fat:
8
g
|
Saturated Fat:
1
g
|
Polyunsaturated Fat:
2
g
|
Monounsaturated Fat:
3
g
|
Trans Fat:
1
g
|
Sodium:
212
mg
|
Potassium:
58
mg
|
Fiber:
2
g
|
Sugar:
30
g
|
Vitamin A:
158
IU
|
Vitamin C:
2
mg
|
Calcium:
85
mg
|
Iron:
1
mg