These To Die For Blueberry Muffins are the perfect tender and moist breakfast muffin you can make for your family, kids or brunch get together! The batter only takes 15 minutes to prepare, and they can bake while you set the table. Plus, these muffins are gluten free and can be made dairy free too!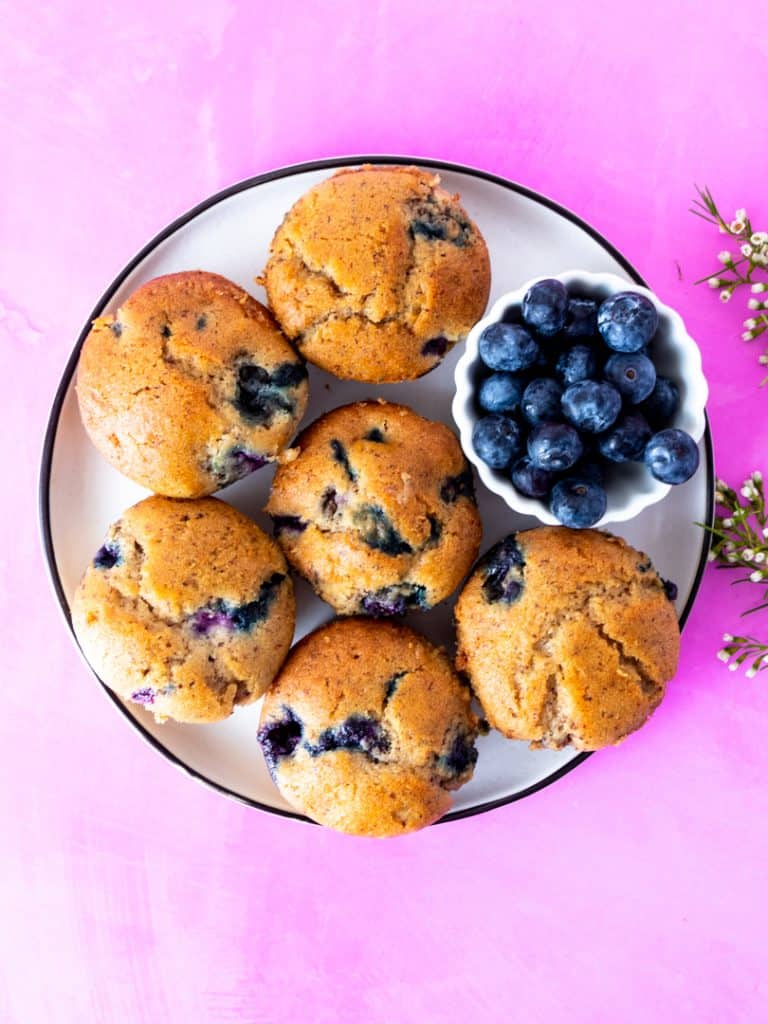 If you are a muffin lover, this gluten free blueberry muffin recipe is to die for! These muffins are heavily inspired by the popular Duncan Donuts Blueberry Muffin recipe that I've seen being shared online.
As someone who really enjoys a good muffin that is perfectly sweetened, including my Gluten Free Apple Muffins with Crumb Topping, this blueberry muffin is such a delight and makes for the perfect breakfast treat.
Serve these muffins at a summer breakfast spread get together along with my Easy Tuna Pesto Pasta and Gluten Free Dutch Baby for the perfect filling and flavorful meal.
Why you'll love this recipe
Uses fresh or frozen blueberries - Either way the muffins will turn out perfectly!
Easy to prepare in under 15 minutes - And then they bake quickly too!
Perfect Moist and fluffy texture - No dry muffins in our kitchen!
Amazing breakfast, brunch or snack.
Great for kids - these muffins make the perfect snack or easy dessert for your kids that are sure to be loved.
Gluten free - These muffins are gluten free using almond flour, tapioca flour a gluten free flour blend for the perfect flavor and texture.
One bowl recipe - Fewer dishes means less clean up!
Jump to:
Ingredients
Here are the ingredients you will need to make these To Die For Blueberry Muffins.
Gluten-free baking flour - My favorite gluten free flour to use is Bob's Red Mill Gluten Free 1 to 1 Baking Flour.
Almond flour - Almond flour helps these muffins become soft and have a slightly chewy texture.
Tapioca starch - Tapioca helps balance out the texture so that the muffin doesn't taste too "gluten free" from the baking flour.
Baking powder and Baking soda - Helps the muffin rise perfectly.
Granulated sugar - A white sugar is the ideal sweetener here since it will help your muffin have a perfectly light texture and sweetness.
LIGHT brown sugar - I love adding brown sugar to muffin recipes since it has a bit more moisture from the molasses and provides a slightly golden color to the muffin.
Salt - Always needed to balance out the sweetness.
Full Fat Oat milk - Oat Milk is my milk of choice in these muffins, but you can use dairy whole milk too!
Unsalted Butter - I always use Earth Balance Vegan Buttery Sticks, but a dairy butter is a great option as well.
Canola or vegetable oil - This recipe uses butter and oil, so that it is extra fluffy and not too dense.
Eggs - Eggs provide stability to this recipe so the muffins don't fall apart.
Vanilla extract - Vanilla is such an essential ingredient in every baked good I make.
Fresh blueberries - Blueberries are the star ingredient in this muffin. I always opt for fresh blueberries when they're in season!
*Check out the recipe card at the bottom of this post for the complete ingredient measurements.
How to Make Blueberry Muffins
Here I will show you the step-by-step instructions for making these outstanding gluten free blueberry muffins.
Step one: Combine the dry ingredients in a large bowl including the gluten free flour, almond flour, tapioca starch, baking soda, baking powder, salt, granulated sugar and brown sugar.
Step two: Whisk all the dry ingredients together until there are very few clumps left.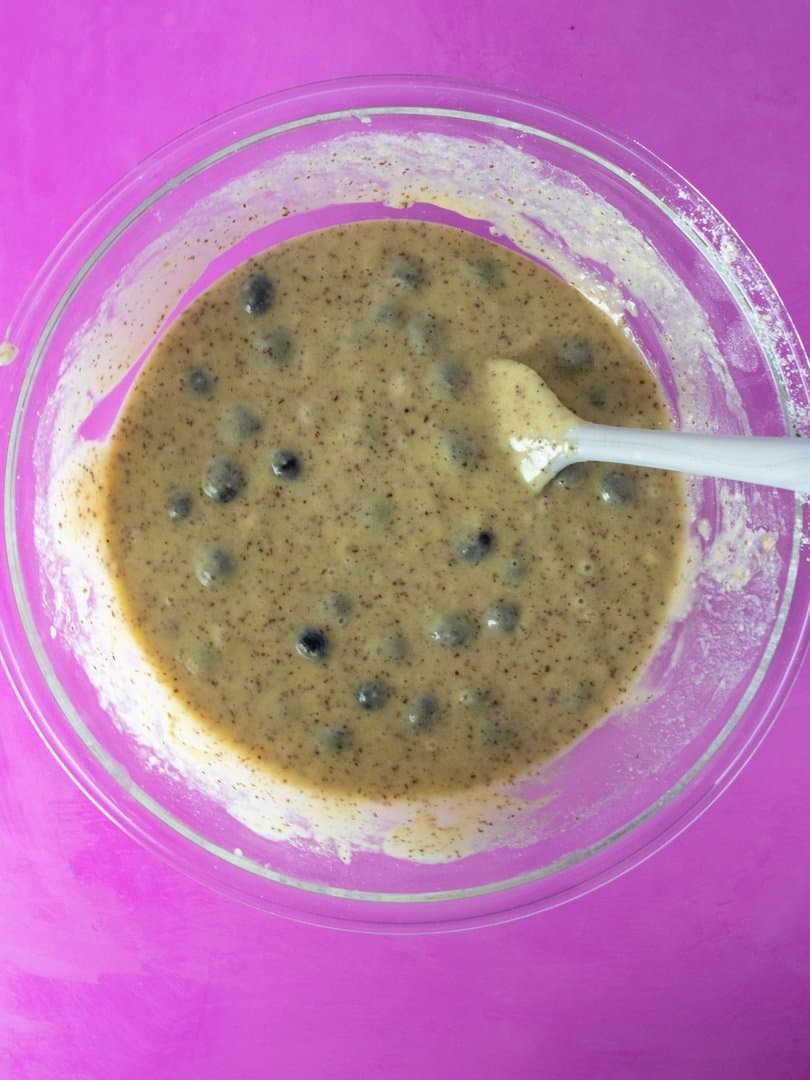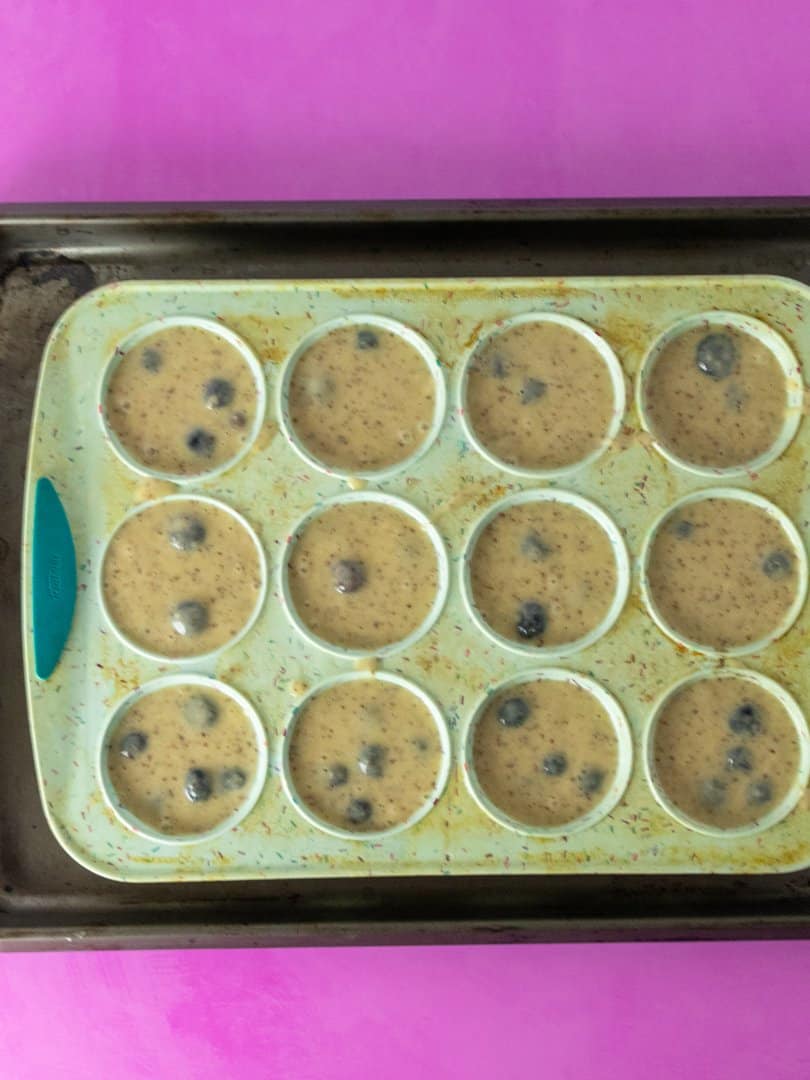 Step three: Make a well in the center of the dry ingredients and add the milk, melted butter, eggs, oil and vanilla extract. Whisk all together, and then fold in the blueberries.
Step four: Scoop the batter into a greased muffin tin. You will need about ⅓ cup of batter for each muffin cavity.
Expert tip: You can also scoop the batter into mini muffin pans and then bake the muffins for 5-7 minutes less!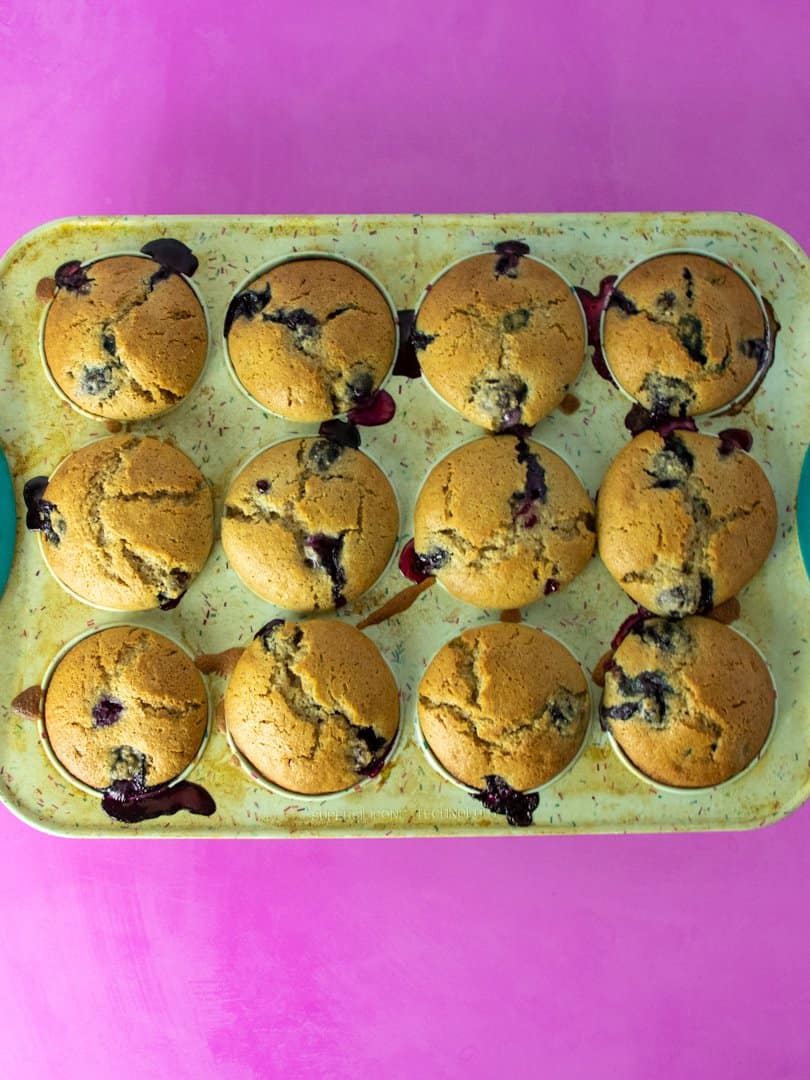 Step five- Begin with baking the muffins for 5 minutes at 400°F to help them rise quickly and create a dome shape, and then decrease the oven to 350°F and bake for another 20-25 minutes. Once all baked, allow to cool in the pan for a few minutes before removing the muffins from the tin and placing them onto a cooling rack.
Recipe substitutions
Please see the recipe substitutions for these gluten free blueberry muffins below.
Light brown sugar - You can easily use Dark brown sugar! It will just make the muffin a bit darker and possibly a tad sweeter.
Oat Milk - Feel free to use any type of milk you like that is heavier, such as dairy whole milk, cashew milk or even canned coconut milk. You can even do half milk and half sour cream! These muffins would also be amazing using Buttermilk to create a gluten free buttermilk blueberry muffin.
Fresh Blueberries - You can use frozen blueberries as long as they are added to the batter straight from the freezer, so they don't have time to defrost before baking.
Variations
Here are a few tasty ideas of how you can change up this easy muffin recipe.
Mixed berry - Swap the blueberries for a combination of mixed berries such as blueberries, raspberries and blackberries!
Lemon Zest - Turn these into Lemon-Blueberry muffins by adding 2 teaspoons of lemon zest. You can also reduce the oat milk to ¾ cup and add ¼ cup of fresh lemon juice.
Gluten free blueberry streusel muffins - Easily make these to die for blueberry muffins with crumb topping by making a sweet homemade cinnamon or vanilla streusel and sprinkling before baking for extra texture and flavor.
Kid friendly - These muffins are perfect for kids, but to make them a bit more exciting, decorate the top of each muffin with white or milk chocolate chips or even mini M&Ms.
Gluten free cranberry lemon muffins - You can swap the blueberries for fresh cranberries and add 2 teaspoons lemon zest for this fun flavor combination.
Blueberry chocolate chip muffins - Simple fold in ⅓ cup chocolate chips into the batter when you add the blueberries.
Browned butter blueberry muffins - Before starting the recipe, measure the butter and place it in a pot on the stove cooking it over a medium-low heat until it looks golden and you have browned the butter. Allow it to cool slightly and proceed with using it in the recipe!
See all my muffin recipes on IRF!
Storage
I like to store these muffins in a large sealed ziplock bag on the counter for 2-3 days. You can store these muffins in the fridge for up to 1 week.
These muffins are freezer friendly too! Seal in a freezer safe bag for up to 3 months. When ready to defrost, please the bag from the freezer onto the counter and allow to thaw overnight.
Tips for making to die for blueberry muffins
Don't over mix - You only need to whisk the batter until no lumps remain. Over mixing can cause the eggs to whip and change the texture of the muffins.
Bake for the first 5 minutes at a higher temperature - It's important to follow the bake time and temperature steps to ensure your muffins rise properly and cook evenly.
Use Pure Vanilla Extract - I don't recommend using imitation vanilla in any of my recipes, especially this one since it calls for an entire 1 tablespoon. It's always better tasting to use a high quality real vanilla.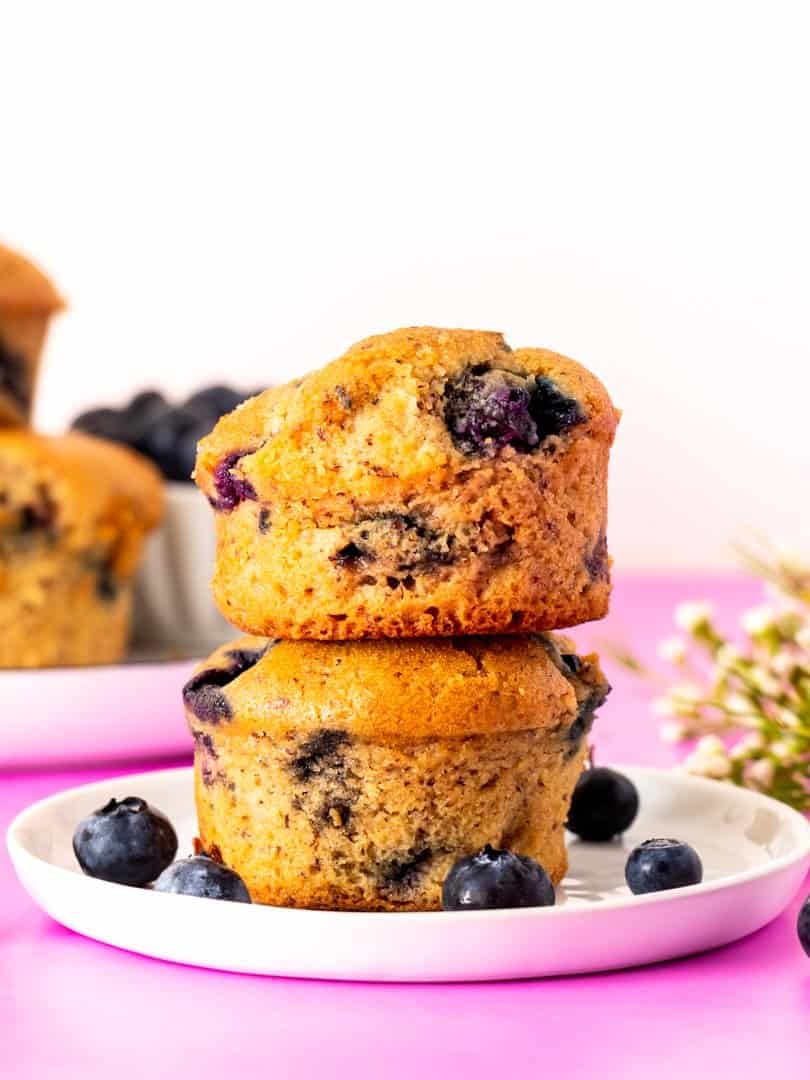 Recipe FAQs
Can you make blueberry muffins with frozen blueberries?
Yes! Be sure the frozen blueberries are fully frozen for best results.
Should I grease the muffin pan?
I used a silicone muffin tin, so in this case definitely grease the pan. If using a regular muffin pan, I recommend using paper muffin liners for easy cleanup and removal.
Can I make mini muffins using this batter recipe?
Yes! Follow the directions exactly the same, but check on the mini muffins at the 20 minute mark to see if they're ready.
Can blueberry muffins be frozen?
Absolutely! Be sure the muffins are stored in a freezer safe ziplock. They can be frozen for up to 3 months.
Can these blueberry muffins be made in an instant pot?
I have not tried doing so, but if your Instant Pot guide came with directions for making muffins you can totally follow those bake directions and use this batter recipe.
More muffin recipes
Looking for other recipes like this? Try these:
Did you try these to die for blueberry muffins? If you did, I'd love to hear your thoughts in the comments section and it would mean the world if you left a star rating too. I would love to hear how yours turned out!
To Die For Blueberry Muffins
These moist and tender To Die For Gluten Free Blueberry Muffins are such a great breakfast or brunch treat prepared in only 15 minutes.
Ingredients
1

cup

gluten free flour

I recommend Bob's Red Mill Gluten Free 1 to 1 Baking Flour

½

cup

tapioca starch

3

teaspoon

baking powder

1

teaspoon

baking soda

½

cup

granulated sugar

½

light brown sugar

can add up to ¾ cup if you like sweeter muffins

¼

teaspoon

salt

1

cup

full fat oat milk

or whole milk

4

tablespoons

plant based unsalted butter (or dairy butter)

I use vegan butter, melted

4

tablespoons

canola oil

or vegetable oil

2

large

eggs

1

tablespoon

pure vanilla extract

8

oz

fresh blueberries

about 1 ¼ cups
Instructions
Preheat the oven to 400°F and grease or line a 12-count muffin tin with cupcake liners. If using a silicone muffin tin, grease with cooking spray.

In a large bowl, whisk together the gluten-free flour, almond flour, tapioca, baking powder, baking soda, granulated sugar, brown sugar and salt. Mix until well combined.

Use your rubber spatula or spoon to make a well in the center of the dry ingredients. Add oat milk, butter, oil, eggs, and vanilla extract. Mix until a batter forms.

Fold in blueberries until combined.

Scoop about ⅓ cup batter into each muffin liner. You may have extra batter at the end to make an additional 2-3 muffins; cook later or add to a second pan if you have.

Bake muffins for 5 minutes at 400°F, then lower the oven temperature to 350°F and bake for an additional 20-25 minutes or until a toothpick inserted into the center of the muffin comes out clean.

Allow muffins to cool before popping out of the pan and eating or storing.
Notes
Bob's Red Mill Gluten Free 1 to 1 Baking Flour - You can use an alternative brand gluten free 1 to 1 baking flour, but I've only tested this recipe with the Bob's Red Mill version.
I prefer Light Brown Sugar in this recipe, opposed to Dark Brown Sugar, because it makes for a muffin lighter in color - more visually appealing, but both delicious!
Full Fat Oat Milk - If you don't have access to this, you can use almond milk or any other dairy-free alternative. If you eat dairy, feel free to swap for Whole Milk
Nutrition
Serving:
1
Muffin
|
Calories:
281
kcal
|
Carbohydrates:
36
g
|
Protein:
5
g
|
Fat:
14
g
|
Saturated Fat:
2
g
|
Polyunsaturated Fat:
3
g
|
Monounsaturated Fat:
5
g
|
Trans Fat:
1
g
|
Cholesterol:
31
mg
|
Sodium:
300
mg
|
Potassium:
52
mg
|
Fiber:
3
g
|
Sugar:
21
g
|
Vitamin A:
95
IU
|
Vitamin C:
2
mg
|
Calcium:
126
mg
|
Iron:
1
mg